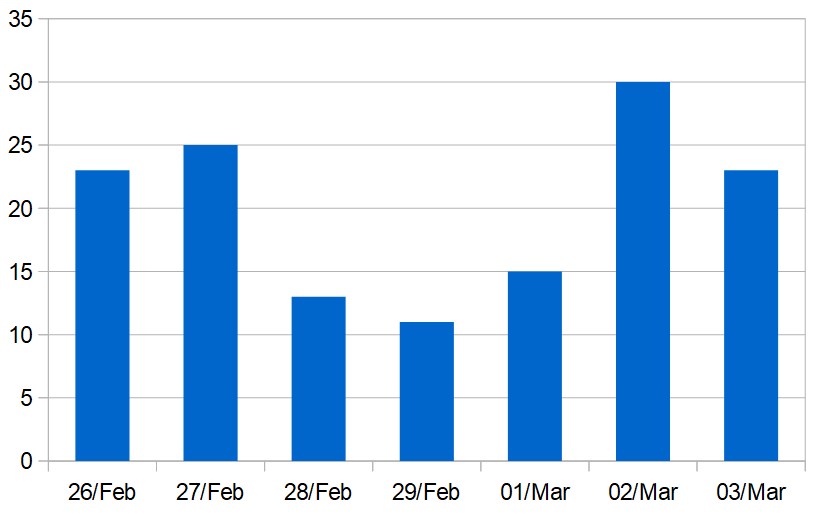 Iran reported a further huge increase in the number of coronavirus (COVID-19) cases on Monday. The official figure now stands at 1,501, with 66 deaths so far, though the official figures are disputed.
On Tuesday, local media reported that 23 members of Iran's parliament are among those infected. On Monday it was reported that Mohammad Mirmohammadi, a member of the Expediency Council which advises the Supreme Leader, had died of the virus.
One indication of the scale of Iran's outbreak is that the health ministry is assembling 300,000 "treatment and hygiene teams" which will carry out house-to-house checks.
Elsewhere in the Middle East, there are 23 new cases since yesterday's update, bringing the cumulative total to 197. Jordan, Saudi Arabia and Tunisia joined the list for the first time, each reporting one case.
Algeria 5 (+2)
Bahrain 49 (+2)
Egypt 2 (-)
Iraq 22 (+3)
Israel 12 (+2)
Jordan 1 (+1)
Kuwait 56 (-)
Lebanon 13 (+6)
Oman 6 (-)
Qatar 8 (+5)
Saudi Arabia 1 (+1)
Tunisia 1 (+1)
UAE 21 (-)
TOTAL: 197 (+23)
CLICK HERE for previous updates
New cases reported in the region during the past week show two distinct geographical patterns. In the Arab Gulf states, plus Lebanon and Iraq, almost all have been linked to people arriving from Iran. In most of these, the people involved have been quarantined on arrival.
Further west – in Algeria, Egypt, Israel, Jordan and Tunisia – new infections appear to be connected mainly with Italy and France.
Country-by-country round-up
● Algeria reported two new cases – a father and daughter who were living in France – bringing the total to five.
● Bahrain reported two new cases – a Bahraini woman and a Saudi man – bringing the total to 49.
● Egypt: A few details have emerged about Egypt's second confirmed coronavirus case which was reported on Monday. He is described as a "foreign expert" working for an oil company in the north-west of the country. The Egyptian authorities have repeatedly denied allegations that they are concealing a number of other cases. On Monday the Egypt Watch website claimed that some are being treated in military hospitals which – since they don't come under the aegis of the health ministry – are not being reported to the World Health Organisation. There is no independent confirmation of this claim.
● Iraq: The health ministry reported two new cases in Baghdad involving people who had returned from Iran. The Kurdistan Regional Government also reported that a relative of three people diagnosed earlier had tested positive.
● Israel reported two new cases, bringing the total to 12. The two people affected had returned from Italy towards the end of February.
● Jordan reported its first case on Monday – a Jordanian man who had arrived with a friend from Italy two weeks ago. The man's family and friend (who has so far tested negative) are in quarantine. The health ministry says that if the number of coronavirus cases in Jordan reaches 20, schools will be closed and public gatherings will be banned.
● Lebanon: The total number of cases has risen to 13, with six new cases reported since Sunday. Arab News says most of those detected were either passengers or relatives of passengers on a flight that arrived in Beirut from the Iranian city of Qom a week ago.
● Qatar reported four new cases on Monday – two Qatari citizens and two domestic workers who had accompanied them on a private plane from Iran on February 27. On Tuesday morning a fifth person – who had been quarantined immediately after arriving from Iran (apparently on the same private flight) – was also diagnosed.
● Saudi Arabia reported its first case – a Saudi citizen who had arrived from Iran via Bahrain. The health ministry said that when the man arrived in Saudi Arabia he did not disclose to the authorities that he had recently been in Iran. Although this is the first case in the kingdom, reports from other Arab countries indicate that at least nine Saudis have been diagnosed with the virus outside the kingdom. The Saudi health ministry said on Sunday it has prepared 8,000 hospital beds for possible future cases.
● Tunisia reported its first case – a 40-year-old Tunisian man who had returned from Italy by boat on February 27.
This work is licensed under a Creative Commons Attribution-NonCommercial 4.0 International Licence.