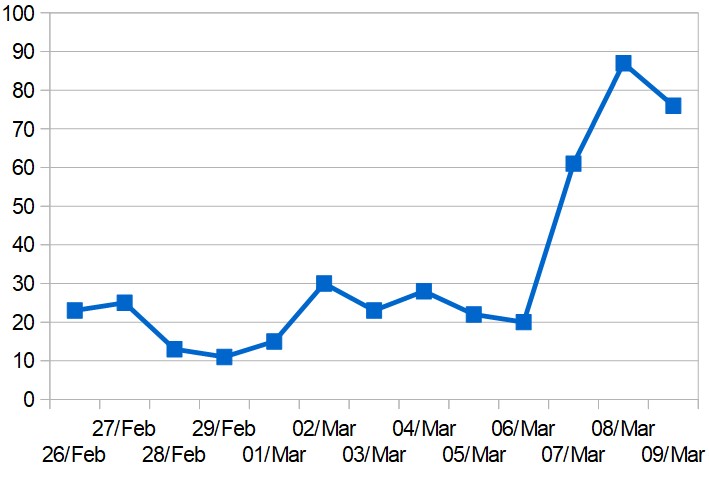 Iran, the Middle Eastern country most affected by the coronavirus epidemic, reported 743 new cases on Sunday, bringing the official total to 6,566.
For the second day running there was a drop in the number of new cases reported in Iran but the number of deaths – 49 – was the highest so far reported in a single day. The official death toll since the outbreak began is now 194.
Across the rest of the region there are 491 confirmed cases – an increase of 76 since yesterday's update.
Algeria 20 (+3)
Bahrain 109 (+30)
Egypt 55 (+7)
Iraq 61 (+5)
Israel 39 (+14)
Jordan 1 (-)
Kuwait 64 (+3)
Lebanon 32 (+4)
Morocco 2 (-)
Oman 16 (-)
Palestine 19 (-)
Qatar 15 (+3)
Saudi Arabia 11 (+4)
Tunisia 2 (+1)
UAE 45 (-)
TOTAL: 491 (+76)
CLICK HERE for previous updates
There's a claim circulating on Twitter that the Assad regime is suppressing news of 2,000 coronavirus cases in Syria, along with 400 deaths. This is not supported by any evidence.
The claim was first posted on March 4 and at that stage two of Syria's neighbours – Iraq and Lebanon (which, like Syria, have close ties with Iran) – had detected only 31 and 13 cases, respectively. Viewed in that light, the alleged figures for Syria are far too high to be credible.
Nevertheless, the regime's reporting of the situation does seem less than transparent. Officially, there are no coronavirus cases in Syria at all – which is also rather improbable given the situation in the rest of the region.
For more than two weeks the authorities have been checking people at entry points but the government news agency has given no figures for the number of people quarantined, and it's odd that it hasn't done so.
Meanwhile, Bahrain is apparently trying to disguise the fact that it has more confirmed COVID-19 cases than any country in the region apart from Iran. The tactic is to highlight the numbers who have tested negative or recovered from the virus rather than the numbers who have become infected.
The health ministry's website is not directly reporting new cases or the cumulative total – though the figures can be worked out with a bit of arithmetic.
You have to add the number of "active" cases to the number of people "discharged" (i.e. recovered) to get the cumulative total, then subtract the previous cumulative total (which, hopefully, you will have previously saved somewhere) to arrive at the number of new cases.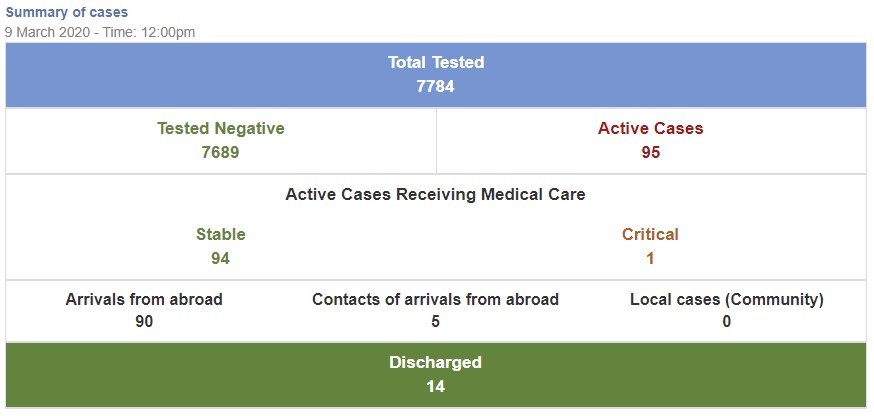 Country-by-country round-up
● Algeria now has 20 cases – 17 of them among members of the same family. The latest unrelated case is an Algerian who had been in Spain. A 40-year-old man with symptoms who escaped from a hospital on Saturday (see previous report) has been "put back under observation".
● Bahrain says the Formula 1 Grand Prix, which is due to start on March 20, will go ahead – but without spectators. Ticket sales were suspended last week.
● Egypt has reported its first coronavirus death – a 60-year-old German tourist. According to the health ministry the total of confirmed cases has now reached 55.
● Iraq: The number of deaths has risen to six, according to the state news agency. The World Health Organisation's
latest total for the number of coronavirus cases in Iraq is 61.
● Israel now has 39 cases – an increase of 14. Meanwhile, Uri Geller, the spoon-bending Israel magician, is promoting a conspiracy theory about the origin of the virus.
● Jordan, with only one confirmed case so far, says 80 people are currently in quarantine. A further 221 have completed two weeks in quarantine and left after testing negative.
● Qatar has suspended entry for people from Bangladesh, China, Egypt, India, Iran, Iraq, Lebanon, Nepal, Pakistan, Philippines, South Korea, Sri Lanka, Syria and Thailand. Qatar depends heavily on migrant workers and this will have a huge impact if it continues for long. An official statement said: "The decision affects all individuals intending to enter from these countries, including visas upon arrival, those with a residence or work permit, and temporary visitors."
● Saudi Arabia has imposed a lockdown on the city of Qatif, which has a large Shia population. The government says this is because all the recorded cases are from Qatif but the move may cause resentment among the kingdom's Shia minority.
● Tunisia reported that a 65-year-old man has become its second coronavirus case. This is causing some alarm because he arrived from Italy two weeks ago, before screening began, so it's possible he has passed the infection to others. He was not quarantined until Saturday.
* * *
For anyone interested: A spreadsheet documenting the new coronavirus cases reported each day in the Middle East (excluding Iran) can be viewed here.
This work is licensed under a Creative Commons Attribution-NonCommercial 4.0 International Licence.