Click to enlarge" src="/sites/default/files/flow-chart.jpg" style="border-style:solid; border-width:1px; height:334px; width:500px" />
Kuwait's health ministry is discriminating between Kuwaitis and non-Kuwaitis in its allocation of treatment for Covid-19 patients, according to a document circulated on social media.
The document is a flow chart telling medical staff what to do when someone tests positive for the virus. It is dated 16 April and appears to have been produced by the ministry's Covid-19 team.
The chart maps out two alternative courses of action, depending on the patient's nationality.
According to the instructions, Kuwaiti citizens who test positive are to be sent here ...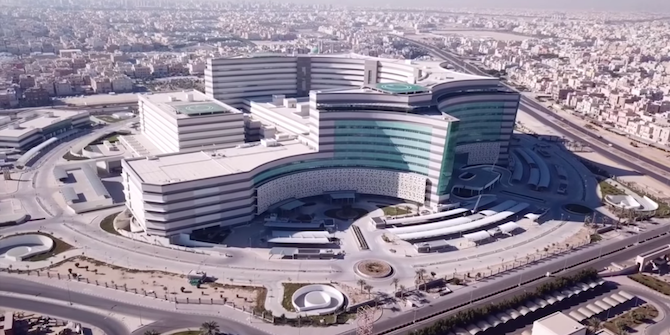 This is the state-of-the-art Jaber al-Ahmad Hospital, completed less than two years ago at a cost of a billion dollars. It has 1,168 beds.
For non-Kuwaitis, though, the chart sets out a different procedure. Non-Kuwaitis (who are predominantly migrant workers from poor countries) will be told to go to the emergency department at a local hospital.
The local hospital will make a clinical assessment and then send them in one of two directions, in accordance with the health ministry's guidelines.
Non-Kuwaiti women and children will be transferred to the Jaber al-Ahmad Hospital. It's unclear why they can't be sent there directly after the test result.
Non-Kuwaiti men who have been assessed as "high risk" patients will also be transferred to the Jaber al-Ahmad Hospital.
The remaining group – non-Kuwaiti men assessed as "low risk" – are to be sent the exhibition centre in Mishref where there is a temporary field hospital.
There's no indication that non-Kuwaitis in the field hospital are receiving inadequate care but this two-channel approach to Covid-19 patients based on nationality is medically unethical and could easily lead to a two-tier system​ in patients' treatment.
---
In countries where corruption is prevalent, Covid-19 has presented new opportunities for making money.
Saudi Arabia's Control and Anti-Corruption Authority says it has uncovered two scams by government officials.
One involves the sale of fake permits granting exemption from curfew restrictions. A group of officials are said to have sold 31 permits for 3,000 riyals ($800) each.
The other scam involves six people, including two health officials in Riyadh and the owner of a hotel. The officials allegedly took bribes from the hotel which then overcharged the health ministry for hosting Saudis who were being quarantined.
---
New cases
A further 4,772 new Covid-19 infections have been reported in the Middle East and North Africa since yesterday's update. Of those, 1,343 were in Iran and 3,429 in the rest of the region.
Among the Arab countries, Saudi Arabia reported by far the largest increase – 1,088 new cases – followed by the UAE with 479 and Qatar with 440.
The list below shows cumulative totals (excluding Iran) since the outbreak began, with day-on-day increases in brackets.
Algeria 2,629 (+95)
Bahrain 1,895 (+122)
Egypt 3,144 (+112)
Iraq 1,539 (+26)
Israel 13,654 (+292)
Jordan 417 (+4)
Kuwait 1,995 (+244)
Lebanon 677 (+5)
Libya 51 (+2)
Morocco 2,990 (+305)
Oman 1,410 (+144)
Palestine 449 (+31)
Qatar 5,448 (+440)
Saudi Arabia 9,362 (+1,088)
Sudan 92 (+26)
Syria 39 (+1)
Tunisia 879 (+13)
UAE 6,781 (+479)
Yemen 1 (-)
TOTAL: 53,451 (+3,429)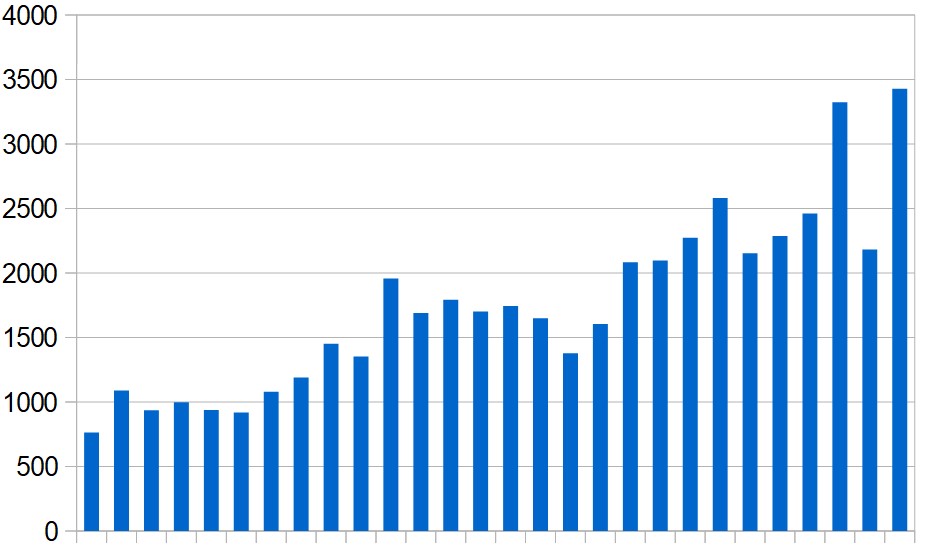 ---
Death toll
Iran reported 87 coronavirus-related deaths yesterday.
Elsewhere in the region a further 49 deaths were reported – 15 of them in Egypt.
The list below shows cumulative totals of reported deaths in the region outside Iran, with day-on-day increases in brackets.
Algeria 375 (+8)
Bahrain 7 (-)
Egypt 239 (+15)
Iraq 82 (-)
Israel 173 (+2)
Jordan 7 (-)
Kuwait 9 (+3)
Lebanon 21 (-)
Libya 1 (-)
Morocco 143 (+6)
Oman 7 (+1)
Palestine 3 (+1)
Qatar 8 (-)
Saudi Arabia 97 (+5)
Sudan 12 (+2)
Syria 3 (+1)
Tunisia 38 (+1)
UAE 41 (+4)
Yemen 0 (-)
TOTAL: 1,217 (+42)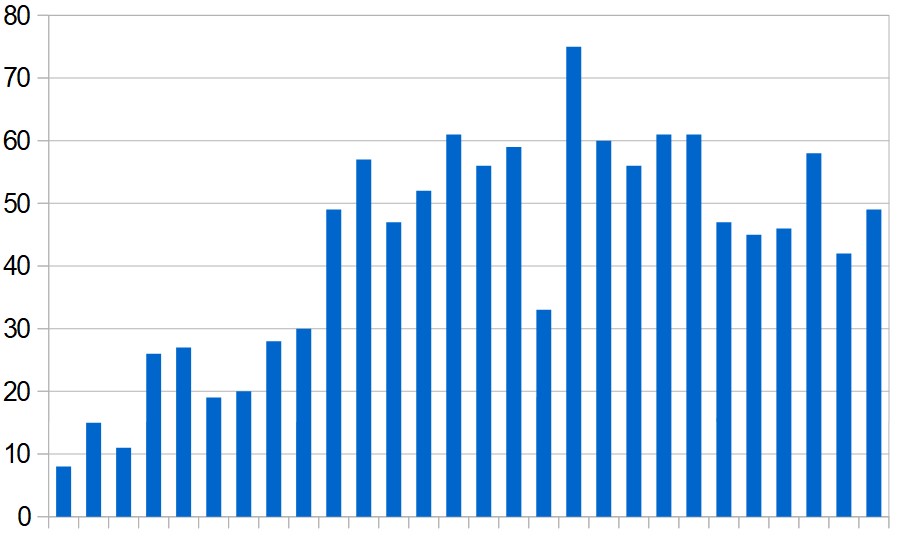 CLICK HERE for previous updates
For anyone interested: A spreadsheet documenting the new coronavirus cases and deaths reported in the region each day can be viewed here.