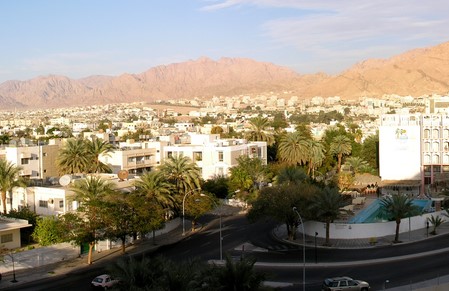 Today, shops, businesses and government offices are re-opening in Jordan's southern province of Aqaba. This is the first step in what the government hopes will be a gradual return to something resembling normality in an area which is officially free of Covid-19 infections.
There are still some restrictions, though. Public transport remains suspended; schools, mosques, churches, wedding halls and restaurants remain closed, and movement in and out of Aqaba requires permission from the governor. The authorities, who have establised 40 inspection teams, say they will also intensify their monitoring of the situation.
In the midst of the coronavirus pandemic Jordan – with a population of around 10 million – is beginning to look like a success story. Since the outbreak began, 413 people have been diagnosed. Seven have died but most have now recovered, leaving only 137 "active" cases.
More significantly, the cumulative total of confirmed cases in Jordan has risen by a mere 8% over the past week. In the same period, the overall total among the Arab countries and Israel rose by more than 50%.
The result is that Jordan is now in the position many other countries would like to be in. It has reduced the outbreak to manageable proportions. The virus is still spreading – but very slowly – and the number of new cases is small enough for the authorities to follow them up closely by tracing and quarantining contacts.
---
CLICK HERE to jump to regional updates
---
The most obvious lesson from Jordan's experience is that prompt action saves lives. When the first case was detected on March 2 – a Jordanian man who had been in Italy – the health ministry announced that if/when the number of cases reached 20, schools would be closed and public gatherings banned.
Meanwhile, people arriving from affected countries were placed in immediate quarantine, and the government commandeered several hotels for the purpose.
By March 15, seven cases had been diagnosed and two days later the total had risen to 34. Flights in and out of the country were suspended and the number of people quarantined in hotels reached more than 5,000.
King Abdullah responded by activating Jordan's National Defence Law, intended mainly for times of war, which granted extraordinary – and sweeping – powers to the prime minister.
At 7am on March 21, sirens sounded throughout the country to mark the start of an open-ended round-the-clock curfew enforced by both police and the military. Considering the total of confirmed cases was only 84 at the time, this struck many as an extreme course of action but the government spokesperson said it was necessary in order to "spare the country a widespread infection" because people been ignoring earlier directives (five of the new cases involved people who had attended a wedding in Irbid, contrary to the rules).
Over the ensuing three days ordinary citizens were forbidden to step outside their homes but this proved difficult to enforce and more than a thousand people were arrested.
On March 24 the curfew was relaxed. Grocery shops and pharmacies were allowed to open for eight hours a day and people were allowed to move around – though only on foot. Prime minister Omar Razzaz warned that the shops would be closed again if the rules on social distancing were not observed.
Although the total curfew was impossible to maintain, as a shock tactic it does seem to have had the useful effect of making the Jordanian public take Covid-19 more seriously.
New cases continue to be detected but a combination of contact-tracing and testing seems to be keeping the numbers down, and this is seen as the country's first line of defence against the virus.
Of the six cases reported on Saturday, four were truck drivers who tested positive at the Jordanian border and were immediately taken to hospital. One was a child whose parents were already infected. The sixth case was discovered through random testing and is now being investigated.
There have also been encouraging signs from 1,972 tests carried out on Thursday, including 106 tests on truck drivers arriving from Saudi Arabia. All the results came back negative – as did those from 200 random tests carried out in the Zarqa and Sukhna refugee camps.
---
New cases
A further 3,556 new Covid-19 infections have been reported in the Middle East and North Africa since yesterday's update. Of those, 1,374 were in Iran and 2,182 in the rest of the region.
Among the Arab countries, Saudi Arabia reported by far the largest increase – 1,132 new cases.
The list below shows cumulative totals (excluding Iran) since the outbreak began, with day-on-day increases in brackets.
Algeria 2,534 (+116)
Bahrain 1,773 (+6)
Egypt 3,032 (+188)
Iraq 1,513 (+31)
Israel 13,362 (+255)
Jordan 413 (+6)
Kuwait 1,751 (-)
Lebanon 672 (-)
Libya 49 (-)
Morocco 2,685 (+15)
Oman 1,266 (+86)
Palestine 418 (-)
Qatar 5,008 (+345)
Saudi Arabia 8,274 (+1,132)
Sudan 66 (-)
Syria 38 (-)
Tunisia 866 (+2)
UAE 6,302 (-)
Yemen 1 (-)
TOTAL: 50,022 (+2,182)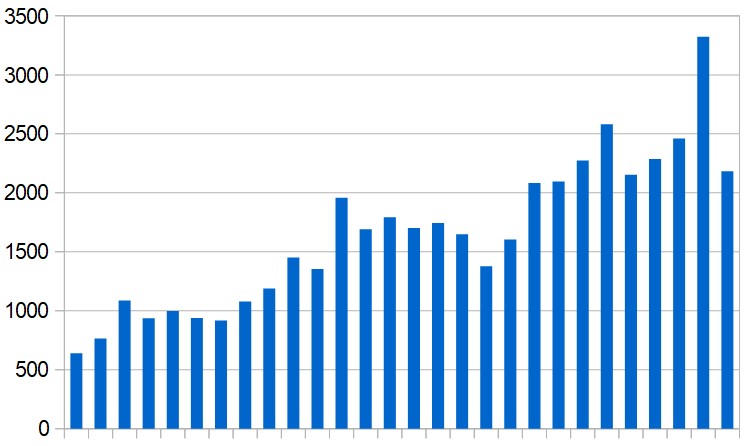 ---
Death toll
Iran reported 73 coronavirus-related deaths yesterday – the lowest daily toll since March 11.
Elsewhere in the region a further 42 deaths were reported – 19 of them in Egypt.
The list below shows cumulative totals of reported deaths in the region outside Iran, with day-on-day increases in brackets.
Algeria 367 (+3)
Bahrain 7 (-)
Egypt 224 (+19)
Iraq 82 (+1)
Israel 171 (+13)
Jordan 7 (-)
Kuwait 6 (-)
Lebanon 21 (-)
Libya 1 (-)
Morocco 137 (-)
Oman 6 (-)
Palestine 2 (-)
Qatar 8 (+1)
Saudi Arabia 92 (+5)
Sudan 10 (-)
Syria 2 (-)
Tunisia 37 (-)
UAE 37 (-)
Yemen 0 (-)
TOTAL: 1,217 (+42)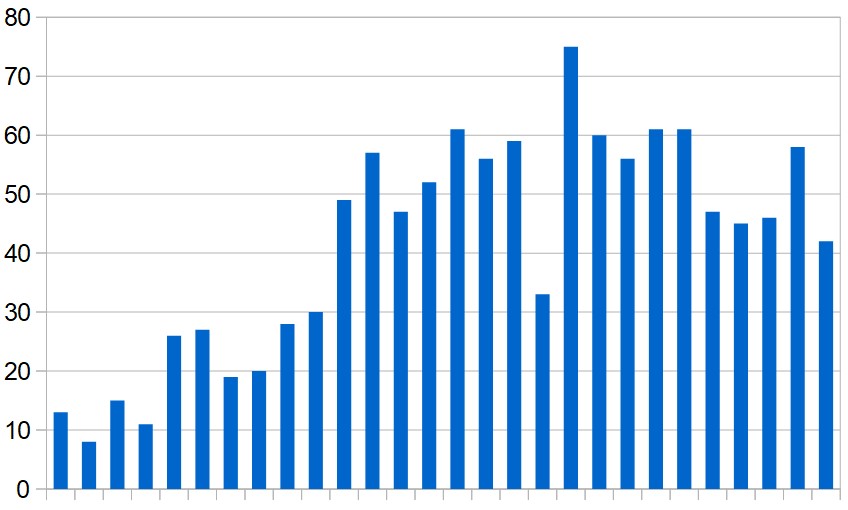 CLICK HERE for previous updates
For anyone interested: A spreadsheet documenting the new coronavirus cases and deaths reported in the region each day can be viewed here.
This work is licensed under a Creative Commons Attribution-NonCommercial 4.0 International Licence.