A couple of weeks ago Reuters news agency reported that Iraq probably has several thousand more Covid-19 cases than the official figures show. Its report quoted three doctors closely involved in the testing process, a health ministry official and a senior political official – all speaking anonymously because they had been told not to talk to journalists.
Their collective view was that between 3,000 and 9,000 people have been infected in Iraq. The official total at the time of the report was 772 cases, with 54 deaths.
The Iraqi authorities acknowledge that there are unrecorded cases because testing facilities are limited, but the Reuters story went further. It said security officials had urged the health ministry not to reveal the high figures "because it could create public disorder with a rush on medical supplies, and make it harder to control the disease's spread".
As a result of this story, Iraq's Communications and Media Commission has now suspended Reuters' licence to operate in the country for three months and imposed a fine of 25 million dinars ($21,000). This is reminiscent the Sisi regime's action in March when it withdrew the accreditation of the Guardian's Cairo correspondent for citing research that questioned Egypt's official figures.
While it's entirely possible that Iraq's figures have been massaged at the behest of security officials, there is also social resistance to recording Covid-19 cases, as medical anthropologist Omar Dewachi explained earlier this month.
Stigmatisation is one reason why people don't want Covid-19 cases to be diagnosed, he said during a webinar hosted by the Royal Institute of International Affairs in London. Families are avoided and stigmatised by their neighbours if one of their members is known to have been infected.
This also applies to deaths. "People are dying in their home without it being reported to the officials that this is a Covid-related death, or [the family] will not allow government officials to come and test," he said. "There has been a lot of reaction from cemeteries rejecting to bury people who have Covid-19, with some kind of fears or belief that the epidemic will move through the earth and spread within the community."
A similar situation arose in Egypt last week when demonstrators tried to prevent the burial of a doctor who had died after being infected with Covid-19.
Dewachi, who is the author of a book on the Iraqi healthcare system, said the system is broken after being undermined for decades and people have lost trust in it. Officials who try to take someone into quarantine are likely to meet with resistance. "There is a lot of suspicion around this issue of 'Where are you going to take our family member?'," he said.
"The suspicion also has to do with the history of how healthcare quarantine cases have been dealt with over the past decades." he continued. "I worked in Iraq as a physician in the 1990s during the HIV/AIDS epidemic." At the time, people diagnosed with HIV/AIDS were sent to an isolation hospital that was guarded by the state, with armed men posted outside, he said.
---
New cases
A further 3,799 Covid-10 cases have been reported in the Middle East and North Africa since yesterday's update – 1,512 in Iran and 2,287 across the rest of the region. The daily number of new cases in Iran has more than halved since the end of March, according to the official figures.
Elsewhere in the region, Saudi Arabia reported the largest number of new cases (493), followed by the UAE (432) and Israel (391).
The figure for Palestine has increased substantially because the health ministry's total now includes cases in Israeli-controlled East Jerusalem.
The list below shows cumulative totals (excluding Iran) since the outbreak began, with day-on-day increases in brackets.
Algeria 2,160 (+90)
Bahrain 1,673 (+145)
Egypt 2,505 (+155)
Iraq 1,415 (+15)
Israel 12,591 (+391)
Jordan 401 (+4)
Kuwait 1,405 (-)
Lebanon 658 (+17)
Libya 48 (+13)
Morocco 2,024 (+36)
Oman 1,019 (+109)
Palestine 375 (+67)
Qatar 3,711 (+283)
Saudi Arabia 5,862 (+493)
Sudan 32 (-)
Syria 33 (+4)
Tunisia 780 (+33)
UAE 5,365 (+432)
Yemen 1 (-)
TOTAL: 42,057 (+2,287)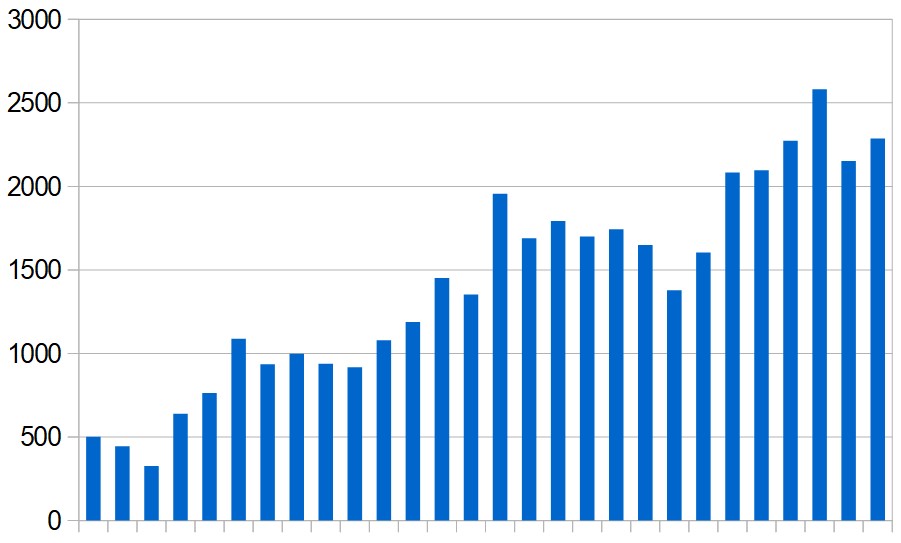 ---
Death toll
Iran reported a further 94 coronavirus-related deaths – the lowest daily figure for more than a month.
In the rest of the region, 45 deaths were reported – 14 in Israel and ten in Algeria.
The list below shows cumulative totals of reported deaths (excluding Iran), with day-on-day increases in brackets.
Algeria 336 (+10)
Bahrain 7 (-)
Egypt 183 (+5)
Iraq 79 (+1)
Israel 140 (+14)
Jordan 7 (-)
Kuwait 3 (-)
Lebanon 21 (-)
Libya 1 (-)
Morocco 127 (-)
Oman 4 (-)
Palestine 2 (-)
Qatar 7 (-)
Saudi Arabia 79 (+6)
Sudan 5 (+1)
Syria 2 (-)
Tunisia 35 (+1)
UAE 33 (+8)
Yemen 0 (-)
TOTAL: 1,071 (+45)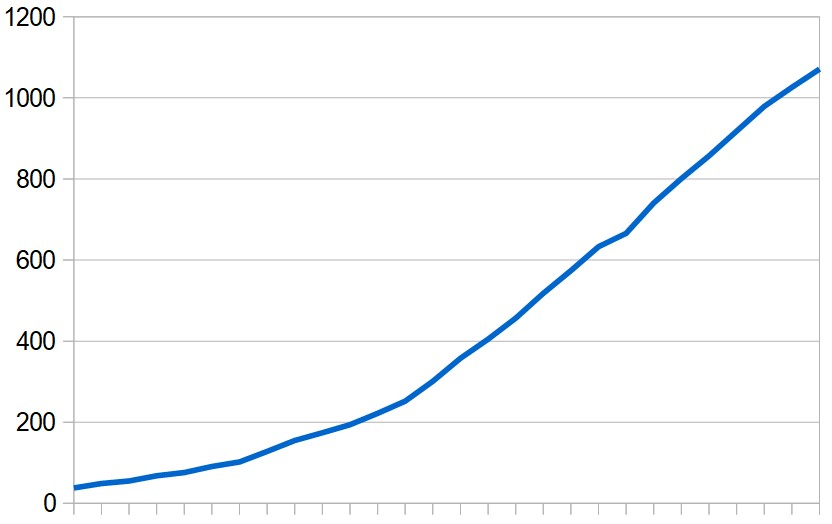 CLICK HERE for previous updates
For anyone interested: A spreadsheet documenting the new coronavirus cases and deaths reported in the region each day can be viewed here.