Coronavirus has now arrived in Yemen. The country's first case of Covid-19 was reported early today in ash-Shihr, a small port on the Indian Ocean coast of Hadramaut province.
Reuters quotes a local official as saying the person diagnosed is a Yemeni who works in the port.
Yemen is already in a terrible state due to five years of war. Health services are depleted, millions are under-nourished and a coronavirus epidemic there would be catastrophic.
That is once of the reasons why the Saudi-led coalition has announced a temporary ceasefire in its war with the Houthis who control much of northern Yemen. The Houthis have yet to agree, and they appear to be holding out for a lifting of the coalition's blockade.
"If any ceasefire does not include the removal of the siege on Yemen, that would be the continuation of the Saudi war," Mohammed al-Bukhaiti, a member of the Houthis' Political Bureau, told al-Mayadeen TV.
Regarding the virus, the crucial question is whether it can be contained. Ash-Shihr is a relatively small place, so there's a chance that it can. But much will depend on how diligent the local authorities are in preventing its spread – which in Yemen is hard to predict.
So far, the authorities seem aware of the need for swift action and this morning the governor of Hadramaut announced an immediate lockdown of ash-Shihr. Yafa News reports the governor as saying the patient and his family have been isolated, along with "all the people he met during the previous period".
Photos from ash-Shihr this morning show shops shuttered, with troops patrolling the streets. A video also shows a civil defence vehicle touring the town with a loudspeaker urging everyone to stay indoors.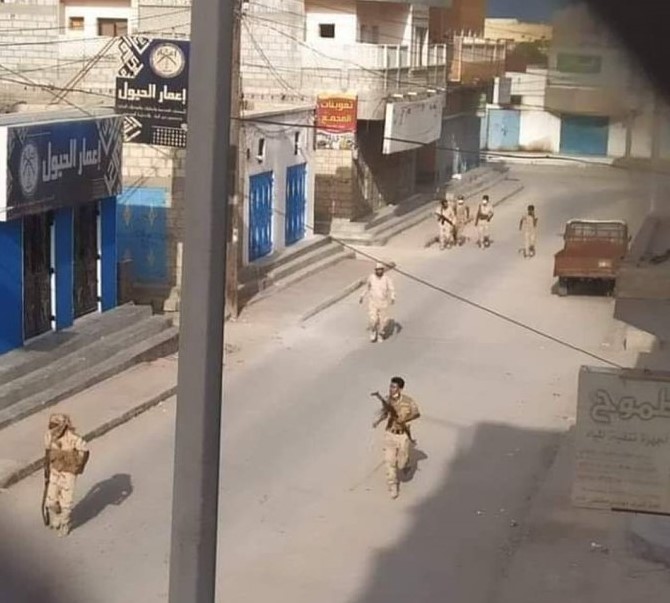 ---
Regional round-up
● Algeria: There are repeated complaints that the Algerian authorities are using the coronavirus epidemic as an excuse to suppress independent media published online. Journalists on state-run and pro-government media are allowed to work during the 3pm to 7pm curfew, but those on independent/web-based media are restricted. Separately, in an article for the Tahrir Institute, Yasmina Allouche looks at Algeria's coronavirus epidemic in the light of the country's political and economic problems.
● Bahrain: Shopping malls and some other businesses are re-opening today, but with restrictions. Staff and customers must wear face masks, steps are being taken to maintain social distancing and there is to be "continuous sterilisation". Theatres, sports centres, swimming pools, shish cafes, salons and tourist sites will remain closed adm restaurants are limited to deliveries and takeaways.
● Egypt: A video posted online shows President Sisi at a construction site reprimanding the supervisor for not making his workers wear face masks – though Sisi wasn't wearing one either.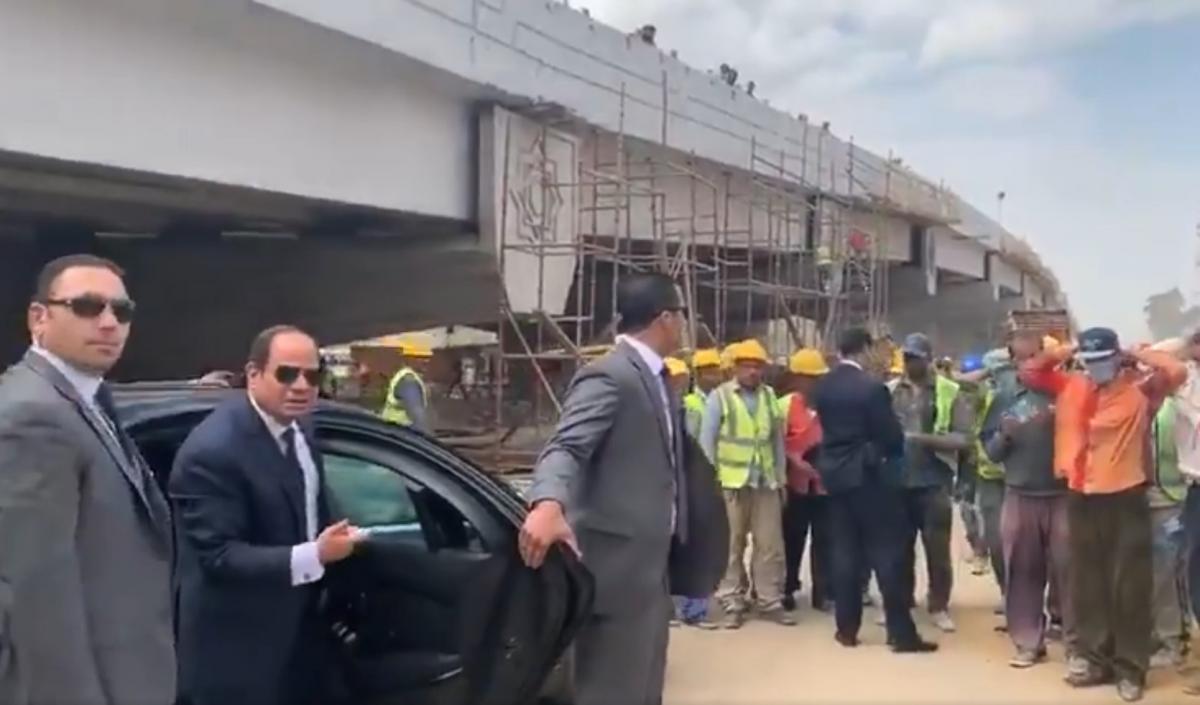 ● Kuwait reported 55 new cases yesterday, though only five involved Kuwaiti citizens. Thirty-seven were Indians and the others were of Pakistani, Iranian, Nepalese, Egyptian and Syrian nationalities. This is a further sign that infections are spreading mainly among migrant workers. On Monday, Kuwait imposed "complete isolation" on two "densely populated areas where poorer expatriate workers live".
● Saudi Arabia: The New York Times reports that King Salman has socially-isolated himself in a palace on a Red Sea island near Jeddah. The paper also says several members of the royal family have been infected and staff at the King Faisal Specialist Hospital in Riyadh have been told to prepare for an influx of VIP patients.
● Syria: Some of Syria's coronavirus precautions don't look very scientific. A photo issued by the government news agency shows that cars entering Aleppo have to drive through a pool of disinfectant.
---
New cases
Iran reported 1,634 new Covid-19 infections yesterday – a drop of 363 on the previous day. The official total of confirmed cases now stands at 66,220.
In the rest of the Middle East and North Africa region 1,604 new cases have been reported since yesterday's update, bringing the cumulative total to 28,584. During the past week the daily total of new cases hasn't fluctuated much. It appears to have reached a plateau – which suggests the lockdowns and curfews are having some effect.
The list below shows cumulative totals since the outbreak began, with day-on-day increases in brackets. Figures from Israel arrived too late for yesterday's update, so the 691 new cases shown in today's update cover two days rather than one.
Algeria 1,666 (+94)
Bahrain 887 (+64)
Egypt 1,699 (+139)
Iraq 1,232 (+30)
Israel 10,095 (+691)
Jordan 372 (+14)
Kuwait 910 (+55)
Lebanon 582 (+6)
Libya 21 (-)
Morocco 1,374 (+99)
Oman 484 (+65)
Palestine 263 (-)
Qatar 2,376 (+166)
Saudi Arabia 3,287 (+165)
Sudan 15 (+1)
Syria 19 (-)
Tunisia 643 (+15)
UAE 2,659 (-)
Yemen 1 (+1)
TOTAL: 28,584 (+1,604)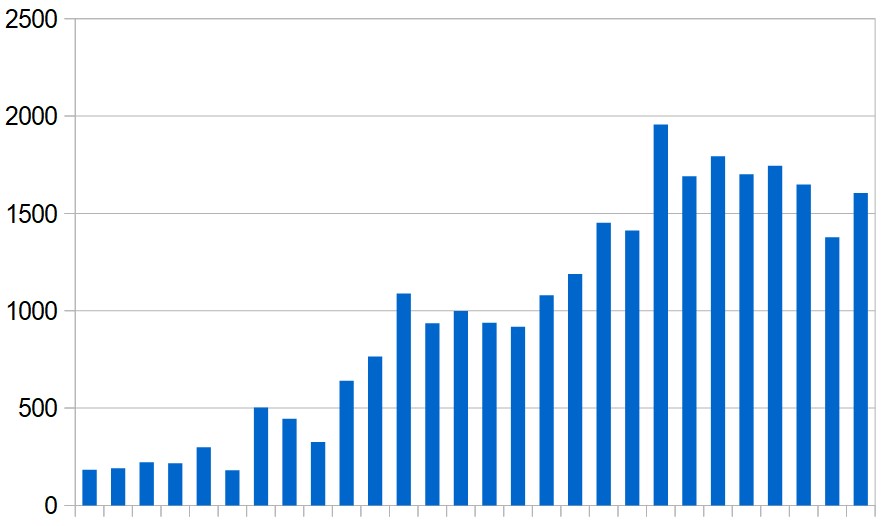 ---
Death toll
A further 117 coronavirus-related deaths were reported in Iran yesterday – four fewer than the previous day. This is the fifth consecutive daily fall.
Elsewhere in the region 75 deaths were reported – the highest daily total so far. Once again, Algeria reported the largest number of deaths.
This is the current list:
Algeria 235 (+30)
Bahrain 5 (-)
Egypt 118 (+15)
Iraq 69 (-)
Israel 92 (+18)
Jordan 7 (+1)
Kuwait 1 (-)
Lebanon 19 (-)
Libya 1 (-)
Morocco 99 (+6)
Oman 3 (+1)
Palestine 1 (-)
Qatar 6 (-)
Saudi Arabia 44 (+3)
Sudan 2 (-)
Syria 2 (-)
Tunisia 25 (+1)
UAE 12 (-)
Yemen 0 (-)
TOTAL: 741 (+75)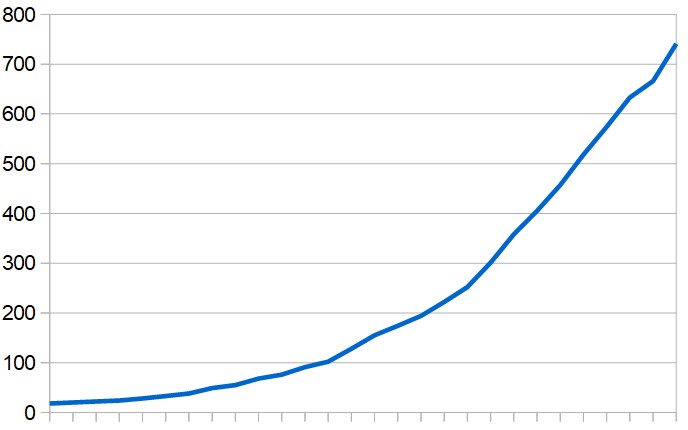 CLICK HERE for previous updates
For anyone interested: A spreadsheet documenting the new coronavirus cases and deaths reported in the region each day can be viewed here.
This work is licensed under a Creative Commons Attribution-NonCommercial 4.0 International Licence.