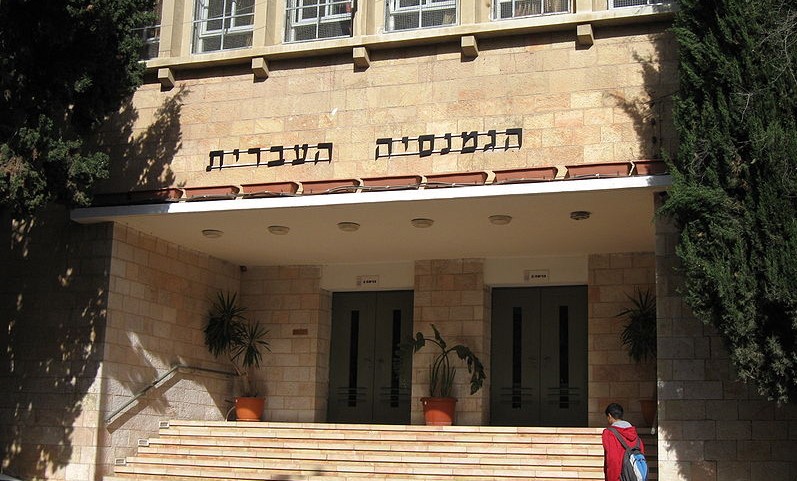 Until Thursday, Israel's coronavirus epidemic – which has so far infected more than 16,000 people – seemed to be fizzling out. For most of this month new cases were averaging only 25 a day as the country began emerging from its lockdown but now there has been a sudden rise.
Over the last two days, 199 new cases have been recorded – not a huge number but enough to cause alarm. Perhaps more significantly, positive results found in routine testing have also risen over the last few days, from 0.5% to 1.5%.
---
CLICK HERE to jump to Middle East updates
---
The new cases include large numbers of children, raising the possibility that some of the schools which recently reopened will have to close again.
There's a major outbreak at the Gymnasia Rehavia school in Jerusalem where 64 students and 14 staff have tested positive. In Bat Yam, south of Tel Aviv, several other schoolchildren have been diagnosed and two cases have been reported at a kindergarten in central Israel.
Meanwhile, members of Beitar Jerusalem's youth football team have gone into isolation after three members tested positive.
The health ministry's director-general, Moshe Bar Siman Tov, has blamed the increase on people not following the guidelines due to an "atmosphere of euphoria and complacency" after the easing of restrictions.
Cafes and restaurants were among the businesses that reopened this week, subject to rules that include social distancing and checking customers' temperature before they enter. The rules themselves are fairly obvious but during two hours in a Jerusalem cafe Sky News reporter Mark Stone found people constantly breaking them, apparently accidentally:
"Customers tend to bunch up subconsciously, waitresses' masks slip down from their noses, and some people unintentionally walk past the waiter with the thermometer. It's all a bit chaotic, naturally.
"And this is all at a cafe, which is, on the face of it, taking the regulations seriously.
"The owner was armed with a tape measure and had been diligently spacing out the tables to meet the required 1.5m distance."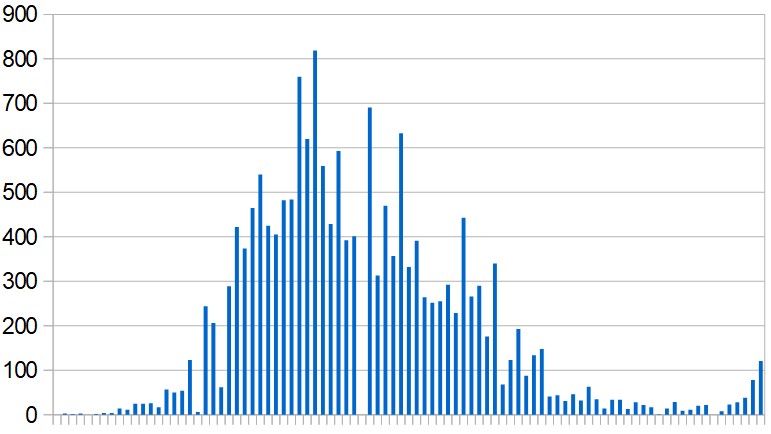 ---
New cases
A further 11,485 Covid-19 infections have been reported in the Middle East and North Africa since yesterday's update.
Iran, which is in the second wave of its epidemic, reported the largest day-on-day increase with 2,819 new cases. This is its highest daily figure since the beginning of April.
Egypt reported 1,289 new cases – its largest daily increase so far.
The list below shows cumulative totals (excluding Iran) since the outbreak began, with day-on-day increases in brackets.
Algeria 9,134 (+137)
Bahrain 10,449 (+397)
Egypt 22,082 (+1,289)
Iraq 5,873 (+416)
Israel 17,008 (+121)
Jordan 730 (+2)
Kuwait 25,184 (+1,072)
Lebanon 1,172 (+4)
Libya 118 (+13)
Morocco 7,714 (+17)
Oman 9,820 (+811)
Palestine 625 (-)
Qatar 52,907 (+1,993)
Saudi Arabia 81,766 (+1,581)
Sudan 4,521 (+175)
Syria 122 (-)
Tunisia 1,071 (-)
UAE 33,170 (+638)
Yemen 287 (+5)
TOTAL: 283,466 (+8,666)
Note: Yemen's total includes four cases reported by the unrecognised Houthi government in the north of the country. Palestine's total includes East Jerusalem.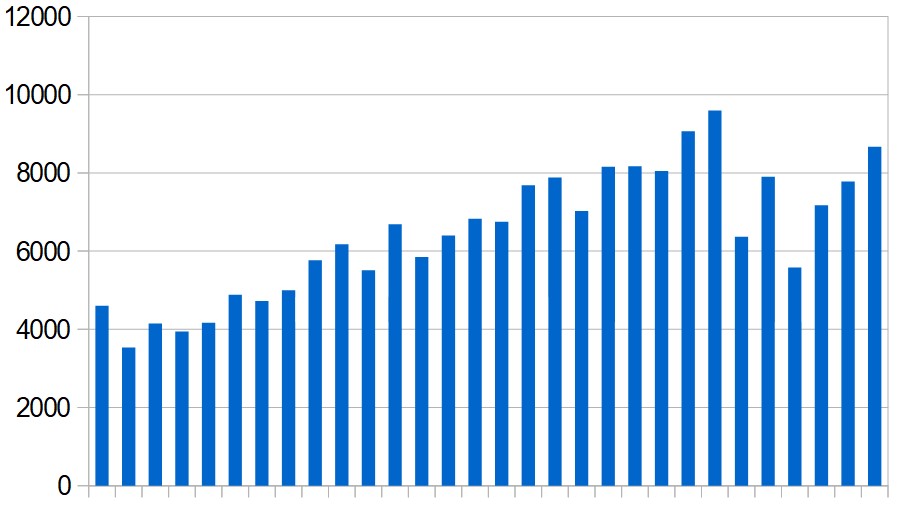 ---
Death toll
A further 175 coronavirus-related deaths were reported in the region yesterday – 50 of them in Iran, 38 in Sudan and 34 in Egypt.
The list below shows cumulative totals of reported deaths in the region outside Iran, with day-on-day increases in brackets.
Algeria 638 (+8)
Bahrain 15 (-)
Egypt 879 (+34)
Iraq 185 (+6)
Israel 284 (+3)
Jordan 9 (-)
Kuwait 194 (+9)
Lebanon 26 (-)
Libya 5 (-)
Morocco 202 (-)
Oman 40 (-)
Palestine 5 (-)
Qatar 36 (+3)
Saudi Arabia 458 (+17)
Sudan 233 (+38)
Syria 4 (-)
Tunisia 48 (-)
UAE 260 (+2)
Yemen 66 (+8)
TOTAL: 3,587 (+125)
Note: Yemen's total includes one death reported by the unrecognised Houthi government in the north of the country.
CLICK HERE for previous updates
For anyone interested: A spreadsheet documenting the coronavirus cases and deaths reported in the region each day can be viewed here.
This work is licensed under a Creative Commons Attribution-NonCommercial 4.0 International Licence.