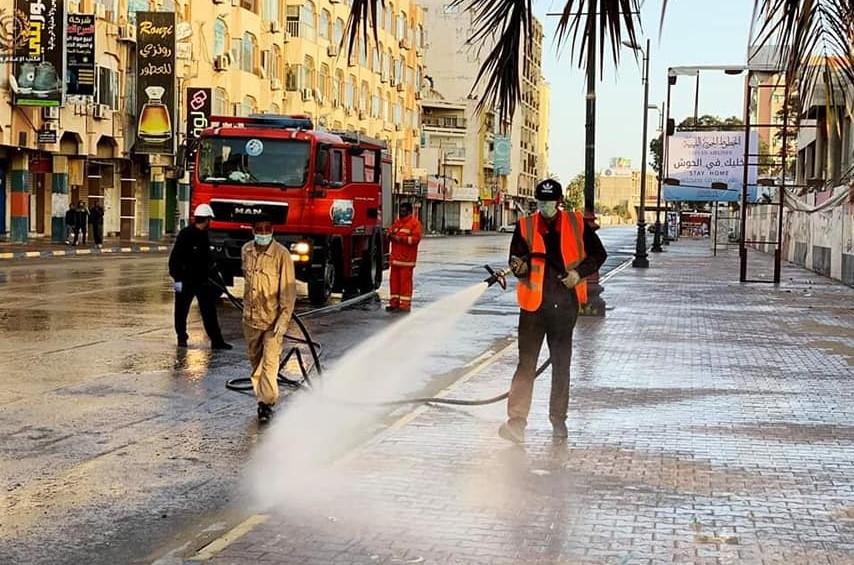 The UN's latest report on the coronavirus situation in Libya makes grim reading. Just about everything that could go wrong is going wrong.
None of it is helped by the ongoing conflict between the UN-backed Government of National Unity (GNA) in Tripoli and Field Marshall Haftar's forces based in the east of the country, plus the existence of numerous lawless militias.
Although Libya's first Covid-19 case was reported back in March, a national plan for dealing with the epidemic has still not been agreed.
"In the absence of a coordinated national response, many municipalities have imposed their own regulations and taken their own measures such as establishing local Covid-19 crisis committees," the UN's Office for the Coordination of Humanitarian Affairs (OCHA) says in a report issued on Monday.
---
CLICK HERE to jump to Middle East updates
---
Another problem is money. "Specific funds for the Covid-19 response have yet to be released by the Central Bank of Libya," the OCHA says. Health officials in the east, where the situation is described as dire, say they don't expect to receive any.
"Little progress has been made facilitating approvals for the importation of health supplies, the release of salaries and the provision of PPE to health workers," the report adds. Although some supplies have been received, the health ministry in Tripoli has yet to come up with a plan for distributing them.
Libya's health services had already been weakened by the armed conflict before the coronavirus arrived. By March, at least 27 health facilities had been damaged by fighting and 14 of them had closed. In May, unidentified militiamen entered the intensive care unit at a hospital in Benghazi on Sunday and opened fire. Medical staff escaped with their lives but seven respirators were badly damaged, along with an ultrasound machine and several monitors.
Currently, the OCHA says, around 75% of health facilities are not functioning at capacity due to staff shortages, the need for repairs, or inaccessibility because of the security situation.
Many health workers, especially in the south, are refusing to report for duty because they have no personal protective equipment. Health services are also affected by frequent power cuts and shortages of fuel.
The OCHA describes Libya's capacity for monitoring disease as "weak". In countries such as Libya, where the routine public health monitoring has broken down, the World Health Organisation supports an alternative early-warning system known as EWARN – a network of "sentinel sites" providing information about what is happening on the ground.
In Libya, though, EWARN appears to be breaking down too. "Weekly EWARN bulletins have stopped and the number of sentinel sites has decreased – from 70% in March to 50% in April," the OCHA says.
The map below, produced by the REACH Resource Centre, is a risk assessment of Libya's various administrative districts. Based on 13 different indicators, such as access to health services, population density, age profile, prevalence of chronic diseases, etc, it ranks them according to their "pre-existing vulnerabilities". This is not a prediction of where outbreaks are likely to occur but it highlights the areas where the effects of Covid-19 are likely to be most severe.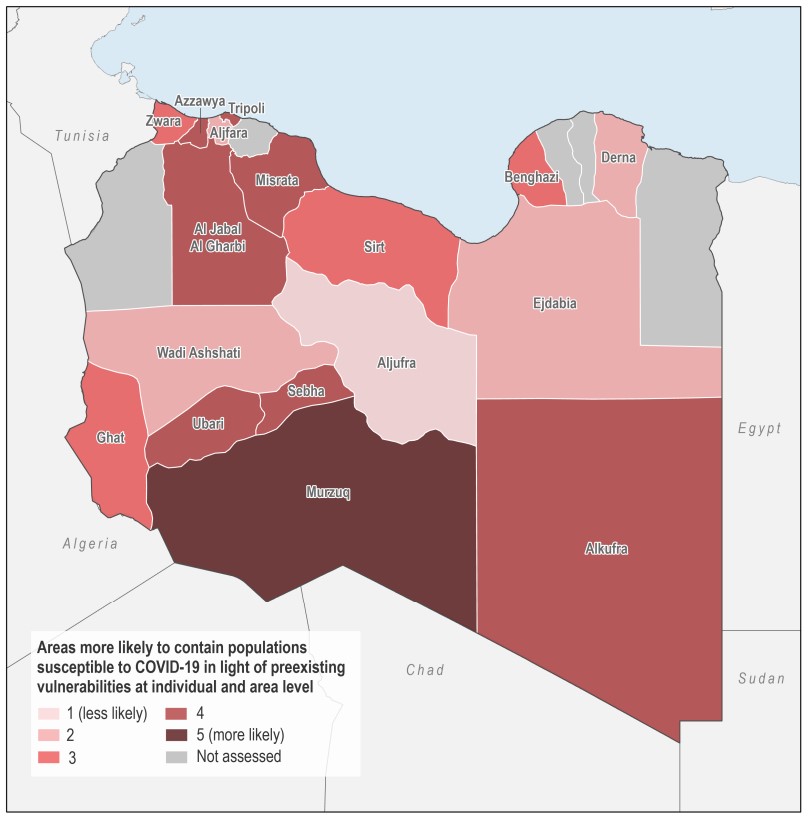 According to the official figures, only 359 cases of Covid-19 have been confirmed in Libya, along with five related deaths. This probably doesn't reflect the true picture because the level of testing is very low.
Despite uncertainty about the actual figures, the infection rate has clearly been increasing since the end of May and the total of known cases has almost doubled during the past week. Officials attribute this to the return of Libyans who were stranded abroad.
During May, according to reports cited by the OCHA, 4,900 Libyans returned by air, while 4,200 arrived overland from Tunisia and Egypt.
The most infected part of the country, with more than 140 confirmed cases, is in and around Sebha, an oasis city 400 miles south of Tripoli.
Further information:
Covid-19 in Libya
Previous Middle East updates
Covid-19 statistics for Middle East
---
New cases
A further 11,032 Covid-19 infections have been reported in the Middle East and North Africa since yesterday's update.
Saudi Arabia reported the region's biggest day-on-day increase with 3,288 new cases, followed by Iran with 2,095.
The list below shows cumulative totals (excluding Iran) since the outbreak began, with day-on-day increases in brackets.
Algeria 10,382 (+117)
Bahrain 16,200 (+469)
Egypt 36,829 (+1,385)
Iraq 14,268 (+787)
Israel 18,268 (+179)
Jordan 845 (+18)
Kuwait 33,140 (-)
Lebanon 1,368 (+18)
Libya 359 (+27)
Morocco 8,455 (+47)
Oman 18,887 (+689)
Palestine 661 (+9)
Qatar 71,879 (+1,721)
Saudi Arabia 108,571 (+3,288)
Sudan 6,427 (+185)
Syria 146 (+2)
Tunisia 1,087 (-)
UAE 39,904 (-)
Yemen 528 (+28)
TOTAL: 387,676 (+8,937)
Note: Yemen's total includes four cases reported by the unrecognised Houthi government in the north of the country. Palestine's total includes East Jerusalem.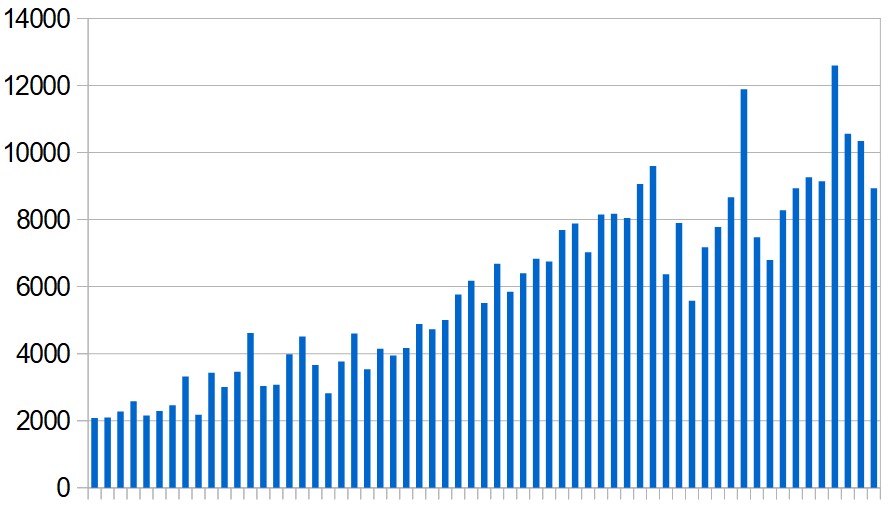 ---
Death toll
A further 221 coronavirus-related deaths were reported in the region yesterday – 74 of them in Iran. Saudi Arabia reported 37 deaths and Egypt 35.
The list below shows cumulative totals in the region outside Iran, with day-on-day increases in brackets.
Algeria 724 (+9)
Bahrain 30 (+3)
Egypt 1,306 (+35)
Iraq 392 (+22)
Israel 299 (+1)
Jordan 9 (-)
Kuwait 273 (-)
Lebanon 30 (-)
Libya 5 (-)
Morocco 210 (+2)
Oman 84 (+1)
Palestine 5 (-)
Qatar 62 (+5)
Saudi Arabia 783 (+37)
Sudan 389 (+17)
Syria 6 (-)
Tunisia 49 (-)
UAE 283 (-)
Yemen 128 (+15)
TOTAL: 5,067 (+147)
Note: Yemen's total includes one death reported by the unrecognised Houthi government in the north of the country.
This work is licensed under a Creative Commons Attribution-NonCommercial 4.0 International Licence.