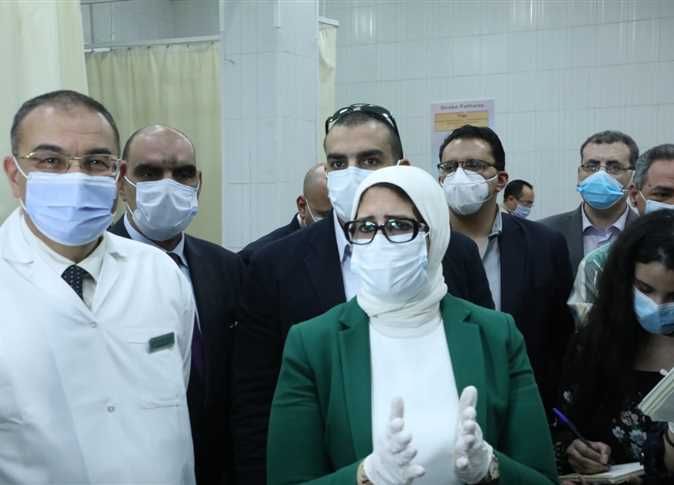 On Sunday Egypt announced that it will be ready to receive foreign tourists again in a couple of weeks. On Monday it announced a record number of new coronavirus cases and a record number of related deaths.
While many countries have waited for the Covid-19 epidemic to pass its peak before opening up, Egypt's reopening has begun while the epidemic is still growing. This is in line with the Sisi regime's stated policy of "coexistence" with the virus – prioritising the economy while hoping a vaccine will soon turn up.
International flights were suspended in March but all the country's airports will reopen on July 1 and flights will resume between Egypt and any countries willing to reciprocate.
---
CLICK HERE to jump to Middle East updates
---
Various precautions have been prescribed for the flights, including gloves and masks, and passengers will be served with only "dry meals and canned drinks". Passengers "who may have symptoms" will be confined to the two back rows on the plane where they will be served by one designated member of the cabin crew and have use of a designated toilet.
Hotels began reopening in May, but so far only for Egyptian guests (see previous report). About 230 hotels have been given permission to operate after meeting the government's safety requirements, though one of them – in Hurghada – has been shut down again for holding a party where the rules were not followed.
Once the airports reopen, foreign visitors will be welcome too and the tourism ministry has issued a video in the hope of enticing them back.
"In a country as old as time, some things are here to stay – like the Egyptian sun that will always be as warm as our smile," the video says. "The crystal clear water will always unfold wonders, the soft sands of Egypt will always hug your feet ..."
But foreign tourists hoping to visit the pyramids and other antiquities will have to wait a while. For the time being, they will be confined to seaside resorts in South Sinai, the Red Sea and Marsa Matrouh on the Mediterranean coast. These are all areas with low levels of infection and, as the tourism minister helpfully pointed out, "there are public and private hospitals equipped to deal with any injuries or diseases".
Egypt's economy in the light of the coronavirus pandemic was the subject of a video discussion last week, organised by the Carnegie Endowment.
One of the speakers – Timothy Kaldas of the Tahrir Institute – noted that many of the economic effects are not within the government's control.
"Egypt's economy is not isolated," he said. "The global downturn will affect various elements of Egypt's economy, from global trade, to energy prices, to remittances. Egypt has a lot of external vulnerabilities that are taking a hit due to the struggle that the entire world is dealing with."
Suez canal revenues and gas exports are likely to suffer, as will remittances from abroad as Gulf states seek to reduce their dependence on migrant labour.
Recognising that, some Egyptians argue that by reopening the tourism sector and generally minimising damage to its domestic economy the country will be relatively better placed once the gobal downturn ends.
Kaldas was sceptical, however, noting that in some ways Egypt's economy is "less resilient" than others.
Further information:
Covid-19 in Egypt
Previous Middle East updates
Covid-19 statistics for Middle East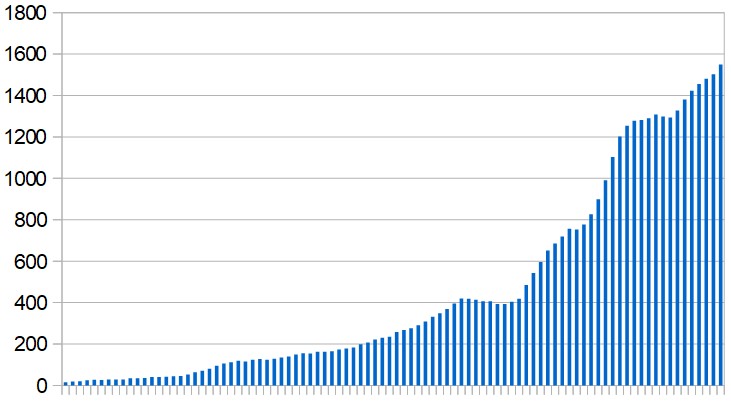 ---
New cases
A further 15,002 Covid-19 infections have been reported in the Middle East and North Africa since yesterday's update.
Saudi Arabia reported 4,507 new cases – its highest daily total so far.
Egypt also reported its biggest day-on-day increase, with 1,691 new cases.
The list below shows cumulative official totals since the outbreak began, with day-on-day increases in brackets.
Algeria 11,031 (+112)
Bahrain 19,013 (+469)
Egypt 46,289 (+1,691)
Iran 189,876 (+2,449)
Iraq 21,315 (+1,106)
Israel 19,338 (+217)
Jordan 979 (+18)
Kuwait 36,431 (+511)
Lebanon 1,464 (+18)
Libya 467 (+13)
Morocco 8,921 (+128)
Oman 25,269 (+1,788)
Palestine 690 (+14)
Qatar 80,876 (+1,274)
Saudi Arabia 132,048 (+4,507)
Sudan 7,435 (+215)
Syria 177 (-)
Tunisia 1,110 (+14)
UAE 42,636 (+342)
Yemen 848 (+116)
TOTAL: 646,213 (+15,002)
Note: Yemen's total includes four cases reported by the unrecognised Houthi government in the north of the country. Palestine's total includes East Jerusalem.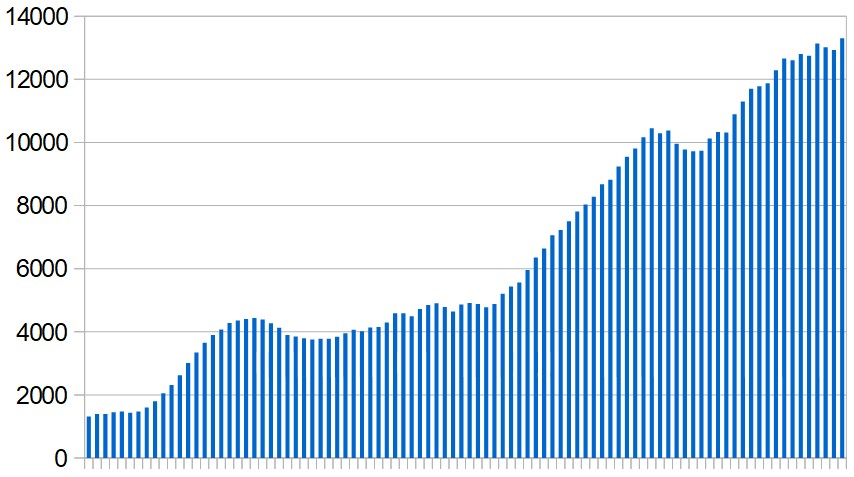 ---
Death toll
A further 375 coronavirus-related deaths were reported in the region.
Iran reported the largest number of deaths (113). Egypt reported 97 – its highest daily toll so far.
The list below shows cumulative official totals with day-on-day increases in brackets.
Algeria 777 (+10)
Bahrain 46 (+1)
Egypt 1,672 (+97)
Iran 8,950 (+113)
Iraq 652 (+45)
Israel 302 (-)
Jordan 9 (-)
Kuwait 298 (+2)
Lebanon 32 (-)
Libya 10 (-)
Morocco 212 (-)
Oman 114 (+10)
Palestine 5 (-)
Qatar 76 (+3)
Saudi Arabia 1,011 (+39)
Sudan 468 (+9)
Syria 6 (-)
Tunisia 49 (-)
UAE 291 (+2)
Yemen 209 (+44)
TOTAL: 15,189 (+375)
Note: Yemen's total includes one death reported by the unrecognised Houthi government in the north of the country.