Country narrative: Egypt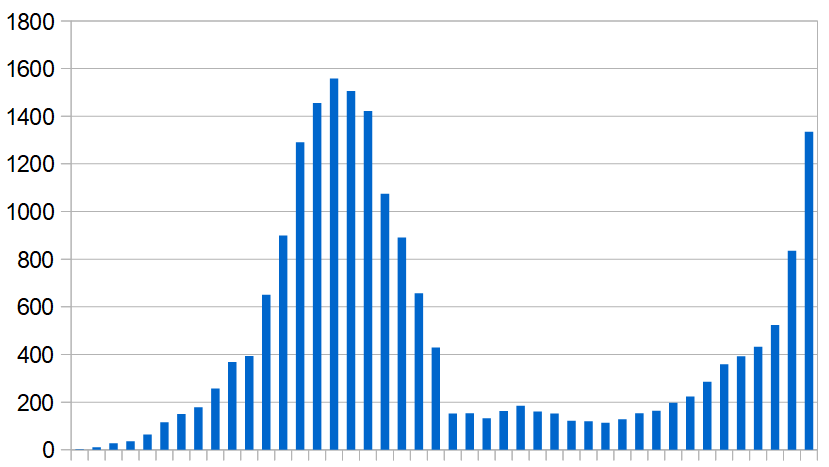 February 25, 2020
On February 14 the Ministry of Health announced one "confirmed" case involving a non-Egyptian. On 19 February the ministry said the person had tested negative. This has been widely interpreted as meaning the person had recovered (rather than being wrongly diagnosed initially).
February 27
Flights to and from China, which were suspended by Egyptair on 1 February had been due to resume on Friday but on Thursday the airline announced that it was pushing back the resumption date to 14 March.
February 28
The health minister said on Thursday that people arriving in Egypt by air or sea are being tested and that anyone suspected of having the virus will be quarantined for 14 days. Those arriving from countries where the virus has spread are being checked periodically for 14 days if the initial test is negative.
March 1
Six French travellers – members of a tour group that visited Egypt during the first half of February – have been diagnosed with the virus after returning to France. In Canada, a man with "a travel history to Egypt" has also tested positive after presenting himself at a hospital. At present it's unclear whether these people caught the virus from fellow-travellers or residents of Egypt. Either way, it could have a serious impact on Egypt's economically important tourism industry. So far, the Egyptian authorities are not revealing where the tourists stayed but they say workers at the relevant location are being checked.
March 2
One new case was confirmed on Monday morning by the health ministry and the World Health Organisation (WHO).
March 3
A few details have emerged about Egypt's second confirmed coronavirus case which was reported on Monday. He is described as a "foreign expert" working for an oil company in the north-west of the country. The Egyptian authorities have repeatedly denied allegations that they are concealing a number of other cases. On Monday the Egypt Watch website claimed that some are being treated in military hospitals which – since they don't come under the aegis of the health ministry – are not being reported to the World Health Organisation. There is no independent confirmation of this claim.
March 4
Mindful of the effects on tourism, the authorities have been less than transparent. On Tuesday the Mada Masr website published a lengthy article which gives the most detailed account of the situation so far.
March 5
The Egyptian authorities' attitude continues to cause concern. A lack of transparency has led to claims that new cases are being concealed – which the regime has repeatedly denied. On Sunday Qatar announced that it was banning all arrivals from Egypt, except for returning Qatari citizens. Shortly afterwards, Kuwait said it would be testing all travellers from Egypt before departure and again on arrival in Kuwait. Those actions appear to have been based on fears that the Sisi regime was mishandling the situation (see March 2 update). On Wednesday, in what appears to be more of a political move than a medical one, Egypt retaliated by banning Qataris from entering the country. A statement following a cabinet meeting on Wednesday said Egypt had decided to "implement the principle of reciprocity". There have been no direct flights between Egypt and Qatar since June 2017 when Egypt sided with Saudi Arabia and the UAE in their dispute with Qatar.
March 6
Egypt reported its third case – the first involving an Egyptian citizen. The new case is a 44-year-old man who arrived from Serbia after a 12-hour transit stay in France. He later developed symptoms and presented himself at a hospital.
March 7
Egypt detected 12 new cases among the crew of a Nile cruise ship. Checks were carried out after the WHO informed the Egyptian authorities that a Taiwanese-American tourist who had been on board the ship tested positive after returning home. The Egypt Independent reports that crew members had been tested during the previous 13 days and the results came back negative. It was not until the fourteenth day that the crew members tested positive and they were then quarantined. They are said to show no symptoms.
March 8
Thirty-three new cases were reported on board the Nile cruise ship, River Anuket, in addition to the 12 detected earlier. Officials say all 45 are being transferred to isolation in hospital. Nineteen of those infected are said to be non-Egyptians. The vessel was reportedly carrying more than 150 passengers and crew.
March 9
Egypt has reported its first coronavirus death – a 60-year-old German tourist. According to the health ministry the total of confirmed cases has now reached 55.
March 10
Egypt reported four new cases – three of them at a hotel near Cairo airport. An Egyptian man has also tested positive in Saudi Arabia while apparently on a trip to Mecca. Following an emergency meeting the Egyptian government has announced a ban on large gatherings. It also opened a coronavirus testing centre which – not unexpectedly – resulted in large gatherings of people wanting to be tested. Meanwhile, the authorities have issued a warning against con artists posing as government officials who claim to be able to disinfect people's homes. The much-ridiculed health minister, Hala Zayed, has again praised her ministry's efforts, asserting that Egypt is capable of overcoming and combating any viruses.
March 14
Egypt reported 13 new cases – five Egyptians and eight foreigners.
March 16
Of the 16 most recent new cases, eight are reported to be Egyptians and the other eight are foreigners of various nationalities. All are said to have been in contact with previously confirmed cases, apart from an Egyptian returning from Italy.
March 17
Egypt reported 40 more cases, bringing the official total to 166. The health ministry says eight of the new cases are Egyptians who returned from pilgrimages in Saudi Arabia.
A 72-year-old German tourist died in Luxor and a 50-year-old Egyptian died in Daqahliyah on the Nile delta. More than 300 families have now been quarantined in Daqahliyah.
Schools and universities are suspended and airports will be closed from March 19. A campaign has been launched to sterilise hotels.
Large numbers of government employees are being told to work at home, with the exception of those in the the health sector, transportation, water, sewage and electricity.
March 18
The Egyptian government has accused reporters from the Guardian and the New York Times of violating "all the rules of journalistic work" in connection with the country's coronavirus epidemic.
The Sisi regime's State Information Service said on Wednesday it was withdrawing the accreditation of the Guardian's Cairo correspondent and also warned the New York Times over tweets posted by its local bureau chief.
News media in Egypt have been told they can only report information about coronavirus cases that has been provided by the government.
On Sunday, the Guardian published a report by its correspondent, Ruth Michaelson, which said "Egypt is likely grappling with a higher rate of coronavirus infections than official figures". There are plenty of reasons for believing this is true (see previous updates).
The current official figure for confirmed cases in Egypt is 196 but Michaelson's article cited research by infectious disease specialists from Toronto university suggesting there could be more than 19,000 undetected cases.
The article added that the Egyptian health ministry had been invited to comment on this but did not respond.
The State Information Service says it has also issued a warning to Declan Walsh of the New York Times who had posted several tweets about the Toronto university study.
The researchers have since said 19,000 undetected cases could be an overestimate and the actual figure may be as low as 6,000. Even so, this would mean the Egyptian authorities face an enormous problem which they have so far denied or failed to recognise.
A group of 73 Egyptian scientists have written to Toronto university accusing the researchers of "causing significant damage to Egyptian society".
March 20
Although early cases in Egypt were mostly linked to tourism and foreigners, the virus now appears to be spreading in the general community. Of the latest 46 cases, only four involve foreigners. The other 42 are all Egyptians who, according to the health ministry, were in contact with others who tested positive earlier.
March 22
Egypt confirmed nine new cases – all of them Egyptians. Two elderly people are reported to have died in Giza, bringing Egypt's death toll to ten.
March 24
Government media reported the deaths of two senior military figures: Maj Gen Khaled Shaltout and Maj Gen Shafia Abdel Halim Dawood. Both are said to have "died while fighting the coronavirus", and there are suggestions these are not the only cases among the military. Meanwhile, the interior ministry has dismissed rumours that a curfew is coming.
March 25
A night-time curfew is due to come into force at 7pm today (details here). Non-compliance is likely to be a problem. According to the WHO representative in Egypt, the country is at a crossroads "and failure to abide by the state's instructions could lead to a scenario similar to Italy and Spain".
March 26
At least 15 people died in Giza when a lorry crashed into a line of vehicles stopped at a checkpoint on the first night of the country's night-time curfew. The people in the stationary vehicles were claiming exemption from the curfew and had been queuing to have their papers checked.
March 27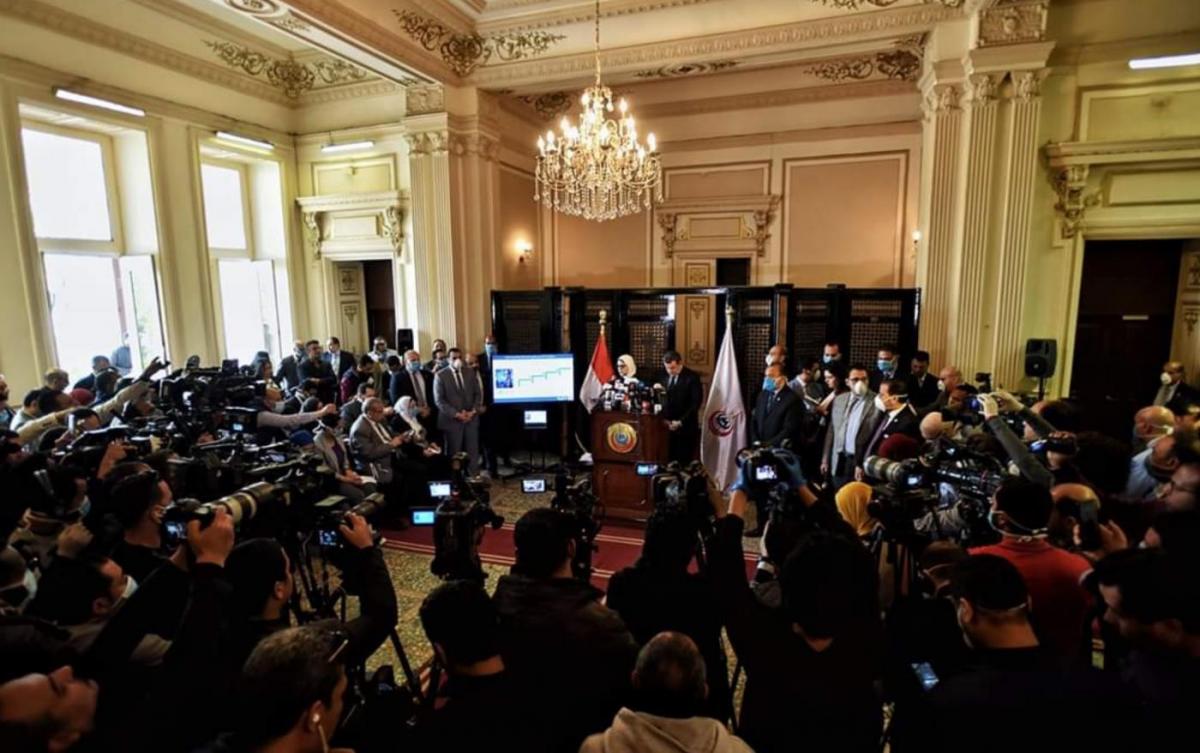 Anyone who still doubts that Egypt is heading for a coronavirus catastrophe should take a look at the picture above. It shows the health minister setting the worst possible example by holding a news conference in a room packed with more than 50 people.
It's generally believed that Egypt has far more cases than the official figure (currently 495) suggests, and the Guardian's correspondent in Cairo, Ruth Michaelson, has now been forced to leave the country for writing about a scientific study which said so.
Meanwhile – presumably in the forlorn hope of attracting tourists back, they have been sweeping the area around the pyramids and spraying it with disinfectant.
Of course, there's a night-time curfew but here are some examples via Twitter of what happens during the daytime ...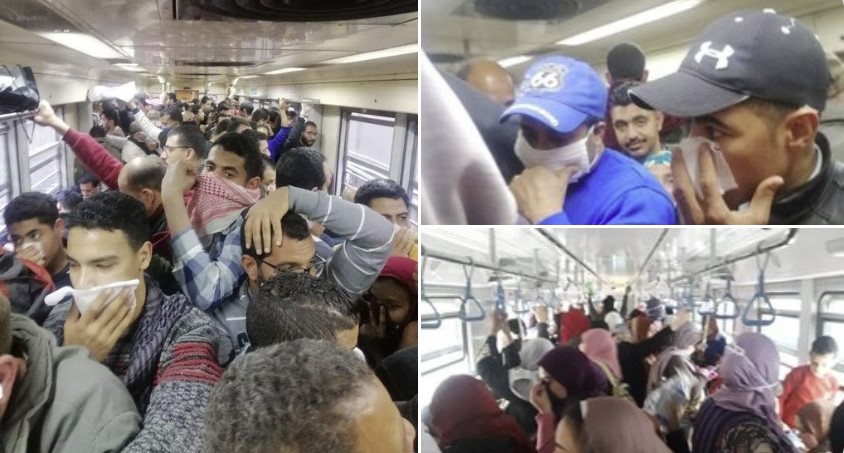 April 1
Egypt's efforts to control the spread of coronavirus are "good and reassuring", President Sisi claimed yesterday as the authorities reported 54 new cases and five more deaths.
"In light of my following-up around the clock on all efforts and measures taken to confront the spread of coronavirus, I believe that what has been achieved so far is good and reassuring," Sisi said.
Officially, there have been only 760 cases in Egypt but it's widely believed that many more are undetected or unannounced. Last week the Guardian's correspondent in Cairo, Ruth Michaelson, was forced to leave the country after writing about a scientific study which said the real numbers probably run into the thousands.
The regime's own figures show there are outbreaks in at least 19 of the country's 27 governorates.
Although a night-time curfew has been imposed along with other restrictions, during the daytime social distancing is difficult to maintain and the authorities have not been setting a good example. Last week the health minister held a news conference in a room packed with more than 50 journalists.
Meanwhile, Egyptian billionaire Naguib Sawiris says the country faces economic collapse if people don't return to work on 8 April – the date when the curfew is supposed to end.
"Even if people get sick, they will recover," he said, adding that the virus "only kills 1% of patients, who are mostly elderly people".
Based on the official figures, Egypt's current death rate is actually 6.5% – the same as that in Iran.
April 2
The Egyptian authorities have been taking exception to suggestions that there are far more coronavirus cases in the country than official figures reveal. Last week, the Guardian's correspondent in Cairo was forced to leave after writing about a scientific study which said the real numbers probably run into thousands.
However, an article posted on the Mada Masr website yesterday sheds some more light on the situation. Its author, Hossam Bahgat, reports that a decision was made in mid-March to ration testing.
"Faced with the fact that Egypt, like most countries, doesn't have the necessary capacity to conduct large-scale testing, the government decided to ration tests, running them only on cases that fit the COVID-19 'case definition' specified by the [health] ministry's scientific committee," Bahgat writes.
What this meant in practice was that people would only be tested if they showed symptoms and had been in contact with a known positive case or had arrived from a country with a high infection count.
The aim of this was to conserve the relatively scarce supply of test kits. Bahgat quotes an official as saying: "It's not that we don't have the money to buy the tests, but Egypt is standing in a long queue, which includes the United States and all of Europe, to acquire testing kits."
Nevertheless, by 25 March, the authorities had carried out 25,000 tests, according to the health minister. Since then, more kits have become available and with support from WHO and others, Egypt "now has the capacity to conduct up to 200,000 tests".
The question still to be answered is whether test-rationing has led to a large number of undiagnosed cases that could spread the virus further.
Egyptian officials say this is unlikely, based on the results of the 5,000 tests carried out before rationing was introduced.
The Mada Masr article says the 5,000 were "people exposed to positive cases; health workers in hospitals where cases were confirmed; workers who were required to be tested before traveling to Gulf countries (before these countries closed travel with Egypt) and walk-ins who requested to take the test at government labs".
It quotes an official as saying: "We treated these tests as close to a random sample of 5,000 people and studied the results, of which the vast majority were negative. More importantly, we managed to trace the index case [original source] for confirmed infections."
The authorities claim they have been successful in tracing infection chains back to their source – which is said to be the main reason for their relative confidence.
So long as they are able to continue tracing sources, Egypt's outbreak is regarded by the WHO as being at the "local transmission stage". If they become unable to trace the chains of transmission it will shift to the "community transmission stage" – which is far more serious.
"If we get cases of individuals who haven't been exposed to any known positive case and who haven't traveled to a country with an outbreak, then we can say that there are infections that we're not aware of," an official is quoted as saying.
As a further check for undiagnosed cases, the health ministry has instructed officials issuing death certificates to flag those where the death involves symptoms that could be coronavirus.
April 5
Egypt's health minister, Hala Zayed, arrived in Italy yesterday for a "solidarity" visit, together two military planes bringing medical aid from Egypt.
Her trip was reportedly ordered by President Sisi who on Saturday posted a tweet offering to provide "all possible support" to "the governments and people of the whole world" in the battle against coronavirus.
Despite the doubts expressed by others, Sisi appears confident that the situation in Egypt is under control. Last week he described the country's efforts to check the spread of the virus as "good and reassuring".
However, a lack of transparency has fuelled fears that the regime faces a bigger problem than it is willing to admit. For example, the health ministry has given no information about doctors or other medical staff who have been infected in the course of their work.
Last week the Egyptian doctors' syndicate sent a letter to the ministry which said:
"Due to the infection of several doctors while doing their job combating the coronavirus, the syndicate requests the regular disclosure of data on infected doctors and their health status, in order to communicate with their families and provide the necessary syndicate assistance."
On Saturday the director of the National Cancer Institute in Cairo said fifteen medical staff – three doctors and 12 nurses – have been infected with coronavirus. Efforts are being made to trace patients who were in contact with them.
April 9
The night-time curfew imposed on March 25 has been extended until April 23. However, it will now begin at 8pm rather than 7pm. The later start is apparently to reduce overcrowding on public transport as people return home from work.
The daily numbers of confirmed cases in Egypt continue to rise. The cumulative total is now 1,560 but there are doubts about the official figures.
April 10
A video posted online shows President Sisi at a construction site reprimanding the supervisor for not making his workers wear face masks – though Sisi wasn't wearing one either.
April 12
Police in Egypt used tear gas on Saturday to disperse protesters who were trying to prevent the burial of a doctor who died after being infected by coronavirus. Ahram Online reports that 23 people were arrested.
It was the second attempt to bury the 64-year-old female doctor. Residents in her home town had refused to let her be buried there and the funeral was then switched to her husband's home town.
Protesters blocked the road to the cemetery, claiming that her burial would spread coronavirus in the area. This appears to be a widespread belief in Egypt and Ahram Online says the burials of coronavirus victims often take place in secret, supervised by police.
Meanwhile, the Egyptian doctors' syndicate has been struggling to get information from the government about the numbers of doctors and other medical staff infected with coronavirus. The syndicate has so far identified 43 cases, including three deaths.
At the end of March, President Sisi hailed Egypt's efforts to combat the coronavirus epidemic as "good and reassuring". Amid such confidence, his regime even made a show of sending medical aid to worse-hit countries such as Italy and the United States.
Now, little more than a month later, the regime has publicly admitted that the picture isn't so bright. Even if you trust the official figures (and many don't), infections and deaths in Egypt have multiplied tenfold since Sisi pronounced himself reassured.
Officials concede that Egypt's epidemic has still to reach its peak. According to a government committee the peak will come in about three weeks, coinciding with the end of Ramadan and the festival of Eid al-Fitr.
In mid-April the minister of planning outlined several scenarios, saying there was a 50% chance the epidemic would end in September and a 30% chance it would last until December.
On Saturday, though, health minister Hala Zayed appeared to throw those predictions out of the window. Egypt, she said, will simply have to coexist with the virus until a vaccine is found.
The tone has also shifted from the regime praising its own efforts to blaming the public for ignoring guidelines and failing to adapt.
"We do not want to be like Italy," Hossam Hosny, head of the health ministry's scientific committee, said on Saturday. "Unfortunately, there is no interest from citizens in taking precautionary measures against the coronavirus."
People's disregard for the guidelines has become worse since the start of Ramadan, he added. "I saw youth gatherings after Iftar and large numbers of children took to the streets, riding their bicycles, as if we were on vacation, as if they were in happy times."
Social distancing is difficult to maintain in Egypt, even for those who take the Covid-19 threat seriously (and there are many who don't). But the regime has made things worse by its lack of transparency, its repeated assurances that the situation was under control and its condemnation or punishment of those who suggested otherwise.
This is a regime that can throw a young man into jail for helping to make a satirical video – and allow him to die there – while shying away from confrontation with those who violate the coronavirus restrictions.
At the weekend it was reported that three people have been referred to to the courts for holding a party during curfew hours but Ahram Online points out that this is the first time the public prosecutor has taken such action since the restrictions were imposed.
Meanwhile, the authorities are seeking to reactivate Egypt's economically important tourism sector. Hotels can reopen so long as they keep below 25% room occupancy, the tourism minister said on Sunday. But there are a lot of new regulations to go with this, making it unlikely that the countless small hotels frequented by ordinary Egyptian travellers will be able to comply.
In particular, hotels are being told they must provide their own clinic with a doctor and personal protection equipment. This may be an option for the big international hotels but they will be lucky if they come anywhere near the 25% occupancy ceiling. Commercial flights to Egypt were suspended on March 19 and foreign tourists are unlikely to be in any hurry to return when they resume.
May 21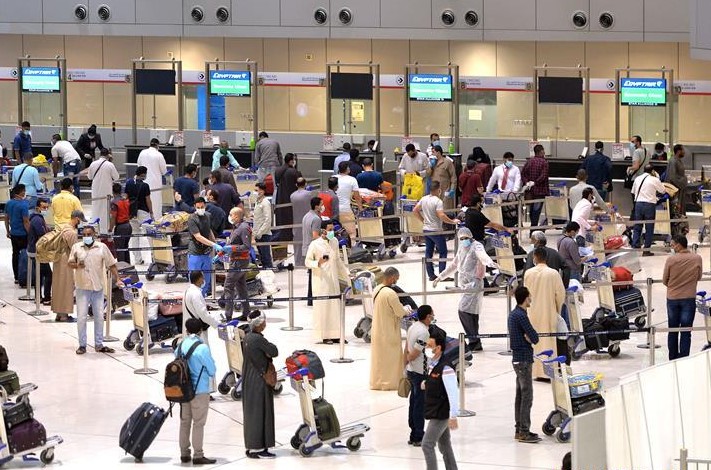 Faced with a shortage of places for quarantining Egyptians who return from abroad, the authorities have adopted an original – if dangerous – solution. To create more space, they have reduced the mandatory quarantine period from 14 days to seven.
Egyptian citizens who test negative for Covid-19 after returning from abroad are quarantined at designated hotels or university hostels. Thousands who became stranded in other countries are currently being repatriated and the health ministry says the shortened quarantine period, which came into effect this week, is intended to "reduce congestion" and "provide an opportunity" for all returnees to be compulsorily isolated (if only for a short time).
However, this increases the risk that some of them will develop the disease after being released – and thus infect others.
Medical evidence shows the incubation period for Covid-19 can vary widely from person to person. A recent research paper suggests the median incubation period is about five days. In other words, half of new cases will be detectable earlier and the other half will show up later. Research also suggests that after 11.5 days 97.5% of those who are going to develop symptoms will have done so, and a 14-day quarantine period is likely to cover 99% of all possible cases.
Egypt hasn't officially abandoned the 14-day principle recommended by the World Health Organisation but in practice that is likely to be the effect of its decision.
After a week in compulsory quarantine, those who still test negative will be told to spend a further week in self-isolation at home. Many are unlikely to comply, either because their living conditions are not conducive to isolation or because the negative test results lead them to assume they are in the clear.
Finally arriving home after a long period of absence, they are also likely to be greeted in the traditional Egyptian way – with hugs from extended family and celebration parties.
In Lebanon, one returnee received visitors while supposedly isolated at home and infected ten of them, and one of the visitors then went on to infect at least 13 others.Non-compliance with home isolation has become a serious problem in other Arab countries.
In Jordan a truck driver returning from Saudi Arabia who had initially tested negative at the border, ignored the rules despite having signed a pledge to self-isolate. As a result, more than 90 people have since become infected.
That prompted a tightening-up of the system. Jordanian truck drivers arriving from Saudi Arabia now have to spend two weeks at a quarantine centre. Egypt, meanwhile, seems to be moving in the opposite direction.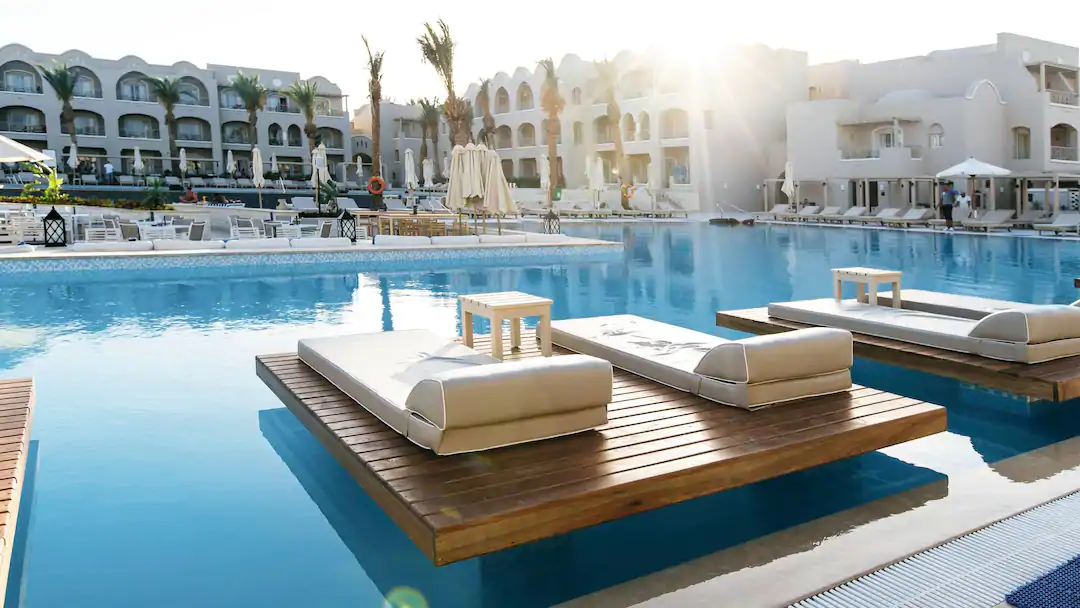 Ramadan is over and now it's holiday time. As Muslims enjoy the three-day Muslim festival of Eid al-Fitr, hotels in Egypt – previously closed because of the coronavirus pandemic – are beginning to receive guests again.
On Friday, for the first time since March, 68 visitors checked into hotels in the Red Sea resort of Hurghada. Egypt is under economic pressure to re-start its tourism industry but the timing is far from auspicious.
Even according to the government's own figures, the past week has seen the highest number of new Covid-19 infections since the outbreak began and on Saturday a further 28 deaths were reported – the country's worst daily toll yet.
Reopening hotels under those conditions might seem premature, but the authorities have stipulated various precautions that they hope will minimise the risk. Other countries that depend heavily on tourism will no doubt be watching intently to see if it works.
The initial aim is to restart domestic rather than international tourism. Hotels wishing to reopen have to pass an inspection and then comply with numerous rules:
● Occupancy rates must stay below 25% for the rest of this month, though that is due to increase to 50% on June 1.
● Rooms, which must be well ventilated, are limited to two adult occupants and one child. Occupied rooms must be separated by unoccupied rooms.
● Guests' temperatures are to be checked when they arrive and when they enter the dining room. Tables are to be widely spaced and food will be brought to them by staff – there will be no self-service buffets.
● Hotels must have a doctor on hand and ensure that personal protective kits and disinfection materials are available. There must also be a designated place for isolating anyone who becomes ill.
● There will be no discos, wedding parties or shisha smoking. There are various other stipulations, such as having guests sign in on arrival with a single-use pen.
These regulations are said to be in line with World Health Organisation guidelines, but how closely they will be observed in practice remains to be seen.
Egypt's official tally of new Covid-19 infections rose above 1,000 for the first time on Thursday as President Sisi warned that his regime's handling of the crisis must not be questioned. According to Sisi, hostile campaigns by "lurking enemies of the homeland" are seeking to discredit the regime's achievements.
Prominent among these "enemies of the homeland" are Egypt's doctors. On Monday their professional body, the Egyptian Medical Syndicate, said the country's healthcare system could "completely collapse" if the government's "negligence and lack of action" towards medical staff is not rectified.
While Egypt has made a show of sending medical aid to other countries hit by the virus – China, Italy and the United States – its own doctors have been complaining about a lack of protective equipment and testing of medical staff who may have become infected.
By Monday, according to the syndicate, there had been 19 deaths and 350 infections among health workers – though the government disputes those figures. On Wednesday the syndicate announced the deaths of three more doctors, two of whom had been diagnosed with Covid-19. The third doctor died of "severe respiratory failure" which could also be a sign of Covid-19.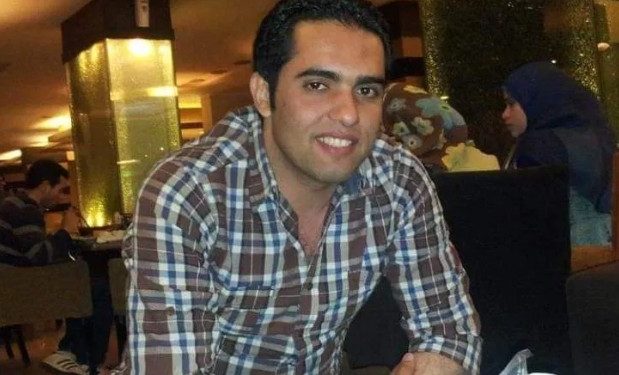 There's particular anger over the case of Waleed Yehia Abdel Halim, a 32-year-old doctor at the Mounira General Hospital in Cairo who died six days after becoming ill with the virus. Other staff at the hospital announced their mass resignation, accusing the health ministry of negligence. The resignation letter also said doctors had been threatened with "administrative measures" if they complained about the situation.
Under pressure, the health ministry said an initial investigation had found "shortcomings" in the way Abdel Halim's case was dealt with.
Social media users have been contrasting that with the apparently privileged treatment afforded to veteran film star Ragaa El-Gedawy when she tested positive for the virus.
Egypt's public prosecutor has previously threatened action against critics of the regime's handling of the epidemic under articles 80, 102 and 188 of the penal code.
Article 80 is basically about espionage but it also applies to publishing information that harms Egypt's "dignity and prestige".
Article 102 penalises "those who raise their voice by speaking loudly or singing in order to stir up sedition".
Article 188 relates to publishing "false news" that is likely to "create fright among the people".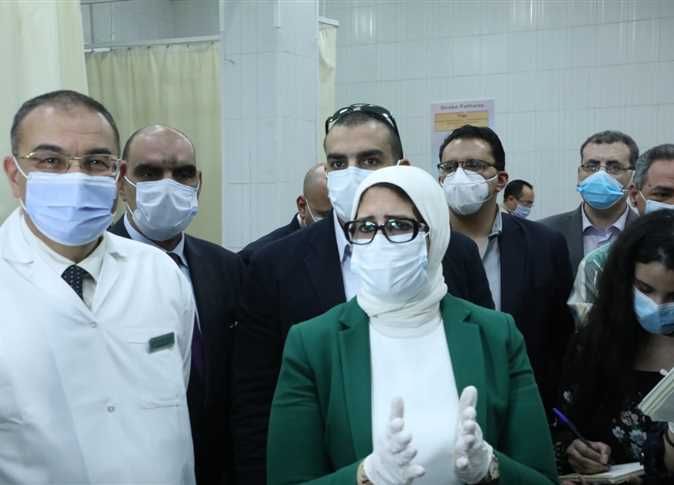 On Sunday Egypt announced that it will be ready to receive foreign tourists again in a couple of weeks. On Monday it announced a record number of new coronavirus cases and a record number of related deaths.
While many countries have waited for the Covid-19 epidemic to pass its peak before opening up, Egypt's reopening has begun while the epidemic is still growing. This is in line with the Sisi regime's stated policy of "coexistence" with the virus – prioritising the economy while hoping a vaccine will soon turn up.
International flights were suspended in March but all the country's airports will reopen on July 1 and flights will resume between Egypt and any countries willing to reciprocate.
Various precautions have been prescribed for the flights, including gloves and masks, and passengers will be served with only "dry meals and canned drinks". Passengers "who may have symptoms" will be confined to the two back rows on the plane where they will be served by one designated member of the cabin crew and have use of a designated toilet.
Hotels began reopening in May, but so far only for Egyptian guests (see previous report). About 230 hotels have been given permission to operate after meeting the government's safety requirements, though one of them – in Hurghada – has been shut down again for holding a party where the rules were not followed.
Once the airports reopen, foreign visitors will be welcome too and the tourism ministry has issued a video in the hope of enticing them back.
"In a country as old as time, some things are here to stay – like the Egyptian sun that will always be as warm as our smile," the video says. "The crystal clear water will always unfold wonders, the soft sands of Egypt will always hug your feet ..."
Egypt's economy in the light of the coronavirus pandemic was the subject of a video discussion last week, organised by the Carnegie Endowment.But foreign tourists hoping to visit the pyramids and other antiquities will have to wait a while. For the time being, they will be confined to seaside resorts in South Sinai, the Red Sea and Marsa Matrouh on the Mediterranean coast. These are all areas with low levels of infection and, as the tourism minister helpfully pointed out, "there are public and private hospitals equipped to deal with any injuries or diseases".
One of the speakers – Timothy Kaldas of the Tahrir Institute – noted that many of the economic effects are not within the government's control.
"Egypt's economy is not isolated," he said. "The global downturn will affect various elements of Egypt's economy, from global trade, to energy prices, to remittances. Egypt has a lot of external vulnerabilities that are taking a hit due to the struggle that the entire world is dealing with."
Suez canal revenues and gas exports are likely to suffer, as will remittances from abroad as Gulf states seek to reduce their dependence on migrant labour.
Recognising that, some Egyptians argue that by reopening the tourism sector and generally minimising damage to its domestic economy the country will be relatively better placed once the gobal downturn ends.
Kaldas was sceptical, however, noting that in some ways Egypt's economy is "less resilient" than others.
July 4
Egypt's airports reopened for international flights on Wednesday after a break of almost three months and the railways resumed full service. However, health services are under strain, with medical staff complaining of inadequate protection, and the death rate remains high.
Relations between the Sisi regime and the medical profession continue at a low ebb (see previous report). More than 100 health workers have died from Covid-19 and almost a thousand have been infected, according to the doctors' syndicate. Several doctors have been imprisoned or arrested after making comments on social media criticising the regime's handling of the situation.
July 11
New infections in Egypt reached a plateau in mid-June and the numbers are now falling. During the past week newly-reported cases averaged 1,075 a day – a drop of almost 30% since two weeks ago.
The night curfew which had been in force since March ended on June 27 and cafes and restaurants were allowed to reopen, though with some restrictions.
Assuming the official figures are reliable, lifting restrictions doesn't seem to have had an adverse effect – though it's too early to be sure.
The Sisi regime is waging what Amnesty International describes as a "campaign of harassment and intimidation" against healthcare workers and others who question or criticise its handling of the situation. More than 70 people, including doctors, journalists and lawyers, have been arrested for expressing their views. In June, prime minister Mostafa Madbouly suggested that the spread of the virus was due to "negligence and mismanagement" by doctors.
July 18
Official figures show new cases have been falling during the past two weeks but there's debate about how real the decrease is. The Masrawi website notes that Covid-19 cases are increasingly diagnosed using chest X-rays and clinical evaluation rather than laboratory testing – in which case they are not recorded in the official figures. Increased numbers of people with mild or moderate symptoms are being advised to isolate themselves at home and stay away from hospitals. Masrawi also quotes a doctor as saying more people are seeking private treatment rather than relying on government hospitals.
There are some signs of reduced pressure on health services and occupancy of intensive care units is down from 85% to 60%, according to a health ministry adviser.
Operators of tourist restaurants and cafes complained this week that they are losing money because of restrictions on capacity.
The Sisi regime is waging what Amnesty International describes as a "campaign of harassment and intimidation" against healthcare workers and others who question or criticise its handling of the situation. More than 70 people, including doctors, journalists and lawyers, have been arrested for expressing their views. In June, prime minister Mostafa Madbouly suggested that the spread of the virus was due to "negligence and mismanagement" by doctors.
The doctors' syndicate reported the deaths of two more members from Covid-19 of Tuesday, bringing the total to 133.
A prominent Egyptian journalist, Mohamed Monir, has also died after contracting Covid-19 while in custody. Monir was arrested last month following an appearance on al-Jazeera television, which is banned in Egypt. He was charged with "spreading fake news, joining a terrorist group and misusing social media".
July 25
Some new precautions have been announced to cover the Eid al-Adha holiday period. Beaches and parks will be closed. Shops must close at 10pm daily, with cafes and restaurants closing at midnight.
August 1
Since June the government has been allowing Prime Speed Medical – a private company with regime connections – to conduct tests for paying customers, according to the Egyptian website Mada Masr. It's unclear how this particular company was chosen and Mada Masr says positive results from its tests are not included in the official figures.
Egypt hopes eventually to become Africa's main production centre for a coronavirus vaccine and is reportedly seeking a partnership deal with a Chinese company.
August 8
Egypt has been anxious to revive its economically important tourism sector and in July it began reopening its seaside resorts for foreign visitors. These resorts – in South Sinai, the Red Sea and Marsa Matrouh on the Mediterranean coast – have been isolated from the rest of the country to reduce the risk of infections spreading.
A report in Gulf News on Friday explained how this works. Foreigners flying directly to the resorts don't need to be tested for Covid-19 but they will need a test if they wish to leave the resort and visit other parts of the country. Foreigners arriving in other parts of the country must have tested negative during the 72 hours before travelling and will not be allowed to visit the resorts.
August 29
The education ministry says international schools in Egypt can reopen in mid-September. The plans, which include online teaching and reduced physical attendance at schools, are discussed in an article for Ahram Weekly, along with safety concerns.
A paper published by the Arab Reform Initiative argues that Covid-19 has further exposed Egypt's fragility. It says: "Egypt is now back to square one, in a situation broadly similar to that before the 2011 revolution: stable on the surface, but with deep structural problems and simmering social grievances." It identifies three main areas of vulnerability and says a shift is needed towards "greater openness in markets as well as politics".
September 5
The new school year is due to start later than usual, on October 17. Arab News has a report on some of the planned safety precautions. School and university classes were suspended last March. Since then, according to al-Ahram, most of Egypt's 23 million students have remained at home, with assignments given online. Those taking their final high school exams did so in person in June and July.
An employee at the health ministry's central laboratories was arrested for selling negative Covid-19 test certificates. The price of the forged certificates is said to have been LE1,000 ($63).
September 26
In a video posted on Facebook, traveller Drew Binsky talks to Egyptians about their apparent lack of concern regarding the virus. He comments:
"About 1% of people on the streets are wearing masks. Nobody is social distancing. Many people are shaking hands, hugging, kissing and touching each other. I see public gatherings everywhere – weddings, parties, markets and concerts. Even in Cairo airport and on domestic flights, I'm seeing the majority of people wrapping their masks around their chins."
In Damietta province four members of one family – a husband and wife, plus the husband's father and brother – are reported to have died after contracting Covid-19. They are said to have become infected after the wife attended a wedding.
Internet use in Egypt has doubled as a result of the pandemic, according to communications minister Amr Talaat.
October 3
According to the Egyptian authorities, new infections this week averaged 120 a day compared with almost 1,600 a day at the peak in June. The official figures are surprisingly low considering Egypt's large population (103 million) and the often crowded living conditions.
It's also unclear how many tests are being carried out because the government has not issued any figures since May when the total stood at 135,000 tests.
Further measures were announced this week to support the economically important tourism sector:
Visa fees for tourists visiting South Sinai, the Red Sea, Luxor and Aswan are waived until April 30 next year.

Hotels and other businesses in the tourism industry will not have to pay electricity, water or gas bills until December 31.

Debts owed by companies in the tourism sector will be rescheduled, with no payments due until January 1.

Discounted airport fees for airlines, which were due to end on October 31, are now extended until December 31.
Reuters reported this week that Russia has agreed to supply Egypt with 25 million doses of its Sputnik V coronavirus vaccine. Russian authorities licensed the vaccine for use in August, though large-scale human trials are not yet completed.
November 1
Official figures show Egypt's outbreak has has been relatively stable since early August, with new infections rarely rising above 200 a day. This week's average was 165 a day compared with almost 1,600 a day at the peak in June.
November 18
Update on vaccines: Egypt has ambitions to become a major local manufacturer of Covid-19 vaccines and a distribution hub for other parts of Africa. With a population of around 100 million it has a large domestic market and that, coupled with its previous experience in vaccine production, makes it an attractive proposition for major pharmaceutical companies.
Russia has agreed to provide 25 million doses of the Sputnik V vaccine once it has been approved by Egypt's health ministry. There are hopes that this will develop further into "a mutually beneficial partnership".
In September, Egypt began trials of two different Chinese vaccines. To encourage volunteers, health minister Hala Zayed was among those vaccinated though she said later that she developed a fever after receiving the first of two shots.
The Egyptian Vacsera company is reported to have a production line ready to start producing Chinese vaccines once it is given the go-ahead.
Egypt is also having talks with a view to obtaining millions of doses of the vaccine developed by researchers at Oxford University in partnership with AstraZeneca and the health ministry says it has it has reserved enough of Pfizer's Covid-19 vaccine to meet 20% of its needs.
February 6, 2021
Update on vaccines: Egypt is expecting 40 million doses of Sinopharm vaccine and 20 million of the AstraZeneca version, according to health minister Hala Zayed. This would be enough to provide about 30% of the country's population with the required double dose. There are expectations that the Covax scheme will provide vaccines for a further 20% of the population.
In December local media reported the arrival of 50,000 Sinopharm doses on a plane from the UAE. A 50,000-dose shipment of AstraZeneca vaccine arrived on January 31.
Doctors and other healthcare workers are the first to receive vaccinations but Mada Masr website reports that some of them are refusing the Sinopharm vaccine – apparently because they doubt its safety. Medical staff in isolation hospitals are currently prescribed hydroxychloroquine and Ivermectin as a protective measure, though the effectiveness of those medications is disputed.