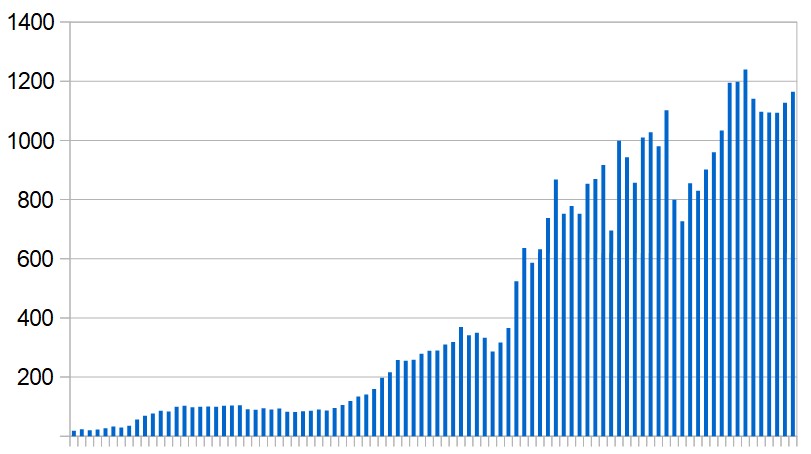 During the last two weeks the Gulf state of Oman has seen a shift in the pattern of its coronavirus epidemic. Previously, most of the new infections were occurring among foreigners – predominantly migrant workers from poor countries. That has now changed and the majority of new cases are Omani citizens.
Oman has recorded more than 45,000 cases since the outbreak began – almost one-third of them in the past fortnight. Describing the latest surge as "annoying, deplorable and frightful", last week the health minister lambasted members of the public for ignoring safety precautions.
"There is one person who went to work and shook hands with all his colleagues, and then he testified that his wife was infected with Covid-19. What can we call this behaviour?" he said.
There also appears to be a problem with employers failing to report suspected cases among their workforce – presumably to avoid disruption of their business – and the authorities are now threatening to carry out spot checks, with additional penalties for violations.
Oman, with a five-million population, currently has almost 18,000 active cases and health services are coming under pressure. They are said to be coping at present but in the expectation of further increases plans were announced last week for a new field hospital with 250-300 beds.
Covid-19 first arrived in Oman towards the end of February with travellers returning from Iran. The authorities took swift preventive action and for a while their efforts seemed to be paying off.
That changed in mid-April when large numbers of cases began appearing among Oman's expatriate communities whose cramped living conditions made them especially susceptible to infection. Expatriates, mainly Indian and Bangladeshi migrant workers, form a minority of Oman's population – around 43% – but account for 53% of the new cases recorded since mid-April.
Since April 16 the health ministry has reported separate figures for Omanis and non-Omanis in its daily updates (see spreadsheet).
Analysis of these over the last eleven weeks shows that in the first week Omani citizens accounted for only 36% of new cases. During the ensuing eight weeks the figure never rose above 45%.
It was not until the week before last that Omani cases outnumbered non-Omanis cases for the first time, and a week later they have now reached 65%.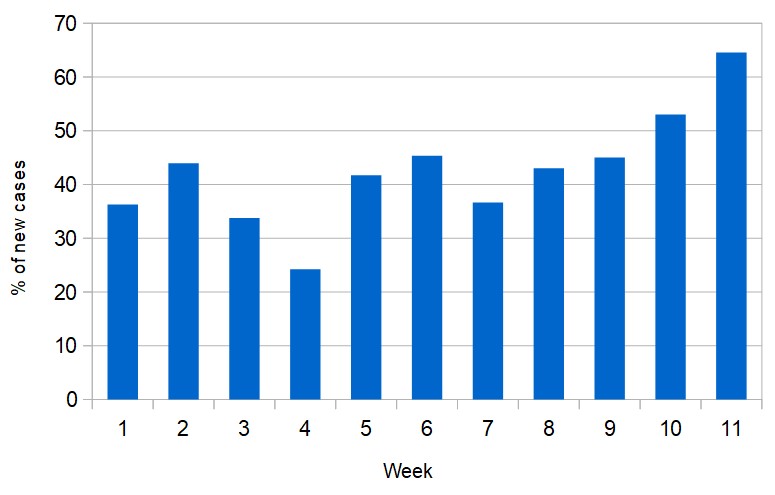 Further information:
Middle East coronavirus updates
This work is licensed under a Creative Commons Attribution-NonCommercial 4.0 International Licence.