Two fake universities based in Norway have been awarding worthless doctorates and diplomas to people in the Middle East, an investigation has revealed.
One of them is Bay Ridge University for Studies and Research, run from a $300-a-month rented office in Oslo. Its bogus certificates have been advertised in the Middle East for prices ranging from $450 for a "professional diploma" to $1,150 for a bachelor's degree.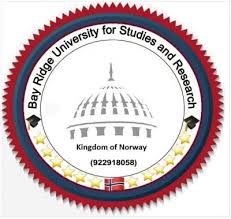 Meanwhile, the Oslo International University for Studies and Research operates from a modest residential building a few miles to the west of the city. Last year it awarded 26 "honorary doctorates" at a ceremony in the United Arab Emirates. It also has affiliations with at least three colleges in Egypt and has issued degree certificates to some of their students.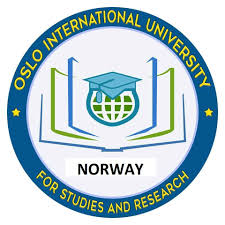 The scams were reported last week by the Norwegian Khrono website following a months-long investigation by two of its journalists, Torkjell Trædal and Mats Arnesen.
In the Middle East, qualifications from countries such as Norway are highly regarded and often carry more prestige than those from local universities. Norway is also not the sort of country that most people would associate with fakery, so the validity of certificates issued in the name of Norwegian universities tends not to be questioned by employers in Arab countries.
While this may result in some of the bogus universities' "graduates" getting jobs they are not entitled to, it is also potentially dangerous – for example, where fake medical qualifications are involved. According to Khrono, certificates issued by the Oslo International University for Studies and Research to students at Egyptian academies have included degrees in nursing.
Both these "universities" have resorted to a simple ruse which tricks the unwary into believing their degree certificates have official recognition. They do this by exploiting a legal device known as notarial confirmation.
On payment of an additional fee, according to an advertisement for the Oslo International University for Studies and Research, its certificates can be issued with stamps of "approval" from the Norwegian foreign ministry, the justice ministry and the embassy of the recipient's home country.
These stamps – on the back of the certificate – create an impression that it has been officially verified, though in reality they do no such thing. The stamps merely indicate that the signature on the certificate belongs to the person purporting to have signed it.
According to Khrono, at least three Arab embassies – those of Egypt, Iraq and the UAE – have been stamping such certificates, as well as Norwegian officials. The Egyptian consul in Oslo eventually became suspicious and alerted the Norwegian authorities.
The Oslo International University for Studies and Research was founded in 2017 by Aihan Fatah Jaf, a 52-year-old Norwegian citizen originally from Iraqi Kurdistan. Mr Jaf (or "Dr Jaf" as he prefers to be known) is active in Norway's Socialist Left Party at a local level and is – or has been – a director of several obscure companies in Norway and Britain.
One of these, registered in Britain in 2014, was the Arab-European Centre of Human Rights and International Law (AECHRIL) Ltd. It was dissolved last year but replaced this year by a company with virtually the same name – the only difference being that this time the word "centre" was spelled as "center".
In addition to Jaf, the new version of AECHRIL has three Egyptian directors. Two of them, Ahmed Ghazy and Mahmoud Shaaban, are recorded elsewhere as vice-presidents of Jaf's "university". The third Egyptian, Mohamed Saad Abouelez Hewedy, lives in the United Arab Emirates and is listed as the company's finance director.
Another thing that AECHRIL and Jaf's "university" have in common is their fondness for handing out certificates. AECHRIL issues awards for services to human rights and recipients over the years have included the late King Abdullah of Saudi Arabia, Recip Tayyip Erdogan of Turkey and Lebanese president Michel Aoun, the former warlord.
In 2016 AECHRIL's Arab Human Rights Award went to the despotic Sultan Qaboos of Oman and Oman's national television channel was so excited that it devoted 23 minutes to reporting the story. It was obviously welcome news, coming at the end of a year which had seen an Omani newspaper banned and three of its journalists imprisoned) for publishing a story about corruption, plus reports from the US State Department and Human Rights Watch complaining about the sultanate's repressive practices.
Last September AECHRIL and Jaf's "university" jointly organised a ceremony at a hotel in Sharjah in the United Arab Emirates where, according to Khrono, 80 people were presented with various kinds of award, including 26 honorary doctorates.
The man behind the other "university", Bay Ridge, is 58-year-old Tarek Ibrahim, a Norwegian citizen of Egyptian origin who also uses the name Tarek Anany. Though not academically qualified he claims to have between ten and fifteen honorary doctorates. He also runs two companies registered in Britain: Bay Ridge for Studies and Humanities Ltd (omitting the word "university") and League of Arab Nations Union Ltd.
Like Jaf, Ibrahim runs a human rights organisation in addition to his "university" – the Norwegian International Organisation for Justice and Peace. Last year, also like Jaf, he held a presentation ceremony in Sharjah – a month after Jaf's.
Among those attending was Princess Doaa bint Mohammed of Saudi Arabia, who received a certificate proclaiming her as a World Peace Ambassador, along with an honorary doctorate in community work. Khrono quotes Ibrahim as saying that altogether some 30-40 doctorates were presented in Sharjah.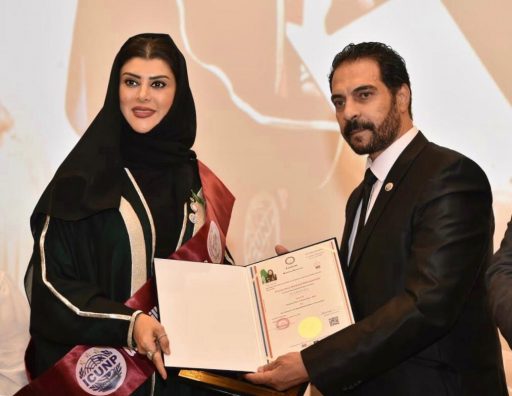 This work is licensed under a Creative Commons Attribution-NonCommercial 4.0 International Licence.