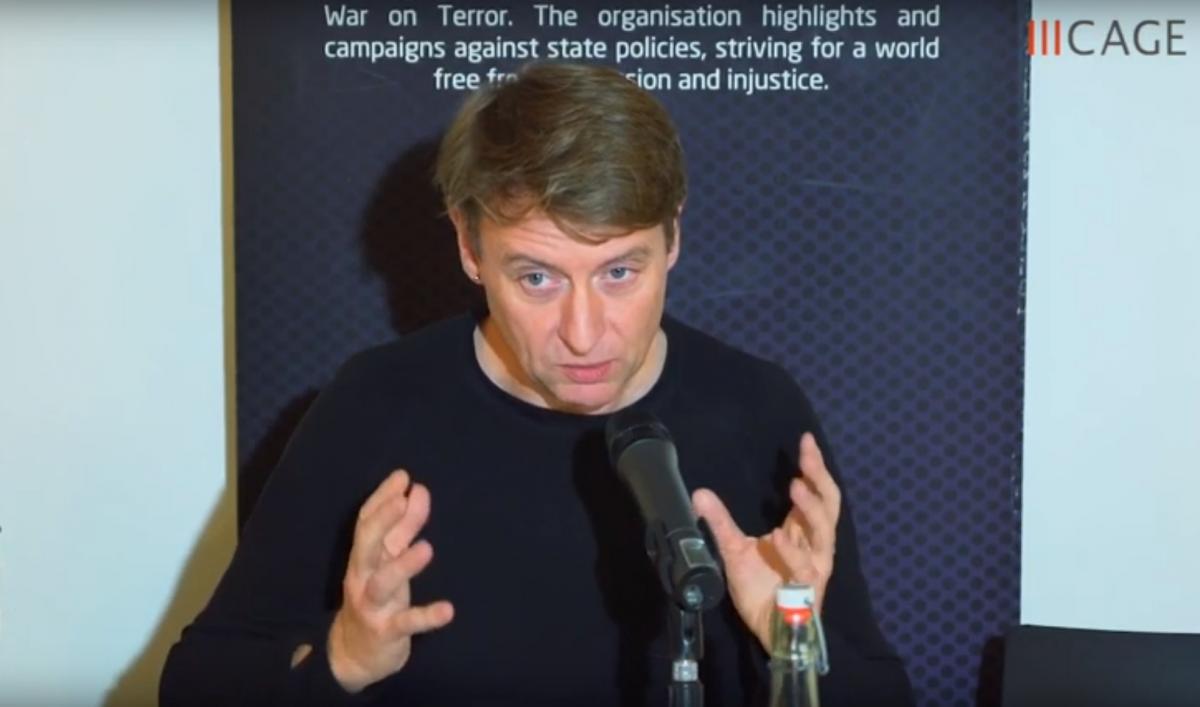 A British academic whose Twitter account is tagged as "Iran state-affiliated media" was the main author of a report on Islamophobia published this week with funding from the EU's Rights, Equality and Citizenship Programme.
The academic in question – former professor David Miller – is a director and founding member of the Spinwatch organisation which published the report, "Islamophobia and the European Media". He was also co-author of an earlier Spinwatch report, "Islamophobia in Europe", funded by George Soros's Open Society Foundation.
Miller was Professor of Political Sociology at Bristol university until his dismissal last year following complaints of antisemitism and support for conspiracy theories. Announcing the termination of his employment, the university said a disciplinary hearing had found Miller "did not meet the standards of behaviour we expect from our staff".
Twitter added the "Iran state-affiliated media" tag to Miller's account in June, apparently because of his involvement with Iran's Press TV. Last January he became producer of a weekly programme called Palestine Declassified, which is persistently antisemitic. The show is presented by his pal, Chris Williamson, a former Member of Parliament in Britain who was suspended from the Labour Party in a row over antisemitism. Williamson's Twitter account now carries the same "state-affiliated" tag as Miller's.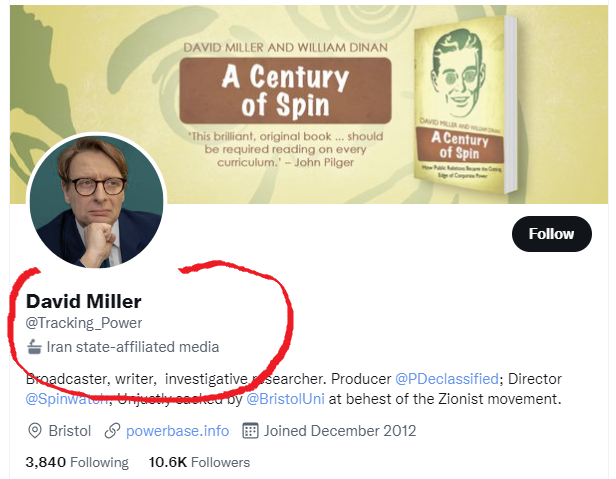 Miller has also been a guest speaker at several events organised by the Islamic Human Rights Commission (IHRC) which appears to be a front organisation for the Iranian regime. It is run by Iranian-born Massoud Shadjareh who once described the late Ayatollah Khomeini as "a torch of light for the whole of mankind". Following Miller's dismissal from his professorial post, IHRC called for a boycott of Bristol University.
IHRC has also been helping to promote Spinwatch's "Islamophobia and the European Media" report. Last Thursday, it hosted a launch event where Miller gave a half-hour presentation which is now available in a video on IHRC's YouTube channel.
Miller is a prominent member of the quasi-academic Working Group on Syria, Propaganda and Media which denies the Assad regime's use of chemical weapons and instead claims the attacks were faked by rebels in order to falsely accuse the regime. In 2019 Miller co-authored an article by the group claiming the OPCW's investigation into an alleged chemical attack in Douma, near Damascus, had been "nobbled". The Working Group generally favours Russian and Syrian government narratives of the conflict in Syria and in 2018 it disputed that Russia was responsible for poisoning Sergei and Yulia Skripal in in the English city of Salisbury.
The convenor of the Working Group is Piers Robinson, a former professor in the journalism department at Sheffield University who dabbles in 9/11 trutherism. In 2018 he wrote a positive review of "9/11 Unmasked", a book by two prominent truthers whose work he described as "diligent and painstaking". His name also appeared on the book's back cover, endorsing it as "authoritative and carefully argued".
Robinson and Miller are both directors of the Organisation for Propaganda Studies, a non-profit company which "facilitates and conducts rigorous academic research and analysis of propaganda".