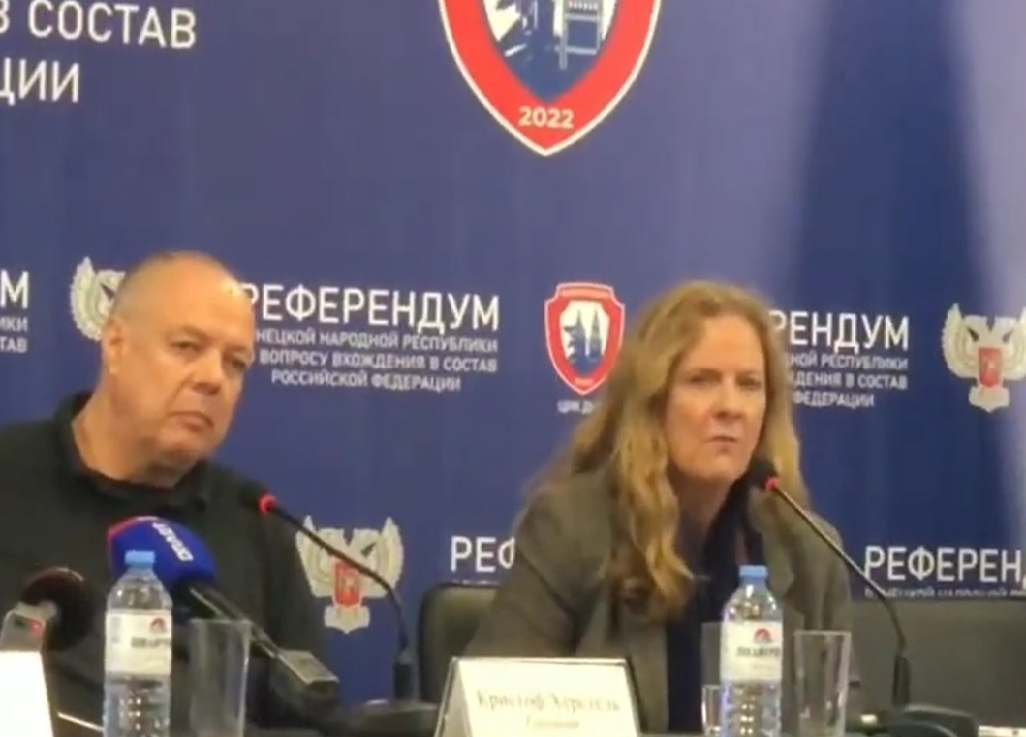 A British woman who became a prominent defender of Syria's Assad regime resurfaced this week as an "international observer" for Russia's sham referendums in Ukraine.
Vanessa Beeley – described by Russian broacaster RT as "an independent investigative journalist" – told a news conference the voting procedures had shown "complete professionalism".
"I have seen absolutely no violations," she said. "I have seen complete professionalism among the electoral committees. I have seen a high level of security, a huge amount of solidarity, compassion for people who may be struggling to get to the polling stations, and for me – what is very important – there has been complete respect for people's privacy."
Beeley was among a group of "observers" from various countries apparently selected by Russia to give the referendums an air of legitimacy. The polls took place in four Ukrainian regions which are currently occupied by Russian forces. Voters were asked if they wanted the territories to become part of Russia and more than 97% allegedly said yes.
At the news conference Beeley hailed this result as a sign that the people were liberating themselves from "an imposed Nazi regime".
Meeting with Assad
Beeley first visited Syria in July 2016 when she joined a delegation from the US Peace Council. During their trip the group had a two-hour meeting with President Assad and posed for a photograph with him. Beeley, who was seen standing next to the president, later described it as her proudest moment.
She had clearly made a favourable impression in Damascus because a month later she was granted a visa for a second visit, this time lasting three weeks. Its main purpose, she wrote, was for research "into the multi million Nato and Gulf State funded, terrorist-linked White Helmets".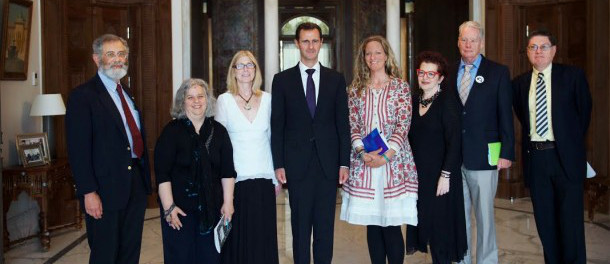 The following November Beeley was invited to visit Russia in order to "report on the illegal Nato state intervention and dirty war on Syria". While in Moscow she was treated to meetings with Mikhail Bogdanov, the deputy foreign minister and Maria Zakharova, head of the ministry's press department.
Beeley wrote numerous misleading reports from Syria which were posted on conspiracy-theory websites and turned her into an internet celebrity. She denied the regime was using chemical weapons, claiming the attacks were faked by rebels to make the regime look bad. She also waged a campaign against the White Helmets, a civil defence organisation which carried out search-and-rescue operations in rebel-held areas of Syria.
Beeley's output meshed neatly with the propaganda lines spun by Russia, Syria's chief ally in the conflict, and to some extent her articles helped to shape it. Meanwhile on Twitter, supporters hailed her as a brilliant reporter who was "putting the truth out there".
This work is licensed under a Creative Commons Attribution-NonCommercial 4.0 International Licence.