Country narrative: UAE
February 25
The Ministry of Health has reported 13 confirmed cases (three are said to have fully recovered). The most recent new cases, reported on Friday, involve a Filipino and a Bangladeshi, both of who had close contact with a Chinese citizen who was previously diagnosed. The civil aviation authority announced on Tuesday that all passenger and cargo flights to and from Iran are suspended for at least one next week. Emiratis have also been told not to travel to Iran or Thailand until further notice.
February 26
The UAE is to carry out "complete surveillance of all people entering the country", according to a government official quoted by Reuters. Of the 13 people diagnosed with the virus in the UAE, three are said to have recovered and two are in a critical condition.
February 28
The UAE confirmed six new cases on Thursday – four Iranians, one Chinese and one Bahraini – bringing the total to 19. The six had all arrived from Iran before the current travel ban was announced.
March 1
Two Italians involved in the UAE Tour – an international cycling event – are now confirmed as having the virus. The final stages of the race, due to have been held on Friday and Saturday, were cancelled when the cases were first suspected. According to the health minister, the two Italians were members of a technical crew "who typically do not mix with participants". Neverthless, 612 people who had contact with them are under observation and so far none have tested positive. Meanwhile, health ministry has cautioned the public against using a type of face mask known as the N95 respirator to protect against coronavirus. It says these are only intended for use by medical staff: "Use of these masks by the general public may impose pressure on the user's respiratory system and may cause respiratory diseases among its users. The use of these masks is also strictly forbidden for children."
March 4
Six new cases were confirmed on Tuesday – two people from Russia, two from Italy, one from Germany, and one from Colombia. All were involved in the UAE Tour cycle race which was cancelled before completion when two Italians were found to have the virus (see March 1 updates). In an interesting new development the Emirati authorities have launched a pilot e-learning project which could allow pupils to continue their studies if they can't attend school.
March 5
A 16-year-old Indian girl has tested positive in Dubai. Her father developed symptoms five days after returning to Dubai and the whole family have been in quarantine since them. Classes at the Indian High School Group of schools have been suspended.
March 6
A 17-year-old Emirati student has tested positive but is said to be not showing any symptoms. Gulf News has provided some more details of the Emirates' new e-learning scheme (see March 4 updates) which is intended to help students during school closures.
March 7
Late on Friday the health ministry reported 15 new cases, of various nationalities. Thirteen of these were detected through the ministry's monitoring system and two others were of people connected with the UAE Tour cycle race (see previous update). The ministry says its cumulative total is now 45 cases, indicating that there is one further case not previously reported in al-bab's daily updates. Until Friday, cases in the UAE had been increasing only slowly but the graph now looks like this:
March 10
Fourteen new cases were reported – four Emiratis plus others from Italy, Bangladesh, Nepal, Russia, Syria and India. This appears to be the first time that a Syrian has been recorded as having the virus.
March 11
Fifteen new cases were confirmed among people already in quarantine. They are of various nationalities – three Italians, two Emiratis, two Sri Lankans, two British, two Indians, one German, one South African, one Tanzanian and one Iranian.
March 13
The 11 new cases involve two Italians, two Filipinos, one Montenegrin, one Canadian, one German, one Pakistani, one Emirati, one Russian and one British citizen. They had already been placed in quarantine before testing positive.
March 15
The central bank announced a Dh100bn ($24bn) economic stimulus package to help offset the effects of coronavirus.
March 18
​The education ministry is beginning trials of its new distance education system today. Emirates Post is also developing "contactless" deliveries of packages: "Drivers will now place all items outside the intended recipient's door ... From a safe distance, couriers will ask recipients to confirm their identity using their full name and ID details in lieu of signatory proof."
March 19
The issuing of work permits for foreign nationals has been suspended from today, except in connection with Expo 2020 which is due to open in October. Entry into the country has also been suspended for foreign nationals with visas, including residency visas.
March 21
The health ministry announced the country's first two coronavirus-related deaths. One was a 78-year-old Arab man who died of a heart attack "coinciding with complications" from the virus. The other was a 58-year-old Asian resident of the UAE who had heart and kidney problems which were "further complicated" by the virus.
March 24
Forty-five new cases were confirmed. The Khaleej Times reports that 17 of these were the result of one person breaking quarantine regulations.
March 25
Following social media pressure, the UAE says it will allow at least some types of internet voice and video (VoIP) calls. These have long been banned in the UAE and banned or restricted in several other Gulf states, apparently for commercial and security reasons. Lifting the ban will allow people to keep in touch more easily while in home isolation.
March 26
Following yesterday's news that banknotes are being sterilised in Bahrain, the UAE has ordered banks to issue only new notes through ATM cash machines and to provide disposable gloves for customers using the machines.
April 2
The number of new cases has been increasing significantly over the last few days. The reasons are unclear, and any further information would be gratefully received.
Residents of the UAE must cover their mouth and nose and wear gloves at all times when outside their home, the government announced at the weekend. But that's the easiest part. Before you can go out, you also have to get permission from the police.
The first step before a trip outdoors is to register your mobile phone number on a police website. You will then be sent a verification code giving access to an online application form.
The form asks for your address, ID details, and car registration number. You also have to tell the police where you intend to go, at what time, and at what time you expect to return home.
This has to be repeated every time you want to go outside. The only trips allowed are for buying food and medicines and visiting a hospital or a doctor. Only one member of a household is allowed to do essential shopping.
Different rules apply to "essential" workers. They don't need to apply but must carry their ID and a letter from their employer at all times.
Speed cameras have been adjusted to photograph all vehicles using the roads during restricted hours at night – even if they are not speeding.
These latest restrictions follow a sharp rise in the number of confirmed infections. The total has trebled over the last six days and now stands at 1,798 confirmed cases.
The authorities say a rise was expected and is the result of "early, intensive tests on a big scale to identify cases and who they were in contact with".
April 7
At least three countries in the Middle East are resorting to technology based around mobile phones in their efforts to halt the spread of coronavirus.
The three – Bahrain, Israel and the UAE – are using it in different ways but the underlying principle is the same in each of them. Mobile phones can tell the authorities where you are, and where you have been.
In the midst of an epidemic this can be used for several purposes: to check that people who are supposed to be in quarantine remain in quarantine, to detect others who are not observing the rules of social isolation, and to identify those who have been in contact with an infected person.
It began in Israel on March 14 when prime minister Binyamin Netanyahu announced that the authorities would be relying on technology previously used for counter-terrorism purposes in order to track carriers of the disease.
This led to the revelation that the Shin Bet security service maintains a secret database known as "The Tool" which monitors the locations of all mobile phones and all the numbers called.
Aside from counter-terrorism, The Tool can be used to identify those who have been in the "vicinity" of anyone known to be infected and send them text message telling them to self-quarantine.
Ten days after Netanyahu's announcement, Shin Bet said its mass surveillance efforts had so far detected 500 contacts of coronavirus carriers.
While Israel is using technology to trace contacts, the United Arab Emirates is using it mainly to prevent flouting of the social isolation rules (see previous report).
In the UAE, people who are not classified as essential workers are forbidden to leave home without a permit. The process of applying for a permit (which has to be repeated for every trip outdoors) starts with registering the applicant's mobile phone number on a police website.
Applicants then have to provide details of where they want to go, what time they will set out, and what time they expect to return home. Records of the phone's location can be checked to see whether the user has complied with the permit.
Meanwhile, the government of Bahrain has launched a phone app called "BeAware Bahrain". The app is partly intended to give health information relating to the virus but it has other purposes too.
As in Israel, it will notify people if they come close to someone who is known to be infected.
It will also track people who are in compulsory home in quarantine – and in this case it is combined with GPS technology, which the Bahrainis believe will make it more effective.
According to Gulf News, users of the app must set their location via their phone when they start the quarantine but they are also required to wear a GPS wristband. An alert is sent to the authorities if the wearer of the wristband moves more than 15 metres from the relevant phone.
Removing the wristband or tampering with it can result in a minimum jail sentence of three months, and/or a fine of 10,000 dinars ($26,000).
There will also be spot checks, Gulf News says. The health ministry can demand selfies from quarantined people showing both their face and the wristband.
All this is highly intrusive and in some ways scary, though in the current situation its use can be defended on the grounds that it helps to protect the public from a potentially deadly illness. But once the plague has passed the technology can't be uninvented. It will still be there, available for other purposes.
April 11
While many countries are struggling to raise levels of testing for the Covid-19 virus, the UAE has been pressing ahead and has now carried out almost 600,000 tests. This is far more than any other country in the Middle East and, worldwide, it's surpassed only by the US, Germany, Russia and Italy.
Getting tested in the UAE is relatively straightforward, at least for those with health insurance and Emirati ID. People who think they have symptoms answer some questions via an app and, depending of the results of this "preliminary evaluation", may then be offered an appointment for testing. Priority is given to those who have symptoms, plus senior citizens, pregnant women and those with chronic conditions.
People with no symptoms who just want reassurance can have the test by paying 370 dirhams ($100).
During the past week the UAE has opened 13 drive-through testing centres, each capable of testing 600 people a day. There are also plans to test 50,000 migrant workers within a month.
As a result of 89,000 tests during the last few days, 701 new Covid-19 cases have been discovered. In some ways this is reassuring, because although the number of new cases is high, it means less than 1% of the tests turned out positive. It also means that those detected can now be prevented from transmitting the virus to anyone else.
April 17
Migrant workers are bearing the brunt of the coronavirus epidemic in the wealthy Gulf states. Often living in over-crowded accommodation, they are at particular risk of infection. Many are now also jobless. Some have been deported. Thousands more want to return home – but can't.
Indian citizens in the UAE have been receiving messages inviting them to apply to their consulate for repatriation, but both the consulate in Dubai and the embassy in Abu Dhabi say the messages are fakes. At present, India has no plans to repatriate its citizens.
The UAE has offered to help with repatriation of Indians and others, so long as they test negative before leaving. A Sharjah-based airline, Air Arabia, is willing to fly them home but at present its flights to India are carrying only cargo.
India's Supreme Court has ruled that citizens stranded abroad cannot return home for at least another month. This is due to fears that they will bring infection with them. Government figures in the Indian state of Kerala, for example, indicate that Dubai was the source of 89 out of 119 Covid-19 cases that arrived from abroad.
The Indian authorities are facing pressure from several directions – internally from those who see keeping expatriates out as a necessary protection, from expatriates who see it as an infringement of their rights as citizens, and from the Emiratis who are now threatening to revise their labour relations with India if it doesn't become more cooperative.
Among the large Pakistani community in the Emirates, 40,000 have now registered for repatriation, according to their consulate in Dubai. Pakistan is due to start flying them home on Saturday but warns that the process will be slow because of the numbers involved and the limited facilities for testing and quarantining them when they arrive. In the meantime, the consulate has distributed food rations to 8,500 Pakistanis but a further 11,000 are still waiting because of delivery problems "due to the situation".
Figures published by the Times of India yesterday show that among Indian citizens who have tested positive for Covid-19 while abroad, more than 60% are in the Gulf states. The paper listed the numbers of known cases:
Bahrain 135
Kuwait 785
Oman 297
Qatar 420
Saudi 186
UAE 238
June 18
Amnesty International has accused Bahrain and Kuwait of running "roughshod over people's privacy" in their use of surveillance technology during the coronavirus pandemic.
The human rights organisation carried out a detailed technical analysis of phone apps in seven Arab states plus France, Iceland, Israel and Norway.
It singled out those used by Bahrain, Kuwait and Norway as the most alarming, with all three "actively carrying out live or near-live tracking of users' locations by frequently uploading GPS coordinates to a central server".
"They are essentially broadcasting the locations of users to a government database in real time," Amnesty says. "This is unlikely to be necessary and proportionate in the context of a public health response.
"Technology can play a useful role in contact tracing to contain Covid-19, but privacy must not be another casualty as governments rush to roll out apps."
Norway suspended use of its "Smittestopp" app after being presented with Amnesty's findings.
The World Health Organisation has also warned about potential dangers in such apps. In a report earlier this month it said:
"WHO recommends that users of digital tools should participate on a voluntary basis and that written consent is always obtained. Privacy concerns about the disclosure of personal data need to always be addressed. Data processing agreements must disclose which data are transmitted to third parties and for what purpose."
One fear is that the apps could be used to track people for non-medical purposes – such as monitoring of political dissidents by authoritarian regimes.
Coronavirus apps can use location data for several purposes connected with the pandemic. The most common one, related to contact-tracing, is to trigger an alert when app users come close to another user who is known to be infected. The less intrusive types of app just store this on the phone but others send the information to a central database where the authorities can make use of it – which is what the Bahraini and Kuwaiti apps do.
The WHO describes this technology as "proximity tracing" rather than "contact tracing", cautions against over-reliance on it and says its use should always be voluntary. "Digital tools should be considered a way to augment and optimise contact tracing rather than a replacement of contact tracing teams," it says.
"The potential contribution of proximity tracing tools depends on widescale adoption of the same tool, which in turn depends on people having a suitable smartphone that is always charged and working, has a reliable connection to a mobile network, and is always accessible to them. Over-reliance on proximity tracing tools may result in the exclusion of contacts such as children or people who do not have a suitable device."
Proximity alerts are not the only function of the Bahraini and Kuwaiti apps, however. Both countries have been repatriating thousands of citizens from abroad – all of whom need to be quarantined on arrival.
There are two options for quarantining these returnees. One is to confine them in supervised accommodation (as some countries, such as Jordan, have been doing). The other – less restrictive – option is self-quarantining at home and Kuwait's "Shlonik" is designed to monitor compliance with that:
"The app is linked with a smart bracelet in order to track movement and notify the [health] ministry if people break the quarantine rules ...

"The returnees are each given a bracelet upon their arrivals at the airports.

"Shlonik notifies the medical teams in the event of breaking home quarantine and sends questions to the quarantined twice a day regarding the symptoms of coronavirus such as cough, temperature, and shortness of breath.

"The app also asks the users to submit random selfies."
Bahrain's "BeAware" app is also used in combination with a bracelet when tracking people who are in compulsory home quarantine.
An alert is sent to the authorities if the wearer of the wristband moves more than 15 metres from the relevant phone. The health ministry can also carry out spot checks by demanding selfies from quarantined people showing both their face and the wristband.
Removing the wristband or tampering with it can result in a minimum jail sentence of three months, and/or a fine of 10,000 dinars ($26,000).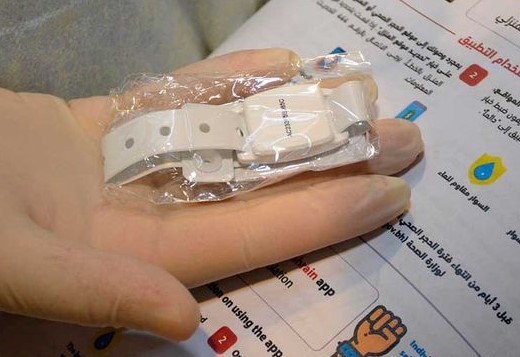 This is certainly intrusive but is it necessarily an abuse of human rights? It's not unreasonable to quarantine people compulsorily during an epidemic if they are potentially infected. Most would probably regard home quarantine as preferable to being locked in an isolation centre, and the apps allow that to happen while providing some safeguards against cheating.
Non-compliance has been a serious problem in most of the Middle East and the UAE has also been using mobile phone technology – though not an app – to monitor people's activity during its lockdown.
Under rules announced in April people were not allowed to leave their homes except for buying food and medicines and visiting a hospital or a doctor. To do that, though, they needed permission from the police.
The process began by registering their mobile phone number on a police website which then gave access to an online application form.
The form asked for their address, ID details, and car registration number. They also had to tell the police where they intended to go, at what time, and at what time they expected to return home. The process had to be repeated for every trip outdoors.
This of course made it much easier for the police to check if people on the streets had a permit and whether they were complying with its terms. Speed cameras were also adjusted to photograph all vehicles using the roads during the night curfew – even if they were not speeding.
The loss of privacy was scary, though its purpose can be defended as benign – protecting the public from a potentially deadly illness. But once the pandemic is over the technology will still be there. And who knows what purposes it might be used for then?
June 20
The UAE's epidemic peaked in the last week of May when new cases were running at more than 900 a day. Numbers have fallen steadily since then and the current average is below 400 a day. Migrant workers have been disproportionately affected.
July 18
New cases dropped below 400 a day towards the end of June. There was a small blip earlier this month but new cases are now on a downward trend again. The average during the past week has been 339 a day.
August 1
New cases over the past week have averaged 322 a day compared with 261 a day during the previous week.
The UAE has carried out more tests per head of population than any other Arab country and ranks sixth worldwide in terms of levels of testing.
August 8
New cases this week have averaged 222 a day – the lowest level for four months. However, infections have increased recently among Emirati citizens (as opposed to expatriates), according to health minister Abdul Rahman al-Owais. Speaking on Thursday he said some citizens have "become lax in following prevention measures and not adhering to safety and physical distancing rules in gatherings and during social visits".
As a result of the pandemic large numbers of expatriate workers have been returning home from the Gulf states. The Air India jet that crashed on landing at Calicut airport on Friday killing 18 people was one of the repatriation flights from Dubai.
August 15
A vaccine developed by the Chinese company Sinopharm is undergoing Phase 3 trials in the UAE. So far 15,000 volunteers have been vaccinated.
November 1
Numbers of new cases declined throughout the summer, apart from a small blip in July, but then rose to new heights in September and October, peaking at 1,578 on October 27. During the past week they have averaged 1,121 a day.
November 18
Update on vaccines: The United Arab Emirates has been taking part in clinical trials of Chinese and Russian vaccines and in September the health ministry granted emergency approval for use of a Chinese vaccine on "high risk" frontline workers.
"High risk" appears to have been defined liberally and besides healthcare workers, royalty, senior officials, police officers and teachers have been among those vaccinated. On November 3, the ruler of Dubai was photographed receiving a jab.
This week it emerged that more than 30,000 army personnel have been vaccinated too. This was explained on the grounds that the military have been assisting the UAE's medical efforts in various ways during the pandemic.