Country narrative: Palestine
March 5
Four suspected cases are reported among people staying at a hotel in Beit Jala, near Bethlehem. These are not included in today's tally because they are still unconfirmed.
March 6
The first seven cases were confirmed on Thursday – in Bethlehem. Churches and mosques have been closed for at least two weeks and Israeli forces have sealed off the town, reportedly "in coordination with the Palestinian Authority".
March 7
Nine new cases were detected in Bethlehem, bringing the total to 16. Bethlehem's governor has declared a total shutdown of the area until Monday night, apart from health workers.
March 10
The number of coronavirus cases in Israel has doubled during the last two days and now stands at 50. This prompted prime minister Netanyahu to announce that everyone entering the country, including Israelis returning from abroad, must go into self-quarantine for two weeks. Foreigners will have to prove that they have made adequate arrangements for this.
Israel's situation is also entwined with that of the Palestinians. The first cases on the West Bank were confirmed on March 5, resulting in the lockdown of Bethlehem. On Monday the Palestinian authorities reported five new cases – four in Bethlehem and one in Tulkarem, bringing the total to 25. Consultations are said to be taking place with Jordan (and probably Israel too) about a possible closure of the bridge between Jordan and the West Bank.
March 14
Although there are 35 known coronavirus cases among Palestinians in the West Bank, so far none have been diagnosed in Gaza. Given the siege conditions in Gaza, it's widely believed that an outbreak there would be catastrophic – and it may only be a matter of time.
The Israeli newspaper Haaretz reports that two people who returned to the West Bank from Rafah (neighbouring Egypt, at the southern end of the strip) have been isolated and hospitalised, though they are said not to be showing symptoms. Meanwhile, 1,400 Gazans are in home quarantine, supervised by Hamas.
On Friday, Israel delivered 200 coronavirus testing kits to Gaza but according to the Haaretz article Israel has not yet decided how to respond in the event of an outbreak there. Since the healthcare system in Gaza is unlikely to be able to cope, one option would be to evacuate patients for treatment in Israel, but Israel itself is expected to run short of hospital beds if the epidemic worsens.
The Haaretz article continues:
"If the Gaza Strip is hit by an outbreak of the disease, given the critical condition of the enclave's medical system, there will be a need to declare a mass home quarantine for Gaza residents. The Turkish hospital, which was built two years ago in the Strip, is under consideration to be used to treat coronavirus patients exclusively, but the hospital is not yet in operation and has no staff.
"A field hospital has been set up at the Erez Crossing between Israel and Gaza with funding from an American organisation, but it has not yet been hooked up to infrastructure, and is also expected to face a medical staff shortage... Officials also pointed to the Trump administration's decision to end American funding for the USAID and the UNWRA Palestinian refugee agency is another factor weakening the Palestinian healthcare system.
"In order to treat coronavirus patients, Gaza will need to use materials that Israel has banned from being brought into the Strip. Israel has not yet been asked to ease or temper its policy on importing goods, the official said. Israel may have to consider the entry of 'dual-use' goods – civilian materials that can be used for military purposes. For example, Israel imposes limits on hydrogen peroxide, which in addition to its use as a medical disinfectant can at certain concentrations be used to manufacture explosives."
March 15
A new (unofficial) website gives details of the situation in the Palestinian territories.
March 18
Two new cases were diagnosed among Palestinians returning from abroad. One has been quarantined in Ramallah, the other in Jericho. Government spokesman Ibrahim Melhem said second tests on the 37 infected people in Bethlehem showed that 20 of them had recovered, but they remain in quarantine waiting for a third test to be taken on Thursday. He also said 30 samples taken from contacts of the infected person in Tulkarem were negative.
March 20
Palestine: The number of active cases has dropped to 31 according to the health ministry. This is because 17 confirmed cases in Bethlehem are now said to have recovered, while one new case has been confirmed in Salfit.
March 22
Palestine: One new case was reported in Ramallah on the West Bank but, more alarmingly, the first two cases have been confirmed in Gaza. They are two Palestinians who arrived from Pakistan via Egypt on Thursday. They tested positive for the virus on Saturday and are now quarantined in Rafah.
March 26
Palestine: Seven new cases were reported in Gaza, bringing the total there to nine. All seven are members of the Hamas security forces stationed at a quarantine centre which is housing the two earlier cases. In the West Bank, the first coronavirus-related death was reported – a 60-year-old woman in the village of Bidu. Her known contacts have been quarantined in hospital and all the other villagers are in home isolation.
April 4
Thousands of Palestinian workers are expected to return from Israel to the West Bank ahead of Passover which begins on Wednesday – raising fears that this will lead to a further spread of the virus.
The Palestinian Authority wants them to be tested by Israel before they arrive. There are also reported to be Israeli-Palestinian talks about arrangements for their return after Passover.
The recent rise in new cases in the West Bank appears to be mainly the result of an outbreak among Palestinian workers at a poultry factory in the Israeli industrial zone of Atarot. The factory has 500 employees and according to Haaretz newspaper 41 of them have tested positive. A further 250 employees are being quarantined in the West Bank.
May 22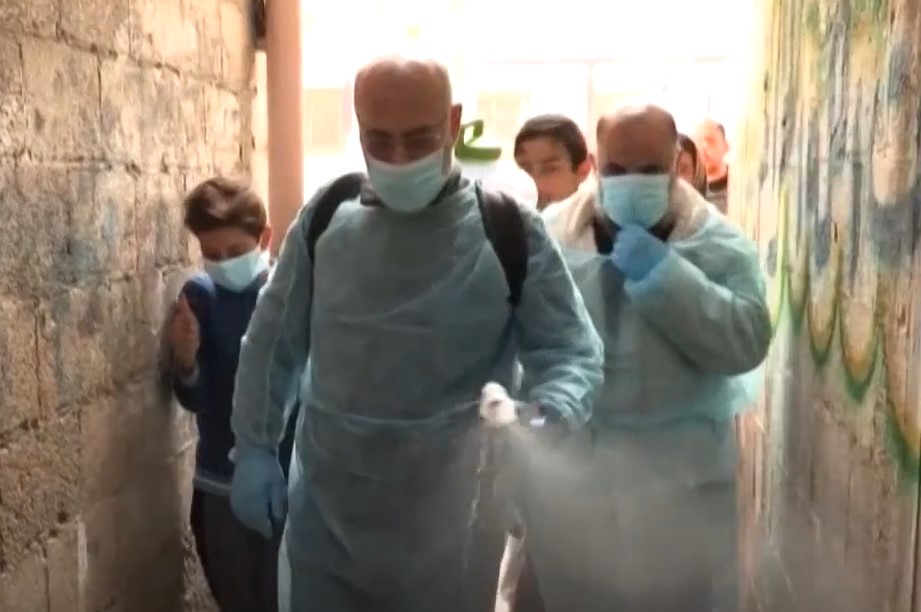 Covid-19 infections in the Palestinian enclave of Gaza have more than doubled over the last few days, rising from 20 to 55.
The new cases were discovered among Gaza residents who recently returned from Egypt or Israel, and the Hamas authorities have responded by announcing that no one else will be allowed to return before the end of June.
Some 1,500 Palestinians who became stranded in Egypt have recently come back to Gaza, with smaller numbers arriving from Israel.
The 35 infected returnees were apparently in some form of isolation or quarantine at the time they were diagnosed but yesterday the authorities voiced fears that they may already have passed the virus to others.
Yousef Abu al-Reesh, head of the Hamas-run health ministry, is quoted as saying they had mingled with other returnees, "including in the quarantine centres".
He also raised the possibility that they had met others in Gaza before going into quarantine – adding that if any cases of infection were found outside of quarantine centres a curfew would be imposed. That could mean a curfew over the three-day Eid al-Fitr holiday which starts this weekend to mark the end of Ramadan.
The rival Palestinian authorities in Gaza and the West Bank have so far been relatively successful in limiting the size of their Covid-19 outbreaks.
Besides the 55 cases in Gaza, 365 have been registered with the health ministry in the West Bank. There have also been 179 cases in occupied East Jerusalem which the Palestinians often include in their official figures.
However, Gaza is a particular concern. Poverty, overcrowding and inadequate health facilities mean it could be overwhelmed if transmission of the virus becomes established within the community there.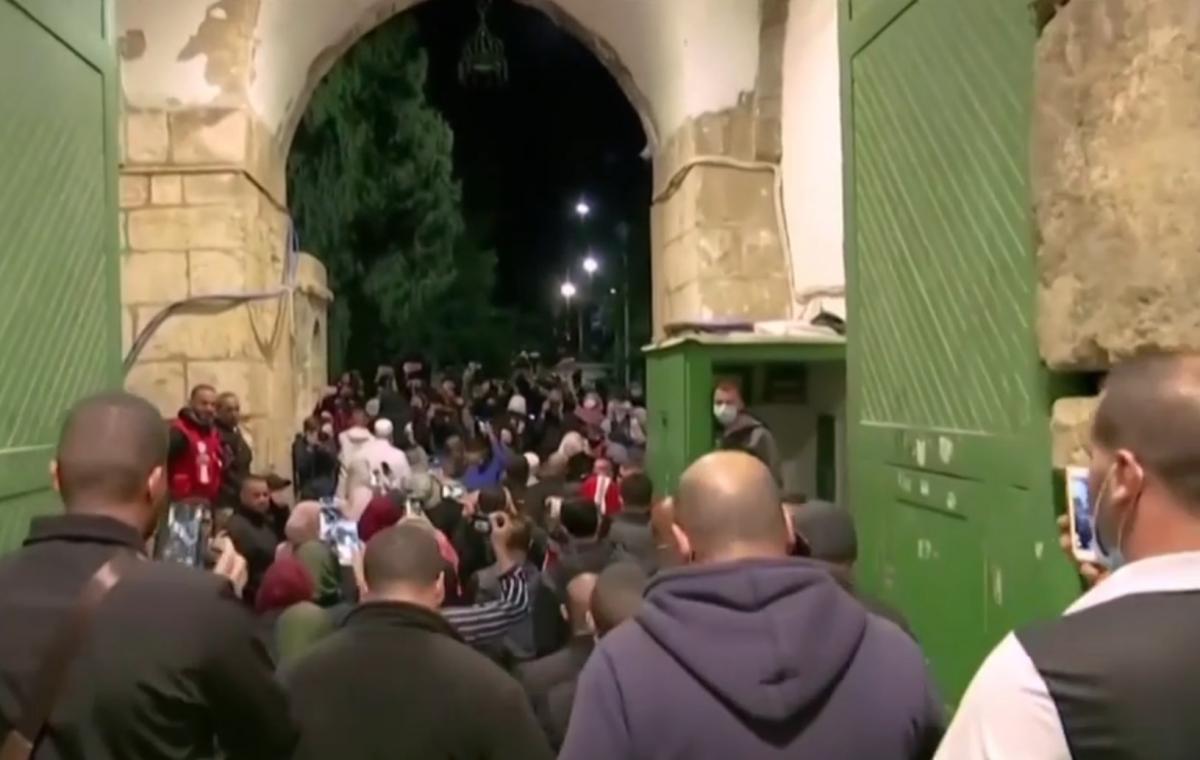 Palestinian authorities have reported a surge of coronavirus infections. Seventy-four new cases have been confirmed since Monday, mostly in the West Bank district of Hebron. This comes after several weeks when new cases were averaging less than four a day.
The resurgence follows a two-month lockdown which ended on May 27. "All of this is because we are trying to get back to normal life in an effort to create a balance between the economy and health," health minister Mai Alkaila said.
In particular, she blamed "almost all the institutions and citizens" for not following health protocols. From now on, she added, the authorities will ensure that people in the streets and at work comply with instructions, including wearing face masks at all times and maintaining social distancing.
However, a reporter in Bethlehem, writing for Mondoweiss, suggests this is unlikely to happen:
"Despite Alkaila's warnings, and orders from prime minister Shtayyeh for security forces to enforce social distancing orders in public places and private businesses across the West Bank, their efforts seem to be futile, as people continue on with their daily lives with no concern for the coronavirus or the consequences that come with it."
Israel has also seen a rise in infections after lifting most of its restrictions and Alkaila attributed the new West Bank cases "mainly" to contacts with Palestinians who live or work in Israel.
According to the minister, there will not be another general lockdown but specific hotspots will be isolated.
Haaretez newspaper reported this morning that the Palestinian governor of Hebron has ordered a five-day closure of all shops in two districts except for those selling food.
Currently, there are about 140 active cases in the West Bank and Gaza, and more than 2,500 people are said to be in quarantine.Since the outbreak began 560 cases have been registered with the Palestinian health ministry, though there are a further 190 "known" cases in occupied East Jerusalem. Of those registered with the ministry 488 have been in the West Bank and 72 in Gaza. Only five deaths have been reported.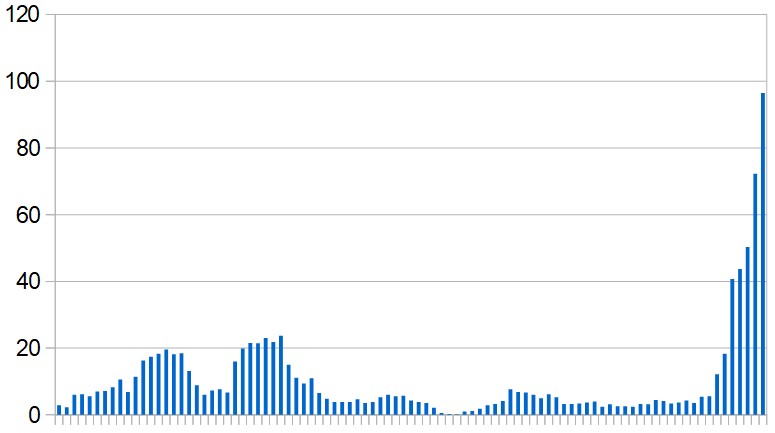 The number of people currently infected in Palestine has shot up from 114 to 866 during the past week – mostly in the Hebron area of the West Bank. The new wave of infections is much larger than any seen previously and it raises questions about whether local health services will be able to cope.
On Saturday the Palestinian Authority announced a five-day lockdown in Hebron and a 48-hour curfew in Nablus.
According to the health ministry, more than 30% of the new cases are among Palestinians working in Israel and people they interacted with on returning to the West Bank. Prime minister Mohammad Shtayyeh has called on "all of our brothers within the Green Line [i.e. Israel] not to enter the West Bank at all for 14 days".
A further 20% of cases are attributed to Palestinians attending various kinds of social gatherings.
Reporting from Bethlehem for Mondoweiss, Yumna Patel writes:
"Despite the fact that things are clearly so much worse this time around, the difference in responses from the government between the first and second wave couldn't be more different.

"The first time around, Bethlehem, the epicentre of the outbreak, was shut down immediately, with other cities and governorates following suit quickly after. Movement between and within cities was being highly restricted, non-essential business were shut down, and overall the streets were much emptier.

"This time around, there's an understanding that the government is under an immense amount of pressure from the public to keep the economy open. They simply can't afford the economic and social impacts of what would happen if the economy were to be shut down."
Patel adds that the authorities are finding it difficult to enforce social distancing rules as they did in the earlier stages and there's a common belief that because most Palestinian cases have been mild "even if I get sick, it's not going to be that bad".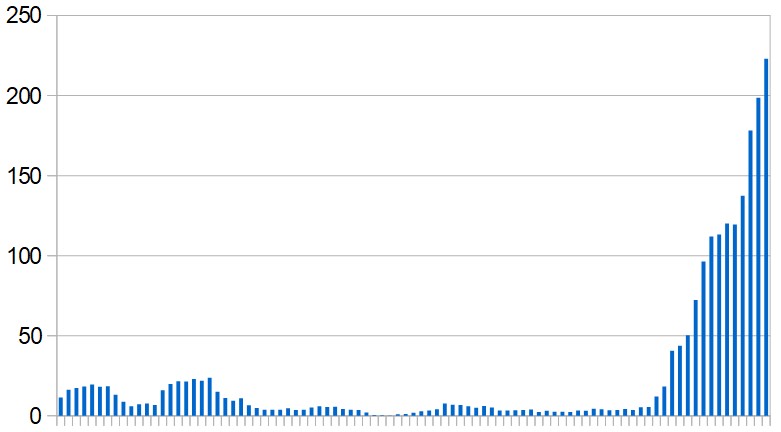 The Palestinian authorities have declared a total lockdown in the West Bank just five weeks after their previous one was lifted. The decision comes amid a dramatic rise in new Covid-19 infections which has more than doubled the number of known cases in the space of a week.
The new lockdown will begin on Friday and is due to last five days but could be extended. Palestinians are being told to stay at home and businesses will be closed except for the sale of food and medicines.
Although it's four months since the virus first arrived in the West Bank, 78% of all recorded cases have occurred during the last two weeks, according to the Palestinian website corona.ps.
In the early stages of the pandemic Palestine's outbreak was relatively small. At the peak, in April, new infections were averaging 24 a day. The daily average during the past week has been nine times as many.
In mid-June health minister Mai Alkaila noted that new cases were rising again but said there would be no repeat of the earlier lockdown. Instead, specific hotspots would be isolated. It appears now, though, that the authorities have decided that approach would be inadequate.
The Hebron area accounts for three-quarters of those currently infected but recent testing indicates that the epidemic is growing more generally – and at an alarming rate. Before June 15, tests were yielding only about seven positive results from every 1,000 samples but that has now increased to 60 positive results per thousand, the corona.ps website says.
The course of the epidemic in the West Bank has broadly paralleled that in Israel which is currently in the midst of a second wave, with record numbers of new cases being reported. Although Israel's second wave shows signs of becoming bigger than the first one there has so far been no return to a nationwide lockdown but there are moves to declare dozens of towns and cities as restricted "red zones".
According to the Palestinian health ministry, more than 30% of the new cases in the West Bank are among Palestinians working in Israel and people who have been in contact with them.
Active Covid-19 cases in the West Bank
Hebron
Bethlehem
Jerusalem (city)
Nablus
Ramallah & al-Bireh
Jerusalem (outskirts)
Gaza strip
Tulkarem
Jericho
Jenin
Salfit
Tubas
Qalqilya
TOTAL
1,853
173
160
142
39
32
14
11
10
6
5
3
2
22,450