Country narrative: Israel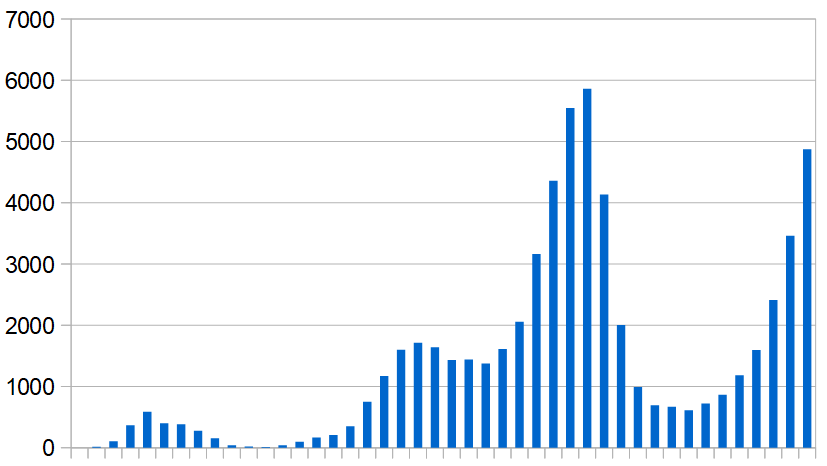 February 25, 2020
The Ministry of Health announced on Friday that one of 11 Israelis who had flown home after being quarantined on the Diamond Princess cruise ship in Japan had tested positive. A second case, from the same ship, was reported on Sunday.
February 27
Israel is banning the entry of foreign nationals who have been in China, Thailand, Singapore, Japan and South Korea during the last two weeks. The Ministry of Health is urging Israelis not to travel to Italy and says any who returned from Italy after 16 February should be isolated at home for two weeks.
February 28
Israel confirmed a new case on Thursday, bringing the total to three. The latest one is an Israeli man who flew back from Milan on 23 February and has since developed symptoms. He was not previously in quarantine. The Times of Israel reports that a 40-year-old man who recently returned from Thailand was arrested for breaking quarantine to visit his relatives. A court later ordered his release.
February 29
Israel reported four new cases on Friday, including the first known case of person-to-person transmission inside the country: the wife of a man who had returned from Italy with the virus. Two Israeli men who recently returned from Italy have also tested positive. The fourth new case was an Israeli cruise ship passenger who had been released from hospital in Japan. He returned home on a commercial flight after apparently being given the all-clear in Japan but tested positive shortly after arriving in Israel.
March 2
Israel reported three more cases on Sunday. Two of them are members of a family who arrived from Italy on Thursday. Passengers who were on the same flight have been told to isolate themselves at home for two weeks. The third newly-diagnosed person is employed at a toy shop where a co-worker tested positive earlier after returning from Italy. This brings Israel's cumulative total to 10 cases.
March 3
Israel reported two new cases, bringing the total to 12. The two people affected had returned from Italy towards the end of February.
March 4
Israel reported three new cases, bringing the total to 15. One is a part-time worker in a toy shop and another is a customer who reportedly spent only 15 minutes in the shop. The shop's manager was diagnosed earlier, having apparently caught the virus during a visit to Italy. The third new case is a person who had been quarantined at home after returning from Italy.
March 6
Israel has so far reported 17 confirmed cases. One of Thursday's two new cases was a resident of Israel who arrived from Venice on EasyJet flight EJ3342 last Saturday. Other passengers on the same flight have been urged to go into home quarantine. The other new case was a tour bus driver in Jerusalem who had recently driven tourist groups from Greece, Spain and Germany.
March 7
Israel confirmed four new cases on Friday, bringing the total to 21. The Jerusalem Post reported that 70,000 people are now in isolation at home. Of the 21 known cases, 13 appear to have contracted the virus in Europe and the authorities announced that anyone arriving in Israel from Germany, Spain, France, Switzerland or Austria must go into immediate quarantine. Lufthansa, Austrian Airlines and SWISS are suspending flights to Israel. Meanwhile, Israeli police say they are cracking down on people who don't comply with the quarantine regulations. Violators could face seven years in jail.
March 9
Israel now has 39 cases – an increase of 14. Meanwhile, Uri Geller, the spoon-bending Israel magician, is promoting a conspiracy theory about the origin of the virus.
March 10
The number of coronavirus cases in Israel has doubled during the last two days and now stands at 50. This prompted prime minister Netanyahu to announce that everyone entering the country, including Israelis returning from abroad, must go into self-quarantine for two weeks. Foreigners will have to prove that they have made adequate arrangements for this.
Israel's situation is also entwined with that of the Palestinians. The first cases on the West Bank were confirmed on March 5, resulting in the lockdown of Bethlehem. On Monday the Palestinian authorities reported five new cases – four in Bethlehem and one in Tulkarem, bringing the total to 25. Consultations are said to be taking place with Jordan (and probably Israel too) about a possible closure of the bridge between Jordan and the West Bank.
March 13
Israel is closing schools and universities from today. An article in Haaretz newspaper describes the government's preparations to deal with potentially thousands of seriously ill coronavirus patients. According to the health ministry, 2,479 healthcare workers are now in quarantine.
March 15
Israel is at war with an invisible enemy and will use counter-terrorism technology to track coronavirus carriers, Prime Minister Binyamin Netanyahu said on Saturday. Meanwhile, non-urgent court cases are being postponed as a preventive measure – which means Netanhayu's corruption trial, which was due to start on Tuesday, will not now take place before May.
March 16
Governments in the Middle East are resorting to increasingly extreme measures in their attempts to control the spread of COVID-19. On Saturday, Binyamin Netanyahu declared that Israel is at war with an invisible enemy and will use counter-terrorism technology to track carriers. Details have now emerged as to how this will be done.
When someone tests positive, the Shin Bet security service will check their mobile phone records to see where they have been during the previous 14 days. Shin Bet will then check other phone records and people who are found to have been in the "vicinity" of the infected person will receive a text message telling them to self-quarantine.
According to Haaretz newspaper, this has been approved by the Israeli cabinet and the attorney general and surveillance can be carried out without a court order.
March 19
Of the 433 diagnosed cases, 260 are hospitalised but only six are said to be in a serious condition. The IDF reported that nine soldiers have tested positive, mostly after returning from holidays abroad. A further 5,630 – career soldiers or those in mandatory service – are in quarantine. In the Jewish settlement of Beitar Illit, police dispersed a crowd of about 150 celebrating a wedding. The health ministry has forbidden gatherings of more than 10 people and one person from the wedding was detained for questioning.
March 20
​The number of people in Israel known to have been infected with coronavirus rose by 56% yesterday with the confirmation of 501 new cases.
Israel's cumulative total – 677 cases since the outbreak began – is now the highest in the Middle East apart from Iran (though it's still a very long way below Iran's total).
The relatively high numbers in Israel are partly a result of extensive testing. Iraq, for example, probably has a worse coronavirus problem but the official number of cases is lower because there is far less testing.
One particular problem in Israel is compliance. Significant numbers of people are not taking the situation seriously. The Jerusalem Post reports:
"Police opened criminal investigations against 92 people who allegedly violated quarantine instructions by the Health Ministry, and arrested three people who were actively violating it. One man was arrested three times after he continued to break his quarantine."
Similarly with the rules for social distancing. Although gatherings of more than 10 people are forbidden, police had to break up a crowd of about 150 attending an ultra-Orthodox settler wedding.
On Thursday, in an effort to combat non-compliance, caretaker prime minister Netanyahu announced that the existing restrictions on movement are now legally enforceable and anyone who breaks them will be fined.
"There has not been anything like this since the establishment of the state," Netanyahu said. "There has actually been no such thing like this in the last 100 years ... It is not going to be easy; I am asking for your cooperation."
The Jerusalem Post also reports that the Israeli military are "preparing to assist the police to enforce a quarantine should a full nationwide lockdown be imposed".
To help protect the military from infection a "capsule" system is being used in which all troops on each shift remain completely separate from the others. "Troops will also be asked to refrain from taking public transportation; as such, the military will provide buses in which no more than 25 soldiers will travel at a time," the Jerusalem Post says.
The military are already involved in a variety of ways. They are helping the police and the health ministry to run a quarantine centre and their Intelligence Technology Unit is helping to produce face masks and adapting 50 vans to shield the drivers when carrying infected patients.
The defence ministry announced that it has purchased 2,500 ventilators, though these will not arrive until mid-May.
Meanwhile the Mossad is trying to help raise the number of tests carried out from 2,000 a day to 5,000. On Wednesday, 100,000 test kits arrived in Israel, procured by the Mossad from unnamed sources. Unfortunately they were all missing an essential component – the special liquid that the test sticks have to be dipped in. Without it they are useless.
March 21
Israel: The first death to be reported was that of a 88-year-old man living in sheltered accommodation. Fifteen other people are said to be in a serious condition. In Ar'ara, one of a group of Arab towns in an area known as the Triangle, police broke up three large weddings and detained the organisers on the grounds of breaking the rules for social distancing.
March 23
Israel has confirmed 289 new cases in the last 24 hours, but the health ministry had been predicting a rapid rise because of increased testing. Initially the ministry was testing about 750 people per day but by the weekend this had risen to more than 5,000 and the aim is to increase it to 10,000 per day within the next two weeks.
March 25
Israel is introducing further regulations from this evening, and violators are to be punished with fines of 500 shekels ($137) or suspended jail sentences:
People will only be allowed to go on short walks within 100 metres of their homes.

Public transport will be drastically reduced; private taxis will be available, but are limited to one passenger.

Only two people may travel in a car at one time and they may only be traveling to or from an approved place of work or to the grocery store, pharmacy or a medical appointment.

Attending weddings or other religious ceremonies is allowed if there are no more than 10 participants and two-metre distancing rules are followed.

Going to the mikvah is allowed, as long as arrangements have been made in advance.
In Israel on Sunday, hundreds of people defied the social isolation rules to attend a funeral in the ultra-Orthodox town of Bnei Brak.
This non-compliance has prompted some strong criticism in Israeli media. The Jerusalem Post reports that ultra-Orthodox haredim account for as much as 50% of coronavirus patients hospitalised throughout the country. It quotes one doctor as saying:
"Almost every haredi who is tested for the virus is found positive. There are families with 100% infection. The Health Ministry needs to go door to door, and take the sick from their homes. If not, in another few weeks, we will see them coming in by masses."
Bnei Brak is considered a particular hotspot for the virus and in a report for Haaretz newspaper [paywall] journalist Anshel Pfeffer notes a synagogue in the town with a sign in two languages. In Hebrew it says the synagogue is closed while in Yiddish it invites people to "come in to learn and pray".
In a series of tweets, Pfeffer writes:
"I spent a heart-breaking Shabbat afternoon in Bnei Brak ... I've spent 23 years writing about the ultra-Orthodox community and I doubt it will ever be the same after the rabbis' terrible response to coronavirus.

"The major outbreaks of COVID-9 in Haredi neighborhoods will soon almost certainly lead to a surge of more serious cases and pressure on the ICU [intensive care] units creating tension between the ultra-Orthodox and other sectors of Israeli society who have been isolating properly for weeks now ...

"It will be impossible to forget while the ultra-Orthodox were openly flouting the isolation rules, their representatives enjoy unprecedented political influence under Netanyahu and one of their own, Yaakov Litzman is health minister. Resentment is already growing among Israelis."
Pfeffer notes that while many ultra-Orthodox rabbis in the US and UK have reacted to coronavirus in a responsible way, among their Israeli counterparts this isn't the norm. "In Israel they have grown accustomed to being allowed total autonomy from the state which funds them."
April 2
Israel: Prime minister Netanyahu, the heads of the Mossad and the National Security Council, and the director-general of the health ministry have all gone into quarantine after the health minister was diagnosed with the virus. The Jerusalem Post notes that this list of officials is "basically the top leadership in the country currently leading efforts to stop the spread of COVID-19."
With the start of Passover less than a week away, there are fears that it could lead to another surge in infections, especially among the ultra-Orthodox. Health ministry director-general Moshe Bar-Siman-Tov said: "We fear that if we won't adhere to the regulations on Passover – we will see another surge in the number of infected. Right now, we are paying the price for the events of Purim. We fear that the upcoming holiday may prompt very significant events of contagion, that is why we call on the public to adhere to the regulations. At the same time, we also keep increasing the number of tests conducted daily."
April 3
Israel is deploying armed paratroopers to seal off Bnei Brak, the country's largest coronavirus hotspot, where people are resisting isolation and social distancing on religious grounds (see previous report). The town, with a population of 200,000, is a major centre of ultra-Orthodox (haredi) Judaism.
The military will also be used to remove 4,500 people from Bnei Brak who are over the age of 80. The plan is to quarantine them in hotels run by the Home Front Command, which are being adapted "to fit the lifestyles of the haredi residents".
Meanwhile small-scale disturbances in Jaffa continued on Thursday. The trouble began on Wednesday in a largely Arab district when police arrested a man for allegedly violating quarantine regulations.
April 4
In a sudden reversal of policy, Israel's health ministry has announced a cutback in coronavirus testing. The World Health Organisation regards testing as an essential component in the battle against COVID-19 and Israel had been planning to increase testing levels to 10,000 a day by early next week. However, supplies of the essential chemical reagent are running low and in an effort to conserve them testing will, in effect, be rationed.
Under the ministry's new guidelines, people with typical coronavirus symptoms will not be tested unless they have been abroad during the previous two weeks.
Those without symptoms will only be tested if they have spent more than 15 minutes with a confirmed coronavirus patient or have returned from a country with a high rate of infections.
Meanwhile, there are calls for the dismissal of health minister Ya'acov Litzman, a follower of Hasidic Judaism. He is currently under fire for flouting his own ministry's rules on social distancing, and is reported to have attended group prayers on at least two occasions during the past week.
On Wednesday he was diagnosed with the virus, forcing prime minister Netanyahu, the heads of the Mossad and the National Security Council, and the director-general of the health ministry all to go into quarantine.
April 6
Israel has decided to impose further restrictions in selected areas, with details to be announced later today. The Jerusalem Post reports:
"Haredi [ultra-Orthodox] towns and cities continue to represent the hotspot of the coronavirus outbreak in Israel, with the highest number of confirmed cases per 100,000 people located in Efrat (656.1), Kiryat Yearim (634.4), Bnei Brak (622.5) and Kfar Habad (585.6).
"As of Monday morning, the two cities with the greatest number of confirmed cases were Jerusalem (1,316 cases) and Bnei Brak (1,222)."
April 7
At least three countries in the Middle East are resorting to technology based around mobile phones in their efforts to halt the spread of coronavirus.
The three – Bahrain, Israel and the UAE – are using it in different ways but the underlying principle is the same in each of them. Mobile phones can tell the authorities where you are, and where you have been.
In the midst of an epidemic this can be used for several purposes: to check that people who are supposed to be in quarantine remain in quarantine, to detect others who are not observing the rules of social isolation, and to identify those who have been in contact with an infected person.
It began in Israel on March 14 when prime minister Binyamin Netanyahu announced that the authorities would be relying on technology previously used for counter-terrorism purposes in order to track carriers of the disease.
This led to the revelation that the Shin Bet security service maintains a secret database known as "The Tool" which monitors the locations of all mobile phones and all the numbers called.
Aside from counter-terrorism, The Tool can be used to identify those who have been in the "vicinity" of anyone known to be infected and send them text message telling them to self-quarantine.
Ten days after Netanyahu's announcement, Shin Bet said its mass surveillance efforts had so far detected 500 contacts of coronavirus carriers.
While Israel is using technology to trace contacts, the United Arab Emirates is using it mainly to prevent flouting of the social isolation rules (see previous report).
In the UAE, people who are not classified as essential workers are forbidden to leave home without a permit. The process of applying for a permit (which has to be repeated for every trip outdoors) starts with registering the applicant's mobile phone number on a police website.
Applicants then have to provide details of where they want to go, what time they will set out, and what time they expect to return home. Records of the phone's location can be checked to see whether the user has complied with the permit.
Meanwhile, the government of Bahrain has launched a phone app called "BeAware Bahrain". The app is partly intended to give health information relating to the virus but it has other purposes too.
As in Israel, it will notify people if they come close to someone who is known to be infected.
It will also track people who are in compulsory home in quarantine – and in this case it is combined with GPS technology, which the Bahrainis believe will make it more effective.
According to Gulf News, users of the app must set their location via their phone when they start the quarantine but they are also required to wear a GPS wristband. An alert is sent to the authorities if the wearer of the wristband moves more than 15 metres from the relevant phone.
Removing the wristband or tampering with it can result in a minimum jail sentence of three months, and/or a fine of 10,000 dinars ($26,000).
There will also be spot checks, Gulf News says. The health ministry can demand selfies from quarantined people showing both their face and the wristband.
All this is highly intrusive and in some ways scary, though in the current situation its use can be defended on the grounds that it helps to protect the public from a potentially deadly illness. But once the plague has passed the technology can't be uninvented. It will still be there, available for other purposes.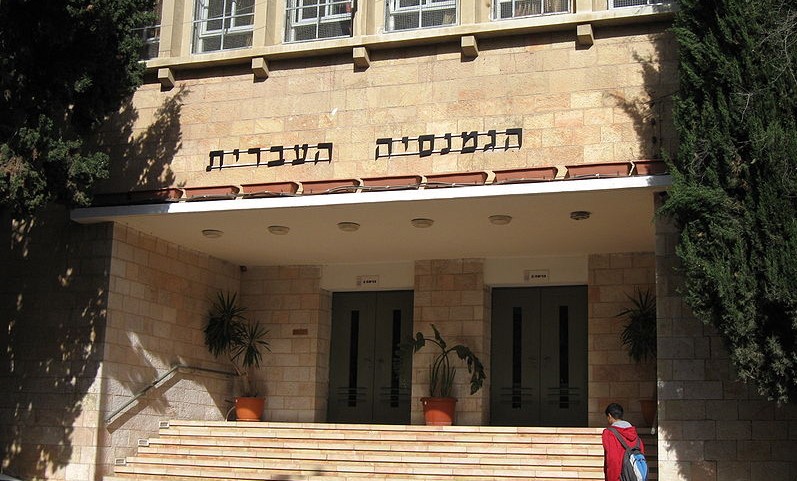 Until Thursday, Israel's coronavirus epidemic – which has so far infected more than 16,000 people – seemed to be fizzling out. For most of this month new cases were averaging only 25 a day as the country began emerging from its lockdown but now there has been a sudden rise.
Over the last two days, 199 new cases have been recorded – not a huge number but enough to cause alarm. Perhaps more significantly, positive results found in routine testing have also risen over the last few days, from 0.5% to 1.5%.
The new cases include large numbers of children, raising the possibility that some of the schools which recently reopened will have to close again.
There's a major outbreak at the Gymnasia Rehavia school in Jerusalem where 64 students and 14 staff have tested positive. In Bat Yam, south of Tel Aviv, several other schoolchildren have been diagnosed and two cases have been reported at a kindergarten in central Israel.
Meanwhile, members of Beitar Jerusalem's youth football team have gone into isolation after three members tested positive.
The health ministry's director-general, Moshe Bar Siman Tov, has blamed the increase on people not following the guidelines due to an "atmosphere of euphoria and complacency" after the easing of restrictions.
Cafes and restaurants were among the businesses that reopened this week, subject to rules that include social distancing and checking customers' temperature before they enter. The rules themselves are fairly obvious but during two hours in a Jerusalem cafe Sky News reporter Mark Stone found people constantly breaking them, apparently accidentally:
"Customers tend to bunch up subconsciously, waitresses' masks slip down from their noses, and some people unintentionally walk past the waiter with the thermometer. It's all a bit chaotic, naturally.
"And this is all at a cafe, which is, on the face of it, taking the regulations seriously.
"The owner was armed with a tape measure and had been diligently spacing out the tables to meet the required 1.5m distance."
June 7
Israel has seen a rise in Covid-19 infections since easing its lockdown, raising fears that a second wave of the epidemic may be on the way.
During May, most restrictions were lifted in stages, thousands returned to work and the schools reopened (though still with some precautions).
The prospects for a successful transition out of lockdown also looked reasonably good. Over a ten-day period in the second half of May, new infections were averaging only 15-16 a day.
Since then, though, they have been rising again, and the average over the past week was 108 new cases a day.
What happens next in Israel will be worth watching closely, especially by other countries following a similar path out of lockdown.
Currently, most of Israel's new infections are in recently-reopened schools (see previous report). There have also been a few in care homes and nurseries.
Rather than closing all the schools again, the authorities have been shutting them down selectively, as and when cases come to light. By Friday, 92 schools and nurseries had been closed, 304 students and teachers had tested positive, and a further 13,702 people had been quarantined.
During the third week of May the requirement for wearing face masks outdoors and in schools was waived for a few days because of hot weather and this may have had some impact on the current situation.
The first is that the public must behave responsibly, by wearing face masks, maintaining hygiene and observing the rules for social distancing and self-isolation.According to Professor Ran Balicer, an Israeli public health expert, a limited rise in new cases shouldn't be cause for alarm. In an article for Haaretz newspaper he says the problem can be dealt with using tweezers rather than a hammer – but only if two conditions are met.
The second is that the authorities must tackle infection hotspots, carry out mass testing, ensure that contacts self-isolate properly and protect vulnerable sections of the population.
Balicer adds that neither of these conditions is being met at present. As far as some of the public are concerned, the coronavirus crisis is over, he says. "People from all parts of the population are congregating daily in large numbers, without masks." At the same time, the government needs to "upgrade its response" to the hotspots.
Although Balicer is ambivalent about the likelihood of a second wave, he argues that the government should start preparing for a possible exponential rise and look for "creative solutions" to avoid a return to lockdown.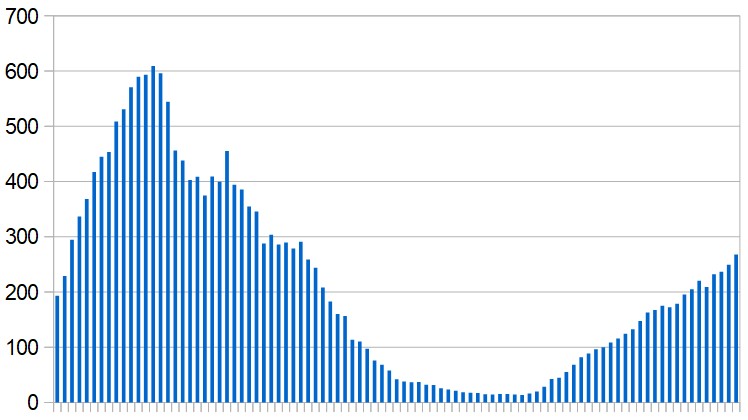 Until recently Israel and Palestine seemed to have brought their coronavirus epidemics under control but both are now seeing large numbers of new infections. Yesterday Israel reported 430 new cases – its biggest rise for two months. Palestine reported 179 – its highest number since the outbreak began.
The resurgence in Israel followed a phased lifting of restrictions. During May schools reopened and thousands of people returned to work. Cafes, bars and restaurants reopened too, though with rules for social distancing.
New infections are still well below the level reached during the peak of the initial wave in April and the rise is more gradual, but dealing with it could be more difficult. 
Health minister Yuli Edelstein said on Tuesday that Israel will not return to a total lockdown but to what he called a "breathing lockdown". This involves identifying viral hotspots and declaring them "restricted zones".
The city of Elad and and several districts in Tiberias became restricted zones at 8am today, and the restrictions are set to last for one week. It's a method that has proved effective in some other countries (such as Jordan) where there is little or no transmission in the wider community but according to Dr Erez Barenboim, director of the Assuta Ashdod Medical Centre, the situation in Israel is different. Health ministry figures show there are Covid-19 cases in 75 Israeli towns and cities.
"The second wave of coronavirus is marked by a widespread, non-targeted outbreak of the virus," Barenboim told the Jerusalem Post. "The attempt to reduce the spread through closing one or other community is less effective in this round than before."
He added: "As long as there is no vaccine, the most effective tool is personal responsibility: wearing masks, social distancing and hygiene."
There are some in Tiberias who see the declaration of "restricted" areas as little more than a ploy "for media purposes" – to show that the government is doing something about the increase in cases. In theory the restricted areas are sealed off with checkpoints but there are a lot of exceptions. Residents can enter and leave to travel to work, for medical appointments, to take exams, to attend funerals of close relatives and in other "special circumstances".
The police are supposed to prevent "unnecessary traffic" but a resident quoted by Haaretz newspaper said buses and cars were still moving in and out without being thoroughly checked.
In Bat Yam, south of Tel Aviv, researchers say current infection rates are now similar to those seen during the first wave of the epidemic and the mayor has called on the government to reinstate its previous closure of the beaches.
"We're working around the clock to bring the city back to a low infection rate," he said, "but nothing will work if the public doesn't cooperate. I'm calling on everyone to follow the health ministry's rules, and not leave the house without a mask." 
The penalty for not wearing a mask in public has just been raised from 200 shekels ($60) to 500 ($150) and police say they are setting up special units to enforce it.
July 4
The situation in Israel looks very alarming: gains made during the lockdown have been wiped out by a second wave of infections. The initial wave peaked at around 600 new cases a day in early April and by the second half of May they had dropped to 15-16 a day. However, they began increasing again when restrictions were lifted and the rise over the last few days has been especially steep. New cases have averaged 751 a day during the past week – more than during the April peak.
The government is reluctant to impose a second nationwide lockdown but may eventually be forced to do so in order to avoid overwhelming health services. Currently, it is trying to focus on declaring "restricted zones" in particular hotspots. On Friday it went a step further, limiting attendance at event halls, bars, clubs and prayer houses to 50 people. Any other gatherings in closed spaces are now limited to 20 people.
Analysis of health ministry data by an Israeli website suggests buses and supermarkets are the most common sources of infection.
Israel's education ministry has been developing "flexible" plans for the next school year based on three alternative coronavirus scenarios (details here).
July 11
On Friday, police said they had broken up a party attended by hundreds of teenagers in Ben Shemen forest. The organisers were arrested and dozens of participants were issued with fines for not wearing masks.
July 18
A cabinet meeting on Thursday decided to impose restrictions across the country at weekends, from 5pm on Fridays to 5am on Sundays. These include closure of beaches and most shops, limiting restaurants to takeaways and deliveries, and banning gatherings of more than 10 people indoors or 20 outdoors.
This brought protests from restaurant owners who had already ordered supplies for the weekend. The government then back-tracked, allowing them to stay open this weekend. The closure of beaches has also been postponed.
There is growing disarray in the government amid disagreements about what should be done.
August 1
On Friday the health ministry said it is establishing a "uniform procedure to determine when and how to restrict gatherings at places of work, cultural events and synagogues". The Jerusalem Post says the plan is to hold "round table" meetings three times a week with the aim of "effectively and coherently" deciding on restrictions.
September 12
After Bahrain, Israel has the second highest infection rate in the Middle East. Its daily average this week was 33 new cases per 100,000 inhabitants.
On Thursday, Israel's "coronavirus cabinet" took the drastic step of approving plans for a second nationwide lockdown. This will be put to the full cabinet on Sunday. 
The lockdown is expected to last for a month, starting in the next few days just before the Rosh Hashanah holiday. The first phase will be the strictest, with Israelis ordered to stay within 500 metres of their homes. Schools and businesses will be closed and most leisure activities will be banned. 
If the lockdown goes ahead there is likely to be stiff resistance. The Times of Israel reports that many businesses are threatening to stay open, fearing financial ruin if they have to close again. 
September 19
New infections this week have been the highest so far, averaging 4,358 a day – more than double the level of two weeks ago. Considering Israel's small population this is a very high infection rate, equivalent to 157,000 cases a day in a country the size of the United States.
On Friday, coinciding with Rosh Hashanah (the Jewish New Year holiday) Israel embarked on its second nationwide lockdown, which is due to last for at least three weeks. Details of the restrictions are here. They include a rule that people must not venture more than 500 metres from their home. There is a lot of public opposition to the lockdown and compliance is likely to be a problem.
September 26
On September 18 Israel began its second nationwide lockdown, which is due to last for three weeks. The restrictions were tightened further on Friday. Full details of the rules are here.
The lockdown is taking place amid disagreements over what should be done, plus considerable resistance from the public – especially religious elements. The Jerusalem Post reports that 400 yeshiva students became infected after attending collective prayers during Rosh Hashanah. On Thursday, the paper says, police issued 4,239 penalty tickets to people violating the regulations.
October 3
Prime minister Binyamin Netanyahu said on Thursday that if the current lockdown does not reduce the spread of the virus "we will need to tighten it". 
The lockdown is taking place amid disagreements about the way forward, plus considerable resistance from the public – especially religious elements.
Tourism minister Asaf Zamir (a member of the Blue and White alliance) resigned on Friday, saying: "I'm afraid Israel is on the brink of total catastrophe and it won't change while Netanyahu is prime minister. The Covid crisis is at best at second place on his list of priorities."
November 1
New infections dropped sharply during October, and the average during the past week has been only 716 a day.
There are still local lockdowns in heavily-infected "red zones" and some restrictions continue elsewhere.
November 18
Update on vaccines: The Israel Institute for Biological Research, which has connections with the defence ministry, has begun trials of a locally-produced vaccine known as Brilife but this is unlikely to be approved for several months. The Phase III trials are not expected until April or May next year.
Israel already has contracts with Moderna and Arcturus for substantial quantities of vaccine when approved and is also negotiating with AstraZeneca.
Prime minister Binyamin Netanyahu said recently that Israel's policy is to "buy as many options as possible from as many companies as possible". He added that "the cost of throwing money in the trash, if the vaccines are unsuccessful, is minimal compared to not having vaccines."
Last week Israel also signed an agreement with Pfizer for eight million doses of its vaccine. However, it was later reported that Pfizer has not committed itself to a delivery schedule and is charging Israel $56 for each two-shot dose compared with $39 in the US.
February 6, 2021
Update on vaccines: More than three million Israelis – a third of the country's population – have now received a first dose of vaccine and almost two million of those have had a second dose. Early signs are that this is slowing the spread of the virus. The level of new infections is still high, however, and the number of people coming forward for vaccination has been falling recently.
Prime minister Binyamin Netanyahu said Israel's strategy was to "buy as many options as possible from as many companies as possible" and in November he negotiated a deal with Pfizer to supply eight million doses of its vaccine – though at a relatively high price.
Israel also has contracts with Moderna and Arcturus, and has reportedly been negotiating with AstraZeneca.
Israel has supplied small quantities of vaccine to the Palestinian Authority in the West Bank but has been criticised for not doing more to help.
Last year the Israel Institute for Biological Research, which has connections with the defence ministry, began trials of a locally-produced vaccine known as Brilife. This is unlikely to be approved for several months as the Phase III trials are not expected until April or May.