"At times, Adonis's poetry is both revolutionary and anarchic; at other times, it approaches the mystical." – Kamal Abu-Deeb
Adonis, the poet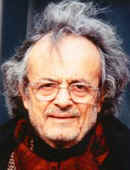 One of the greatest poets in Arabic literature, Ali Ahmad Said Asbar (better known as Adonis) is also something of an iconoclast. His prose writings have aroused much controversy in the Arab world, particularly his views on the Arab heritage. There can be no doubt as to the influence of his ideas about innovation and modernity on a whole generation of poets. Equally important is the leading role he played in revolutionising poetic language, imagery, and approach.
He was born in al-Qassabin, Syria, in 1930. As a child, his father encouraged him to memorise poetry. He began to write his own poems and in 1947 he gave a recitation for the Syrian president, Shukri al-Kuwatli, which led to a series of scholarships, including a place at Damascus University where he graduated with a degree in philosophy in 1954.
The following year he was imprisoned for six months for belonging to the Syrian National Party. He then moved to Beirut where, along with fellow poet Yusuf al-Khal, he founded a poetry magazine, Shi'r. In 1968 he founded the avant-garde magazine, Mawaqif (Situations).
1960-1961: Studied in Paris
1970-1985: Professor of Arabic literature, University of Lebanon
1976: Visiting professor, University of Damascus
1980: Moved to Paris to escape the Lebanese civil war
1980-1981: Professor of Arabic at the Sorbonne, Paris
He is often tipped as a candidate for the Nobel Prize for Literature.
---
Works by Adonis
If Only the Sea Could Sleep
amazon.com; amazon.co.uk
The Pages of Day and Night
amazon.com; amazon.co.uk
A Time Between Ashes And Roses
amazon.com; amazon.co.uk
An Introduction to Arab Poetics
amazon.com; amazon.co.uk
Sufism and Surrealism
amazon.com; amazon.co.uk
---
Translated poems online
Adonis: Selected poems
Translated by Khaled Mattawa
Three poems
Translated by Adnan Haydar and Michael Beard
---
Articles about Adonis
Adonis – a literary profile
(Poetry Foundation)
Biographical essay
By Kamal Abu-Deeb, from the Encyclopedia of Arabic Literature (Routledge, 1998).
Adonis: a life in writing
'A creator always has to be with what's revolutionary, but he should never be like the revolutionaries. He can't speak the same language or work in the same political environment'. Interview by Maya Jaggi, The Guardian, 27 January 2012
Adonis: Selected Poems
Review by Stephen Watts, Banipal 41
Adonis Indicts Arabic Poetry, Past and Present
By Elie Chalala (al-Jadid, Vol 2, No 3, January 1996)
Adonis - a poet responds
Etel Adnan, a Lebanese-American poet and novelist, takes issue with Adonis. (al-Jadid, Vol 2 No 4, February 1996)