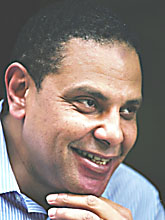 Alaa al Aswani
Born in 1957, Alaa al Aswani is a dentist-turned-writer who has was written prolifically for Egyptian newspapers on literature, politics and social issues.
He was made famous by The Yacoubian Building (Imarat Yaacoubian), published in 2002, which for several years was reputedly the best-selling novel in Arabic. It depicts the ills of modern Egypt through the inhabitants of a once-fashionable apartment block in downtown Cairo. Though the characters are fictitious, the Yacoubian Building actually exists - it is where Aswani's first dental surgery was based.
Publisher's description: "From the pious son of the building's doorkeeper and the raucous, impoverished squatters on its roof, via the tattered aristocrat and the gay intellectual in its apartments, to the ruthless businessman whose stores occupy its ground floor, each sharply etched character embodies a facet of modern Egypt - where political corruption, ill-gotten wealth, and religious hypocrisy are natural allies, where the arrogance and defensiveness of the powerful find expression in the exploitation of the weak, where youthful idealism can turn quickly to extremism, and where an older, less violent vision of society may yet prevail."
The Yacoubian Building: Excerpts from Chapter 1
Further information
Alaa al-Aswany interview
'I do not believe the revolution is a political change; it is a human change.' Egypt's bestselling author on writing 'the novel of the Arab spring' and why he feels it is his duty to speak out. By Susanna Rustin, The Guardian, 23 January 2016
The Automobile Club of Egypt by Alaa al-Aswany
Reviewed by Alfred Hickling, The Guardian 26 December 2015
Writing the Revolution
Egypt's leading novelist surveys the Arab uprising. By Wendell Steavenson, New Yorker, 16 January 2012
The Interview
By day a Cairo dentist and by night a novelist, he spent years battling censorship to get published. Today, he is a bestselling writer across the world and remains a fierce critic of Egypt's repressive regime. Rachel Cooke talks to the acclaimed author about love, torture, and why he still practises dentistry. The Observer, 31 May 2009
The Yacoubian Building
Reviewed by Laila Lalami, 20 July, 2005
Profile of Alaa al Aswani
Egypt Today, August 2004.
Dreams deferred
Review of The Yacoubian Building by Mona el-Ghobashy, Cairo Times, 20 June, 2002
A house falls apart
Review of The Yacoubian Building by Amina Elbendary, al-Ahram Weekly, 13 June, 2002
'Yacoubian Building' houses uncomfortable truths
National Public Radio on the filming of Aswani's novel