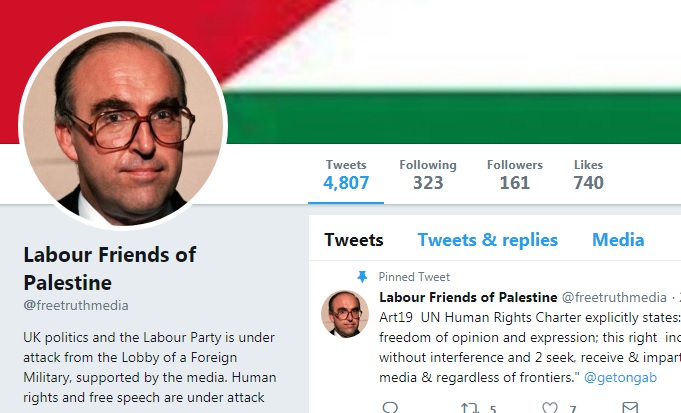 "Labour Friends of Palestine" is a Twitter account that purports to be connected with the British Labour party. Its choice of name seems intended to cause confusion with Labour Friends of Palestine & the Middle East, a genuine organisation which is recognised and supported by more than 100 Labour MPs, including party leader Jeremy Corbyn.
Last week, however, "Labour Friends of Palestine" posted tweets backing Nigel Farage and his Brexit party which will be competing against Labour in the European elections later this month. Although it appears to still support Corbyn, "Labour Friends of Palestine" has posted other tweets attacking Tom Watson, the deputy Labour leader, and Owen Jones, the Guardian columnist who is a prominent Labour supporter.
Its other Twitter activity shows support for Julian Assange, Putin's Russia, the Assad regime in Syria, the yellow vest protests in France, the presidency of Nicolás Maduro in Venezuela and a book that says vaccines cause autism.
Over the last few weeks it has also posted at least seven tweets promoting the conspiracy theories of the Working Group on Syria, Propaganda and Media which claims the Assad regime is not to blame for chemical attacks in Syria and Russia is not to blame for the nerve agent attack on the Skripals in Britain last year.
In an earlier blog post I suggested that when the "Labour Friends of Palestine" account was set up in December 2017 it probably used a different name – since its earliest tweets were about Syria rather than Palestine. This turns out to be correct. Eliot Higgins of Bellingcat has found a cached version which shows it was previously using the name "John Bolt-on" (get it?).
A tweet pinned at the top of the "John Bolt-on" Twitter feed quotes Article 19 of the Universal Declaration of Human Rights – the one about freedom of speech. The pinned tweet includes a tag to another Twitter account: @getongab.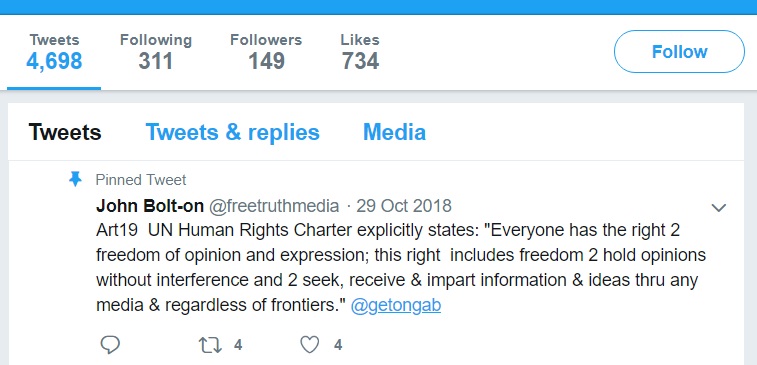 The @getongab account belongs to Gab, which the New York Times refers to as an "extremist-friendly" website – though that's probably far too polite a way of describing it. Two years ago, in an article for mic.com Melanie Ehrenkranz wrote:
"In a short amount of time, [Gab] has developed a notorious reputation as a magnet for the alt-right and a safe haven for banned Twitter trolls, Gamergaters, Pizzagaters and high-profile white nationalists to congregate and 'shitpost' to their hearts' content. It's a place where self-proclaimed 'edgelords' can spew racial slurs in good company ...

"Now Gab aims to expand beyond its current demographic. Its goal is to bring in a diverse new audience of progressives, 'ethnic minorities', the LGBTQ community, 'those concerned with cyberbullying', 'members of the left' and 'millennial women', according to an emailed statement ...

"What will this young, multicultural audience find on Gab, a culture that takes the idea of 'free speech' to extreme ends? When I joined, I found a barrage of Pepe memes, climate change denial, anti-Muslim rhetoric, sexist jokes and comparisons of Black Lives Matter to terrorist groups. Because this type of hateful conduct is permitted on the platform, the environment on Gab is significantly more vicious than on a site like Twitter."
Whether or not "John Bolt-on" aka "Labour Friends of Palestine" is directly connected with Gab, its Twitter feed – a mixture of left-wing and right-wing nastiness that also relishes conspiracy theories – clearly operates in the same sort of environment.
In its "John Bolt-on" incarnation the account was posting stuff like this:

The full significance of that tweet will probably escape you – unless you happen to be a Nazi or look up "Coudenhove-Kalergi" on Google. Richard von Coudenhove-Kalergi (1894-1972) was an opponent of German nationalism who founded the Paneuropean Union in the 1920s and served as its president for almost half a century. The Paneuropean Union was banned in Germany by the Nazis who also made a point of burning books by Coudenhove-Kalergi.
Today, the integrationist vision of Europe promoted by Coudenhove-Kalergi is still anathema to racists, nationalists, Brexiteers, etc, and the link in the "John Bolt-on" Twitter feed points to an especially vile article about "Coudenhove-Kalergi's plan to destroy the European people" (archived here).
It begins by talking about a "huge spate of organised illegal migrant trafficking and forced mass immigration into Europe" which it says has "the eventual goal of overwhelming Europeans and destroying their homelands".
It continues:
"This is no coincidence. It was all planned and laid out 100 years ago in the Coudenhove-Kalergi plan. Coudenhove-Kalergi planned for the systematic genocide of the native peoples of Europe. He is regarded as the founding father of the EU."
This work is licensed under a Creative Commons Attribution-NonCommercial 4.0 International Licence.