Governments in the Middle East are not providing enough information about coronavirus cases in their countries, the regional director of the World Health Organisation (WHO) warned on Thursday.
The director, Dr Ahmed al-Mandhari, reminded them of them of their duty under the International Health Regulations to share information about "suspected, probable and laboratory-confirmed cases" with WHO.
"Unfortunately, even today, as the situation is becoming critical, information on cases is insufficiently reported by countries to WHO," he said. "Less than 20% of all confirmed cases in the region have been officially communicated by countries to WHO."
Dr Mandhari continued: "Countries experiencing the outbreak need to contribute the global knowledge on prevention and control of COVID-19 by sharing information and lessons learned. We are all still students of this new virus, so we need to track its spread closely, document progress of managing patients and quickly apply the proven public health measures that can help us contain it."
He did not mention any countries by name but non-reporting of cases in Iraq appears to be a particular concern. Aside from the political chaos there, the relatively low number of confirmed cases in Iraq – currently said to be 71 – can be attributed at least partly to a lack of testing kits.
At a news conference in Iraq on Thursday, WHO experts emphasised the importance of reporting any suspected COVID-19 symptoms to the nearest health facility in order to control the spread of infection.
Even so, Iraqis may wonder if there is any point in reporting symptoms in a country where health services are ill-equipped to cope. In a recent interview, Dr Adham Ismail, the head of the WHO mission in Iraq said the healthcare system has significant gaps "and, even with international support, will fight an uphill battle in the weeks and months ahead".
One particular fear concerns more than a million people who are still living in camps after being displaced during the IS/Daesh insurgency. On March 10 the UN's Office for the Coordination of Humanitarian Affairs (OCHA) said the first suspected cases had been documented at one such camp in Ninewa. It didn't say how many cases there were but said: "The affected persons were transported to hospital, and a makeshift isolation unit was put in place. Sterilisation activities are under way."
The Financial Times reported: "The prospect of coronavirus spreading in Iraq's overcrowded, under-resourced and often isolated internal displacement camps is a nightmare scenario for aid agencies and the Iraqi government."
Update on new cases
The most recent official figures from Iran show a cumulative total of 10,075 confirmed cases, with 429 deaths. Ali Akbar Velayati, a top adviser to the Supreme Leader, is the latest high-profile figure to be diagnosed with the virus. Iran has asked the International Monetary Fund for $5 billion in emergency funding to help combat the epidemic.
Elsewhere in the Middle East, 93 new cases were reported, bringing the cumulative total to 1,149. The largest numbers of new cases were in Saudi Arabia (17), followed by Egypt (13) and the UAE (11). Two coronavirus-related deaths were reported – in Algeria and Egypt – bringing the regional total outside Iran to 16.
Although the latest tally of new cases has dropped back after the huge (and rather exceptional) spike reported on Thursday, the underlying trend points firmly upwards.
Algeria 26 (+1)
Bahrain 197 (+2)
Egypt 80 (+13)
Iraq 79 (-)
Israel 126 (+26)
Jordan 1 (-)
Kuwait 80 (-)
Lebanon 77 (+9)
Morocco 7 (+2)
Oman 19 (+1)
Palestine 35 (+5)
Qatar 262 (-)
Saudi Arabia 62 (+17)
Tunisia 13 (+6)
UAE 85 (+11)
TOTAL: 1149 (+93)
CLICK HERE for previous updates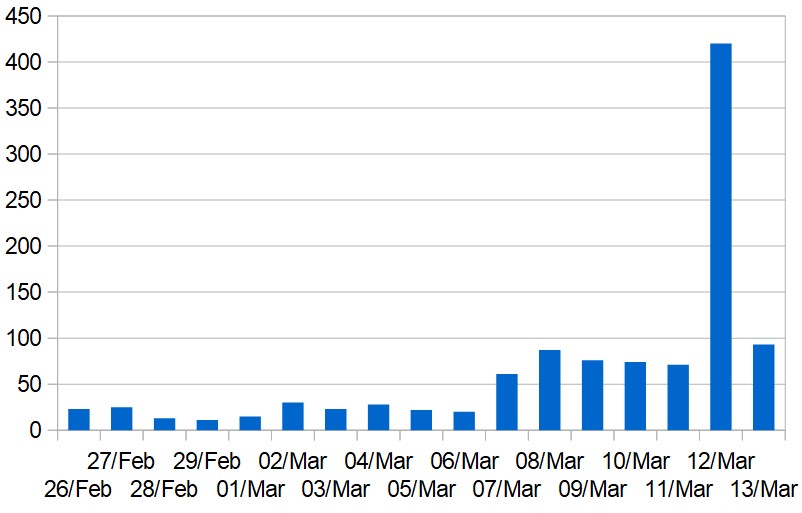 Country-by-country round-up
● Bahrain: The government news agency reported that the king has pardoned 901 prisoners "due to humanitarian reasons and under current conditions". The decision appears to be virus-related.
● Israel is closing schools and universities from today. An article in Haaretz newspaper describes the government's preparations to deal with potentially thousands of seriously ill coronavirus patients. According to the health ministry, 2,479 healthcare workers are now in quarantine.
● Kuwait has set up a new web page showing the latest statistics.
● Qatar: The health ministry has called on all citizens and residents to "avoid crowded places". Cinemas, theatres, children's play areas, gyms and wedding venues are closed from today. However, the regular Friday prayers in mosques will still go ahead, according to the ministry for Islamic affairs. Mosques are being urged to open their windows to increase ventilation and people with possible coronavirus symptoms are advised to stay away.
● Saudi Arabia: The 17 new cases include 11 Egyptians from the same group as another Egyptian who was diagnosed earlier while apparently on a visit to Mecca.
● Tunisia has six new cases – four of them linked to travel in Italy and France. The other two are relatives of a man who travelled to Egypt to watch a football match between Zamalek and a Tunisian team.
● UAE: The 11 new cases involve two Italians, two Filipinos, one Montenegrin, one Canadian, one German, one Pakistani, one Emirati, one Russian and one British citizen. They had already been placed in quarantine before testing positive.
* * *
For anyone interested: A spreadsheet documenting the new coronavirus cases reported each day in the Middle East (excluding Iran) can be viewed here.