During the last 24 hours, a further 145 coronavirus-related deaths have been reported in the Middle East and North Africa. Of these, 117 were in Iran and 28 in the rest of the region.
Although the daily toll in Iran remains high, the trend is downwards and the latest figure is the lowest for more than two weeks. Elsewhere in the region, though, the trend points relentlessly upwards.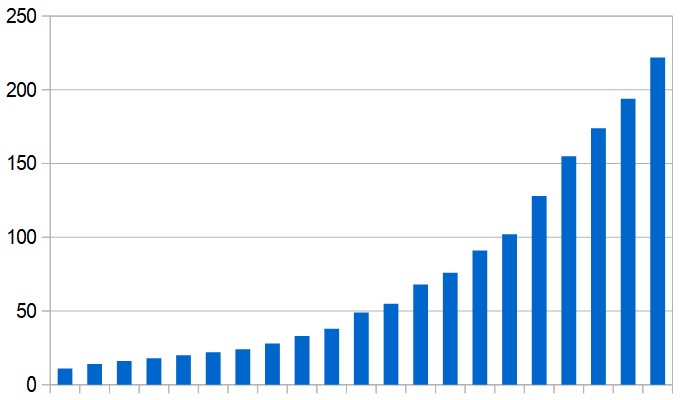 A more detailed look at these figures reveals huge disparities in death rates between different countries. The list below shows the number of deaths in each country as a percentage of the reported coronavirus cases. (Libya, Sudan and Syria are excluded because the number of reported infections is too small to give a meaningful result.)
Iraq
Morocco
Iran
Egypt
Algeria
Tunisia
Lebanon
Jordan
Palestine
UAE
Bahrain
Saudi Arabia
Israel
Qatar
Kuwait
Oman

7.3
7.2
6.6
6.3
6.0
2.8
2.5
1.9
0.9
0.8
0.8
0.6
0.4
0.1
0.0
0.0
This suggests that if you catch the virus in Iraq, Morocco, Egypt or Algeria your chances of dying are very much higher than in Israel or any of the Arab Gulf states. The death rate in those four countries is close to – or slightly above – the high level seen in Iran.
One factor here is likely to be differences in medical care. While patients in the Gulf can expect high-quality care, in Algeria seriously ill patients are being treated with the anti-malaria drug chloroquine (which, conveniently, is produced locally).
The benefits of chloroquine are unproven and the World Health Organisation has advised caution regarding its use for treating COVID-19. Nevertheless, last week the health minister defended its use on the grounds that Algeria "has no other choice".
Morocco is also pinning its hopes on chloroquine (together with hydroxychloroquine) and the authorities have requisitioned all available stocks.
The other important factor affecting death rates is the level of coronavirus testing – which, again, varies enormously from country to country (see previous report).
A high death rate, as a percentage of diagnosed cases, may simply mean that large numbers of infections are not being detected. If so, it points to worse problems further down the line because the more undetected cases there are, the more the virus is likely to spread.
---
Latest updates
Iran reported 3,186 new cases of coronavirus yesterday, bringing the official total to 41,485 since the outbreak began. This is the highest daily figure so far, and it may be explained by increased levels of testing.
In the rest of the Middle East, 1,189 new cases have been reported since yesterday's update. This is also the highest daily figure so far, making a cumulative total of 12,263 confirmed cases.
The largest increases were in Israel (484 new cases), Saudi Arabia (154) and Morocco (95). Israel is reporting exceptionally high levels of infection among the haredi (ultra-Orthodox) population, many of whom are deliberately ignoring the government's restrictions. In one haredi area, Bnei Brak, 34% of those tested have been found to be positive.
Here is the latest country-by country tally:
Algeria 584 (+73)
Bahrain 515 (-)
Egypt 656 (+47)
Iraq 630 (+83)
Israel 4,831 (+484)
Jordan 268 (+9)
Kuwait 289 (+34)
Lebanon 463 (+25)
Libya 8 (-)
Morocco 574 (+95)
Oman 192 (+25)
Palestine 117 (+8)
Qatar 693 (+59)
Saudi Arabia 1,453 (+154)
Sudan 7 (+1)
Syria 10 (+1)
Tunisia 362 (+50)
UAE 611 (+41)
TOTAL: 12,263 (+1,189)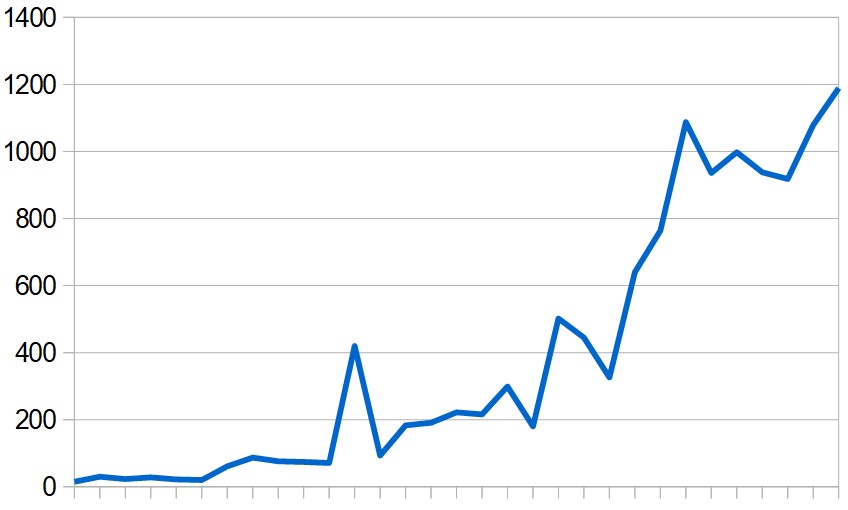 ---
Death toll
Iran reported a further 117 deaths – a small decrease for the fourth day running – which brings the official cumulative total to 2,757.
Elsewhere in the region 28 deaths were reported, bringing the total to 222. Iraq has the highest number of deaths, followed by Egypt, Algeria and Morocco. This is the current list:
Algeria 35 (+4)
Bahrain 4 (-)
Egypt 41 (+1)
Iraq 46 (+4)
Israel 18 (+3)
Jordan 5 (+2)
Lebanon 11 (+1)
Morocco 33 (+7)
Palestine 1 (-)
Qatar 1 (-)
Saudi Arabia 8 (-)
Sudan 2 (+1)
Syria 2 (+1)
Tunisia 10 (+2)
UAE 5 (+2)
TOTAL: 222 (+28)
---
CLICK HERE for previous updates
For anyone interested: A spreadsheet documenting the new coronavirus cases reported each day in the Middle East (excluding Iran) can be viewed here.