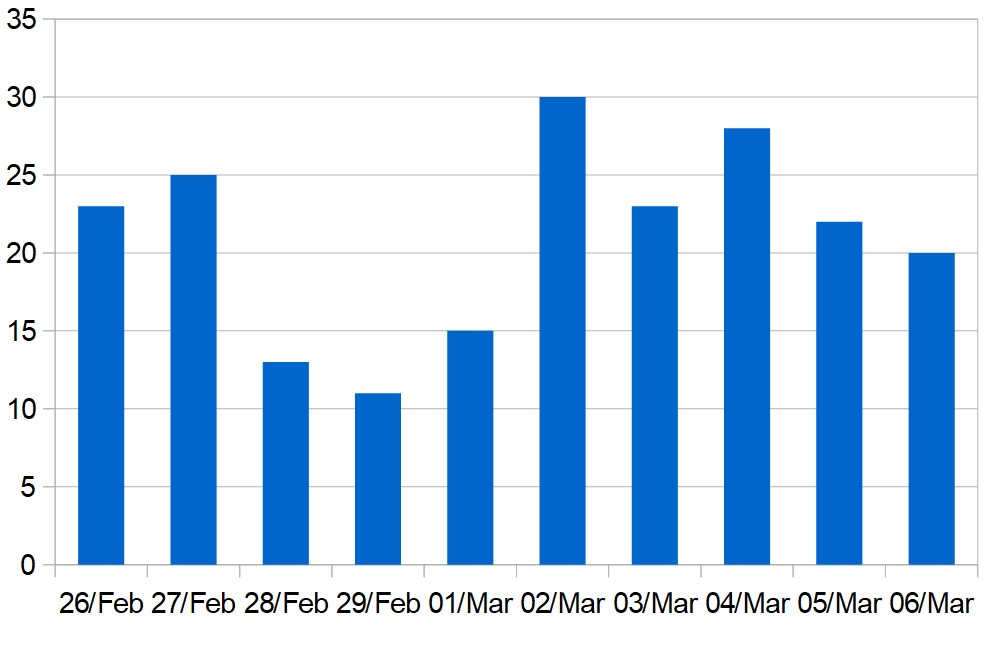 Summary for Friday March 6
Iran reported 591 new coronavirus cases on Thursday, bringing the official total to 3,513. The official death toll increased by 15, to 107.
Elsewhere in the Middle East there were 20 new cases since yesterday's update, bringing the cumulative total to 267. In the ten days since al-bab began tracking, 210 new cases have been confirmed in the region outside Iran and the number of countries affected has grown from eight to 14, with the West Bank of Palestine the latest addition to the list.
Algeria 17 (-)
Bahrain 52 (+1)
Egypt 3 (+1)
Iraq 35 (+3)
Israel 17 (+2)
Jordan 1 (-)
Kuwait 58 (-)
Lebanon 16 (+1)
Morocco 2 (-)
Oman 16 (+1)
Palestine 7 (+7)
Qatar 8 (-)
Saudi Arabia 5 (+3)
Tunisia 1 (-)
UAE 29 (+1)
TOTAL: 267 (+20)
CLICK HERE for previous updates
Among the Arab countries, China was initially the main source of infection. This was followed by a large number of cases linked to Iran, especially in the eastern part of the region. In western parts, where the outbreaks are more recent, Europe appears to be the main source.
One encouraging sign is that the first Arab countries to have significant numbers of cases – Bahrain, the UAE and Kuwait – are not seeing an exponential increase, at least not so far. Preventive measures such as travel restrictions and testing and quarantining people on arrival appear to be working.
KUWAIT: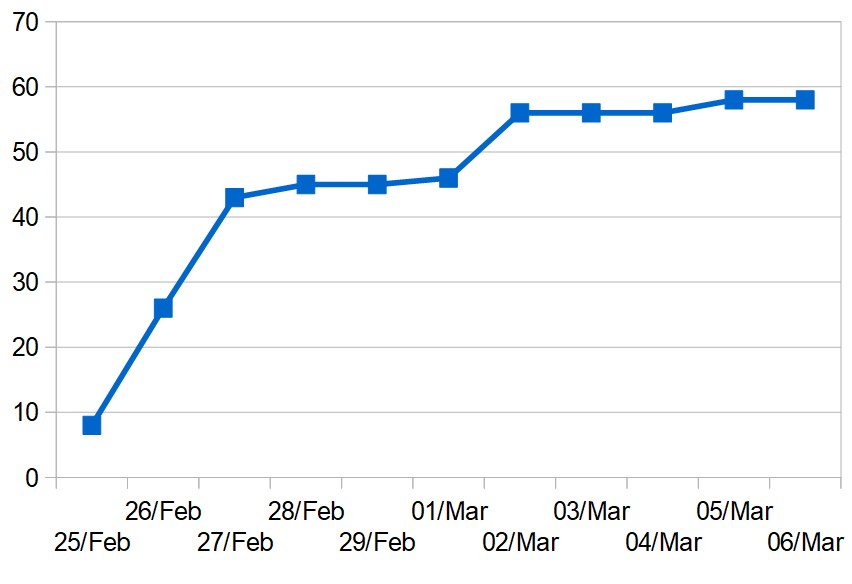 UNITED ARAB EMIRATES: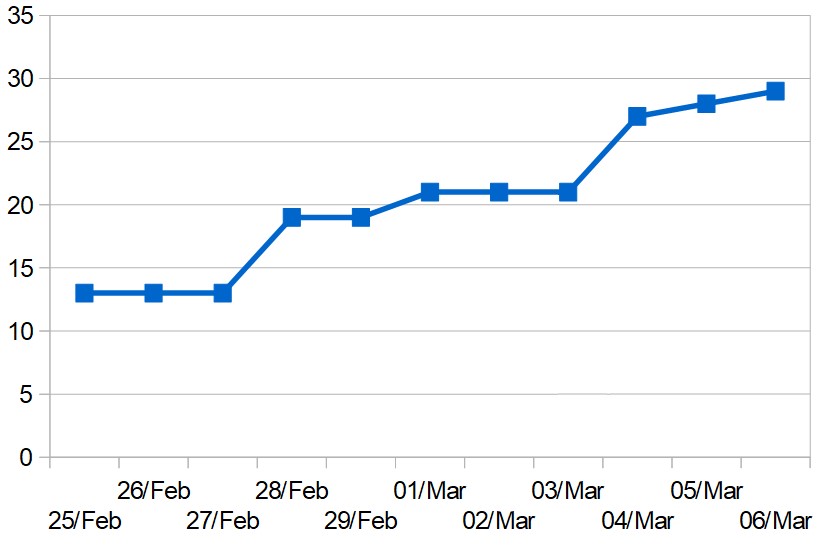 BAHRAIN: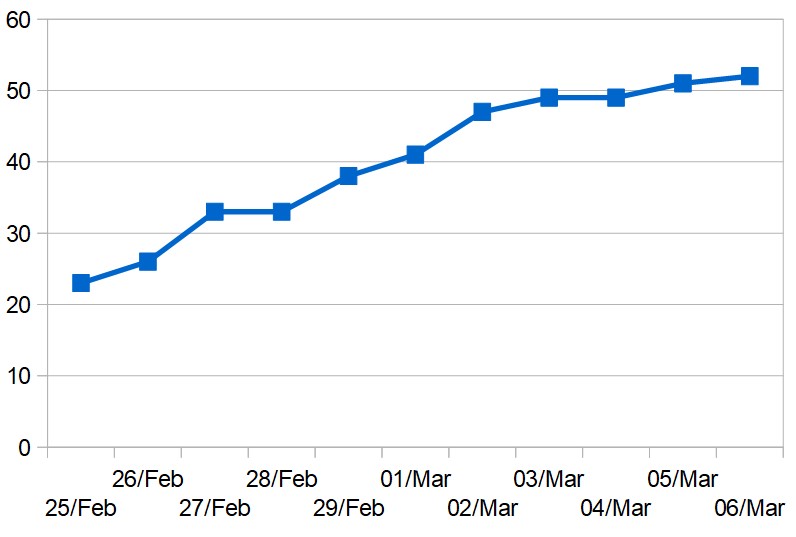 Compared with others in the region, these countries have some advantages, including plenty of money, decent health facilities and small populations which give containment policies a better chance of succeeding. However, their preventive measures will probably have to stay in place for months – until a vaccine becomes available – and this is bound to have social and economic consequences.
A much bigger concern is what will happen in more populous countries which are less well-equipped to cope. The upward curve on Iraq's graph is alarming. Egypt, potentially, is in a similar situation and so far there's no word at all about Syria.
IRAQ: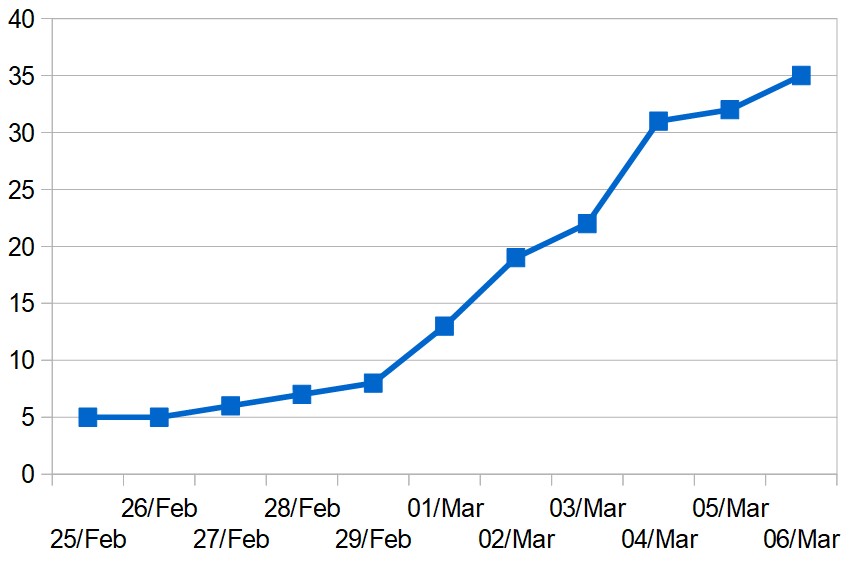 Country-by-country round-up
● Bahrain has halted ticket sales for the Formula 1 Grand Prix which is due to start on March 20. It's not yet clear whether the race will be cancelled but travel restrictions look like becoming a major problem for competitors.
● Egypt reported its third case – the first involving an Egyptian citizen. The new case is a 44-year-old man who arrived from Serbia after a 12-hour transit stay in France. He later developed symptoms and presented himself at a hospital.
● Iraq has so far reported three deaths linked to the virus. The official WHO figure is two deaths. One appears to have been discounted because although the man was in quarantine he may have died from other causes.
● Israel has so far reported 17 confirmed cases. One of Thursday's two new cases was a resident of Israel who arrived from Venice on EasyJet flight EJ3342 last Saturday. Other passengers on the same flight have been urged to go into home quarantine. The other new case was a tour bus driver in Jerusalem who had recently driven tourist groups from Greece, Spain and Germany.
● Lebanon: A Lebanese woman arriving from Britain has become the sixteenth confirmed case.
● Oman reported one new case on Thursday – an Omani who had visited the Italian city of Milan.
● Palestine: The first seven cases were confirmed on Thursday – in Bethlehem. Churches and mosques have been closed for at least two weeks and Israeli forces have sealed off the town, reportedly "in coordination with the Palestinian Authority".
● Saudi Arabia reported three new cases, all of whom had visited Iran. The kingdom now faces a potentially serious problem because members of its Shia minority often visit Iran secretly via third countries – and without having their passports stamped by the Iranian authorities. According to the Saudi health ministry, all five cases detected in the kingdom so far involve people who arrived via Kuwait or Bahrain without disclosing they had been in Iran. The ministry has set up a toll-free phone line and says that if people disclose their secret trips to Iran within the next 48 hours they will not be punished. Saudi Arabia also complaining that Iran has failed to provide a list of recent visitors from the kingdom.
● UAE: A 17-year-old Emirati student has tested positive but is said to be not showing any symptoms. Gulf News has provided some more details of the Emirates' new e-learning scheme (see March 4 updates) which is intended to help students during school closures.
This work is licensed under a Creative Commons Attribution-NonCommercial 4.0 International Licence.