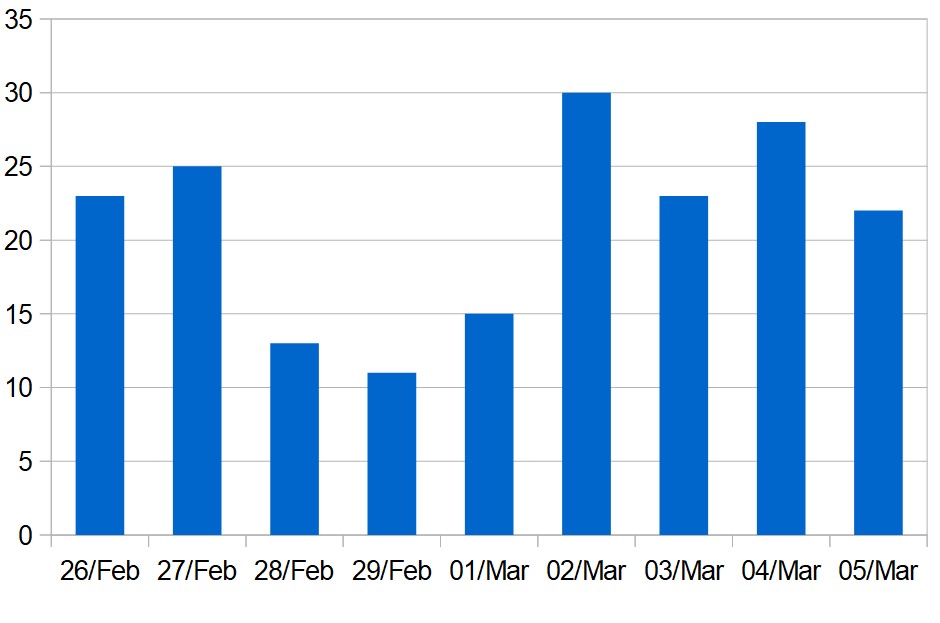 Summary:
Iran reported 586 new coronavirus cases on Wednesday, bringing the official total to 2,922. The official death toll increased by 15, to 92.
Elsewhere in the Middle East, 22 new cases have been confirmed since yesterday's update, bringing the total to 247. The largest number of new cases was in Algeria – all involving members of the same family.
Three deaths have now been reported in Iraq.
In addition, there are four suspected new cases at a hotel in Beit Jala on the West Bank but these are not included in today's tally as they are still unconfirmed.
Algeria 17 (+9)
Bahrain 51 (+2)
Egypt 2 (-)
Iraq 32 (+1)
Israel 15 (-)
Jordan 1 (-)
Kuwait 58 (+2)
Lebanon 15 (+2)
Morocco 2 (+1)
Oman 15 (+3)
Qatar 8 (-)
Saudi Arabia 2 (+1)
Tunisia 1 (-)
UAE 28 (+1)
TOTAL: 247 (+22)
CLICK HERE for previous updates
Country-by-country round-up
● Algeria reported nine new cases on Wednesday, bringing the total to 17. All but one of the 17 cases are members of a family in Blida who hosted relatives from France in February.
● Bahrain: The health ministry says there are now 51 cases – an increase of two on the previous day.
● Egypt: The Egyptian authorities' attitude continues to cause concern. A lack of transparency has led to claims that new cases are being concealed – which the regime has repeatedly denied. On Sunday Qatar announced that it was banning all arrivals from Egypt, except for returning Qatari citizens. Shortly afterwards, Kuwait said it would be testing all travellers from Egypt before departure and again on arrival in Kuwait. Those actions appear to have been based on fears that the Sisi regime was mishandling the situation (see March 2 update). On Wednesday, in what appears to be more of a political move than a medical one, Egypt retaliated by banning Qataris from entering the country. A statement following a cabinet meeting on Wednesday said Egypt had decided to "implement the principle of reciprocity". There have been no direct flights between Egypt and Qatar since June 2017 when Egypt sided with Saudi Arabia and the UAE in their dispute with Qatar.
● Iraq has now reported three deaths attributed to coronavirus. So far, these are the only reported deaths in the Middle East outside Iran. The first death was reported on Wednesday morning – a 70-year-old cleric in Sulaymaniyah. Although the man had been quarantined, the health ministry said later that he had "several chronic diseases" and it could not confirm coronavirus as the cause of his death. The two deaths reported later on Wednesday were those of a man and a woman in Baghdad.
● Kuwait reported two new cases, bringing the total to 58. Two elderly Kuwaiti women with pre-existing health conditions are in intensive care – one of them is critically ill. All other cases are said to be stable.
● Lebanon: Tests carried out on 50 people suspected of having the virus led to the detection of two new cases.
● Morocco reported its second case on Thursday morning – a Moroccan woman who lives in Italy. She is reported to have arrived in Morocco on Wednesday, so it's likely her case was detected as she entered the country.
● Oman reported three new cases "linked to travelling to Iran". One of the new cases is an Omani; the other two are Iranians.
● Palestine: Four suspected cases are reported among people staying at a hotel in Beit Jala, near Bethlehem. These are not included in today's tally because they are still unconfirmed.
● Saudi Arabia reported its second case – a man who had arrived from Iran via Bahrain together with the first person to be diagnosed in Saudi Arabia.
● UAE: A 16-year-old Indian girl has tested positive in Dubai. Her father developed symptoms five days after returning to Dubai and the whole family have been in quarantine since them. Classes at the Indian High School Group of schools have been suspended.