The Egyptian authorities have been taking exception to suggestions that there are far more coronavirus cases in the country than official figures reveal. Last week, the Guardian's correspondent in Cairo was forced to leave after writing about a scientific study which said the real numbers probably run into thousands.
However, an article posted on the Mada Masr website yesterday sheds some more light on the situation. Its author, Hossam Bahgat, reports that a decision was made in mid-March to ration testing.
"Faced with the fact that Egypt, like most countries, doesn't have the necessary capacity to conduct large-scale testing, the government decided to ration tests, running them only on cases that fit the COVID-19 'case definition' specified by the [health] ministry's scientific committee," Bahgat writes.
What this meant in practice was that people would only be tested if they showed symptoms and had been in contact with a known positive case or had arrived from a country with a high infection count.
The aim of this was to conserve the relatively scarce supply of test kits. Bahgat quotes an official as saying: "It's not that we don't have the money to buy the tests, but Egypt is standing in a long queue, which includes the United States and all of Europe, to acquire testing kits."
Nevertheless, by 25 March, the authorities had carried out 25,000 tests, according to the health minister. Since then, more kits have become available and with support from WHO and others, Egypt "now has the capacity to conduct up to 200,000 tests".
The question still to be answered is whether test-rationing has led to a large number of undiagnosed cases that could spread the virus further.
Egyptian officials say this is unlikely, based on the results of the 5,000 tests carried out before rationing was introduced.
The Mada Masr article says the 5,000 were "people exposed to positive cases; health workers in hospitals where cases were confirmed; workers who were required to be tested before traveling to Gulf countries (before these countries closed travel with Egypt) and walk-ins who requested to take the test at government labs".
It quotes an official as saying: "We treated these tests as close to a random sample of 5,000 people and studied the results, of which the vast majority were negative. More importantly, we managed to trace the index case [original source] for confirmed infections."
The authorities claim they have been successful in tracing infection chains back to their source – which is said to be the main reason for their relative confidence.
So long as they are able to continue tracing sources, Egypt's outbreak is regarded by the WHO as being at the "local transmission stage". If they become unable to trace the chains of transmission it will shift to the "community transmission stage" – which is far more serious.
"If we get cases of individuals who haven't been exposed to any known positive case and who haven't traveled to a country with an outbreak, then we can say that there are infections that we're not aware of," an official is quoted as saying.
As a further check for undiagnosed cases, the health ministry has instructed officials issuing death certificates to flag those where the death involves symptoms that could be coronavirus.
---
New cases
Iran reported 2,988 new cases of coronavirus yesterday – a small drop on the previous two days which brings the official total to 47,593 since the outbreak began.
In the rest of the Middle East 1,414 new cases have been reported since yesterday's update, bringing the cumulative total to 15,219.
The largest numbers of new cases were in Israel (620), Saudi Arabia (157), Algeria (131) and the UAE (150).
Algeria 847 (+131)
Bahrain 569 (+2)
Egypt 779 (+69)
Iraq 728 (+34)
Israel 6,211 (+620)
Jordan 278 (+4)
Kuwait 317 (+28)
Lebanon 479 (+16)
Libya 10 (-)
Morocco 654 (+16)
Oman 210 (-)
Palestine 134 (-)
Qatar 835 (+54)
Saudi Arabia 1,720 (+157)
Sudan 7 (-)
Syria 10 (-)
Tunisia 423 (+29)
UAE 814 (+150)
TOTAL: 15,219 (+1,414)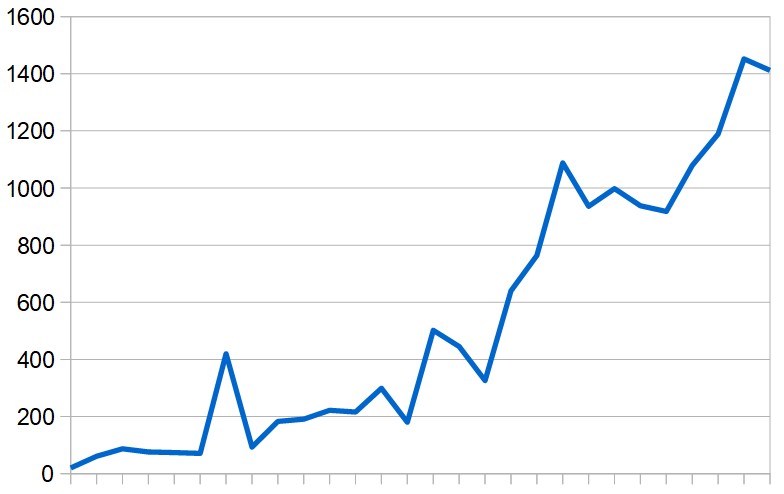 ---
Death toll
Iran reported a further 138 coronavirus-related deaths, bringing its official total to 3,036. Fatalities in Iran appear to have reached a plateau. The daily average over the last two weeks has been 136 deaths.
Elsewhere in the Middle East and North Africa 49 more deaths were reported, bringing the total to 301.
Outside Iran, the region's death rate is 2% of confirmed cases but it varies widely from country to country. While it's very low in the Gulf states, in Algeria, Egypt, Iraq and Morocco death rates are close to that in Iran.
This is the current country-by-country list of deaths:
Algeria 58 (+14)
Bahrain 4 (-)
Egypt 52 (+6)
Iraq 52 (+2)
Israel 31 (+10)
Jordan 5 (-)
Lebanon 16 (+4)
Morocco 39 (+3)
Oman 1 (-)
Palestine 1 (-)
Qatar 2 (-)
Saudi Arabia 16 (+6)
Sudan 2 (-)
Syria 2 (-)
Tunisia 12 (+2)
UAE 8 (+2)
TOTAL: 301 (+49)
CLICK HERE for previous updates
For anyone interested: A spreadsheet documenting the new coronavirus cases and deaths reported in the region each day can be viewed here.
---
Regional round-up
● Algeria now has 847 confirmed cases – the second-largest number of infections in Africa. (South Africa has the highest number: 1,380 reported cases but only five deaths, compared with 58 deaths in Algeria.) Blida province is under total lockdown and the 12-hour night curfew previously introduced in 11 of the 48 provinces has now been extended to cover four more.
● Israel: Prime minister Netanyahu, the heads of the Mossad and the National Security Council, and the director-general of the health ministry have all gone into quarantine after the health minister was diagnosed with the virus. The Jerusalem Post notes that this list of officials is "basically the top leadership in the country currently leading efforts to stop the spread of COVID-19."
With the start of Passover less than a week away, there are fears that it could lead to another surge in infections, especially among the ultra-Orthodox. Health ministry director-general Moshe Bar-Siman-Tov said: "We fear that if we won't adhere to the regulations on Passover – we will see another surge in the number of infected. Right now, we are paying the price for the events of Purim. We fear that the upcoming holiday may prompt very significant events of contagion, that is why we call on the public to adhere to the regulations. At the same time, we also keep increasing the number of tests conducted daily."
● Libya: The National Center for Disease Control has so far confirmed 10 cases but has only carried out a total of 136 tests. Meanwhile, there are 126 suspected cases and 139 people are in quarantine.
● Saudi Arabia: There are growing expectations that this year's Hajj (the annual prilgrimage to Mecca) which is due to start on July 28 will be cancelled. On Wednesday, the kingdom said Muslims who are planning to take part should delay their bookings. According to a Saudi newspaper the Hajj has been cancelled 40 times throughout its history – most recently in 1798 because of Napoleon's activities. A more immediate problem – for Muslims in general – will be how to maintain social distancing during the holy month of Ramadan, which is just three weeks away.
● Syria: A lockdown has been imposed on Manin, a small town 18km north of Damascus, following the death of a woman who had been previously diagnosed with coronavirus. The government news agency says the woman's family were running a shop and had failed to abide by quarantine regulations. Its report also suggests there are "a considerable number" of Syrians in the area who have entered the country illegally from Lebanon. On Friday the interior ministry gave orders that "seized citizens" who entered the country from Lebanon "via illegal crossings" should be tested.
● UAE: The number of new cases has been increasing significantly over the last few days. The reasons are unclear, and any further information would be gratefully received.
This work is licensed under a Creative Commons Attribution-NonCommercial 4.0 International Licence.