The Egyptian government has accused reporters from the Guardian and the New York Times of violating "all the rules of journalistic work" in connection with the country's coronavirus epidemic.
The Sisi regime's State Information Service said on Wednesday it was withdrawing the accreditation of the Guardian's Cairo correspondent and also warned the New York Times over tweets posted by its local bureau chief.
News media in Egypt have been told they can only report information about coronavirus cases that has been provided by the government.
On Sunday, the Guardian published a report by its correspondent, Ruth Michaelson, which said "Egypt is likely grappling with a higher rate of coronavirus infections than official figures". There are plenty of reasons for believing this is true (see previous updates).
The current official figure for confirmed cases in Egypt is 196 but Michaelson's article cited research by infectious disease specialists from Toronto university suggesting there could be more than 19,000 undetected cases.
The article added that the Egyptian health ministry had been invited to comment on this but did not respond.
The State Information Service says it has also issued a warning to Declan Walsh of the New York Times who had posted several tweets about the Toronto university study.
The researchers have since said 19,000 undetected cases could be an overestimate and the actual figure may be as low as 6,000. Even so, this would mean the Egyptian authorities face an enormous problem which they have so far denied or failed to recognise.
A group of 73 Egyptian scientists have written to Toronto university accusing the researchers of "causing significant damage to Egyptian society".
Latest updates
Iran reported 1,178 new coronavirus cases on Tuesday, with a further 135 deaths. This brings the cumulative total to 16,169 cases and 988 deaths, according to official figures.
Elsewhere in the Middle East, a further 299 cases have been confirmed since yesterday's update, bringing the cumulative total to 2,260. Algeria, Iraq, Lebanon and Morocco each reported one more death, bringing the region's total (excluding Iran) to 28.
Once again, Israel reported the largest number of new cases (123), followed by Saudi Arabia with 38 and Egypt with 30. In the list below, Sudan is the only country not to have reported a day-on-day increase.
Algeria 67 (+7)
Bahrain 241 (+12)
Egypt 196 (+30)
Iraq 154 (+21)
Israel 427 (+123)
Jordan 40 (+6)
Kuwait 142 (+12)
Lebanon 120 (+10)
Morocco 44 (+7)
Oman 33 (+9)
Palestine 44 (+5)
Qatar 442 (+3)
Saudi Arabia 171 (+38)
Sudan 1 (-)
Tunisia 25 (+1)
UAE 113 (+15)
TOTAL: 2,260 (+299)
CLICK HERE for previous updates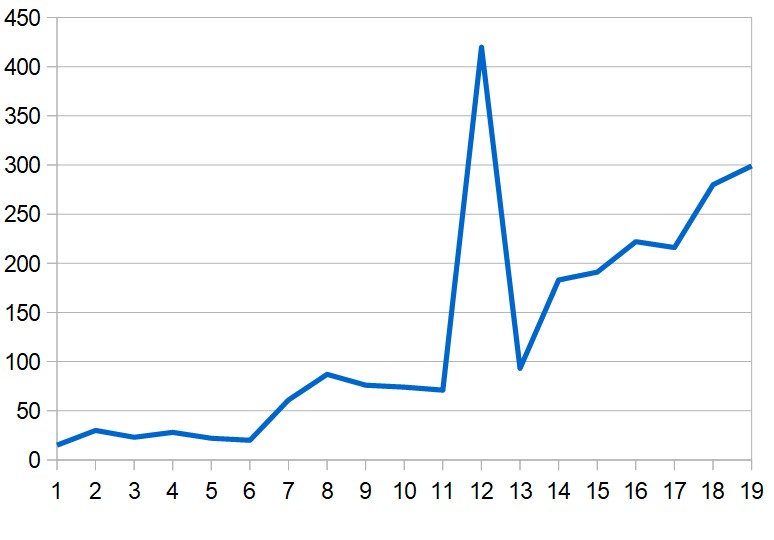 Country-by-country round-up
● Algeria: President Tabboune announced a ban on street protests, ostensibly to prevent the spread of coronavirus. The demonstrations, which earlier toppled President Bouteflika, have been continuing for more than a year. It remains to be seen whether protesters will observe the ban. A fifth death was reported in Algeria – a 50-year-old man who is said to have been chronically ill.
● Bahrain is discouraging people from searching for information about coronavirus on the internet. The General Directorate of Anti-Corruption and Economic and Electronic Security warned that "suspicious websites" may exploit the situation in order to hack personal data and control users' computers.
● Jordan: Flights in and out of the country have been suspended. The last two planes arrived from the US on Tuesday, repatriating Jordanians who must now spend time in quarantine. Altogether, more than 5,000 people are quarantined in Jordan at hotels in Amman, Aqaba and the Dead Sea area.
● Lebanon reported a fourth coronavirus death, though the health minister said 80% of those diagnosed so far show no symptoms. The authorities are following up three cases where the source of infection is unknown. The minister also said the dispute reported earlier involving staff at the Hariri hospital in Beirut – the main centre for treating coronavirus – has been resolved.
● Morocco: The second reported coronavirus death was that of a 75-year-old Moroccan citizen from Salé.
● Oman reported nine new cases, bringing the total to 33. Twelve of those previously diagnosed are said to have recovered. The health ministry says 29 of the confirmed cases are linked to travel abroad and remaining four are still being investigated.
● Palestine: Two new cases were diagnosed among Palestinians returning from abroad. One has been quarantined in Ramallah, the other in Jericho. Government spokesman Ibrahim Melhem said second tests on the 37 infected people in Bethlehem showed that 20 of them had recovered, but they remain in quarantine waiting for a third test to be taken on Thursday. He also said 30 samples taken from contacts of the infected person in Tulkarem were negative.
● Qatar: A real estate company announced that tenants of its restaurants, cafes and shops will be exempted from rent for three months, starting in April.
● UAE: The education ministry is beginning trials of its new distance education system today. Emirates Post is also developing "contactless" deliveries of packages: "Drivers will now place all items outside the intended recipient's door ... From a safe distance, couriers will ask recipients to confirm their identity using their full name and ID details in lieu of signatory proof."
* * *
For anyone interested: A spreadsheet documenting the new coronavirus cases reported each day in the Middle East (excluding Iran) can be viewed here.
This work is licensed under a Creative Commons Attribution-NonCommercial 4.0 International Licence.