Yemen is officially clear of coronavirus cases following the recovery of its first – and so far only – Covid-19 patient.
A Yemeni man working in the port of ash-Shihr, on the Indian Ocean coast of Hadramaut province, was diagnosed with the virus on April 10. The town was immediately placed under curfew and preventive measures were imposed in neighbouring areas. Since, then, no further cases have been reported.
For now, the war-torn country appears to have been spared a major outbreak which, in view of its crumbling health system and widespread malnourishment, could easily prove catastrophic.
---
CLICK HERE to jump to regional updates
---
Following the discovery of the case in ash-Shihr, 120 people were quarantined amid efforts to trace his contacts. A team from the World Health Organisation carried out an unspecified number of tests and all the initial results were said to be negative.
Two weeks have now elapsed since the ash-Shihr case came to light, so it looks as if the man hadn't passed the virus to anyone else before being taken to hospital.
Ash-Shir is in the south of the country – theoretically under the control of Yemen's internationally recognised government which was driven out of the capital, Sanaa, by the Houthi movement. The Houthis, who control much of the north, have not reported any cases, though they have connections with Iran which has been the source of many Covid-19 infections in the Arabian Peninsula.
Iran's semi-official Fars News responded to the case in ash-Shihr by suggesting the man had been deliberately infected by American forces who it said arrived in the town two days earlier. There's no reason to believe this, because symptoms normally take at least five days to appear. According to one report, the man was already in hospital and showing symptoms on the day he was supposedly infected by Americans.
One positive outcome from the ash-Shihr case is that it has focused attention on Yemen's plight, revitalising efforts to end the five-year-old war and – possibly – increasing its preparedness for a more serious outbreak of the virus.
One major challenge is how to prevent infected people from bringing the virus into the country. An article in the medical journal The Lancet notes:
"Most of Yemen's points of entry have little or no technical capacity or established system to deal effectively with travellers with suspected infection.

"Furthermore, Yemen has long coastal boarders, which regularly receive thousands of migrants and refugees from the Horn of Africa. How the country can apply public health measures in response to migrants' movement across its permeable borders and seaports is as yet unclear."
Last week the New York Times reported that ventilators are in very short supply. One hospital in Sanaa has 20 but 15 of them need fixing. In Taizz, Yemen's third largest city, the Jumhuriya hospital has just four ventilators and the wing assigned for treating coronavirus cases still has no beds, protective equipment for staff, or functioning bathrooms.
Nevertheless, the Yemenis do have some experience of dealing with serious epidemics – there have been more than two million suspected cholera cases, for example, during the last four years. According to The Lancet, the country has an effective early warning system based around health facilities: "Evidence from previous outbreaks of cholera and diphtheria shows the capability of the national health system to establish and maintain an event-based surveillance if needed. However, some flaws still exist ... the national laboratory system is rudimentary."
On Wednesday it was reported that vital medical supplies are on their way – courtesy of a group of multinational companies known collectively as the "International Initiative on Covid-19 in Yemen" (IICY). The supplies are said to include tens of thousands of test kits, 225 ventilators and half a million face masks, with the first shipment due to arrive next week.
The United States is also reported to be preparing a "substantial contribution" to help Yemen combat the virus. At present, though, it's unclear what this might involve or how the aid might might be distributed if/when it reaches Yemen.
The most effective way would be to channel the money through the World Health Organisation but Donald Trump recently suspended funding to the WHO, accusing it of "severely mismanaging and covering up" the spread of the virus. The Americans are said to be looking for alternative partners to work with in Yemen but they are unlikely to find any that meet with Trump's approval.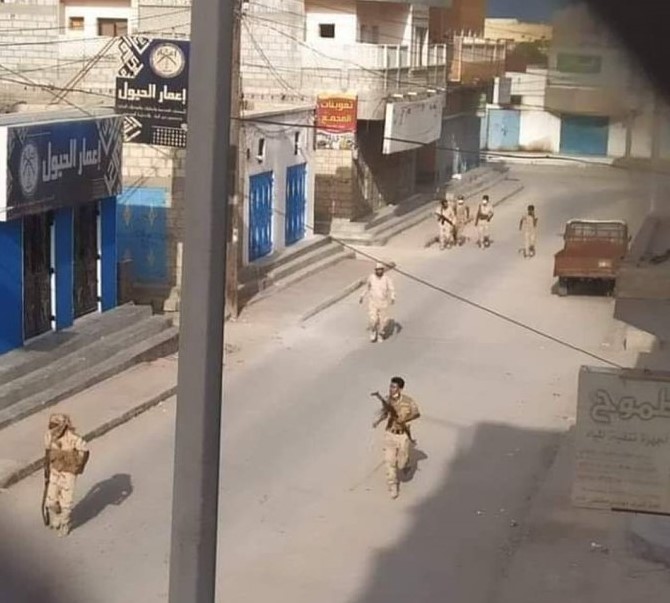 ---
New cases
Iran reported 1,030 new Covid-19 infections yesterday – the smallest day-on-day increase since March 22.
Elsewhere in the Middle East and North Africa a further 3,034 cases have been reported since yesterday's update. This is a lower number than in recent days but several countries have not updated their figures.
The list below shows cumulative totals (excluding Iran) since the outbreak began, with day-on-day increases in brackets.
Algeria 3,007 (+97)
Bahrain 2,217 (+190)
Egypt 3,891 (+232)
Iraq 1,677 (+46)
Israel 14,882 (+290)
Jordan 437 (+2)
Kuwait 2,399 (-)
Lebanon 696 (+8)
Libya 60 (-)
Morocco 3,692 (+155)
Oman 1,790 (+74)
Palestine 480 (-)
Qatar 8,525 (+761)
Saudi Arabia 13,930 (+1,158)
Sudan 174 (+12)
Syria 42 (-)
Tunisia 918 (+9)
UAE 8,756 (-)
Yemen 1 (-)
TOTAL: 67,573 (+3,034)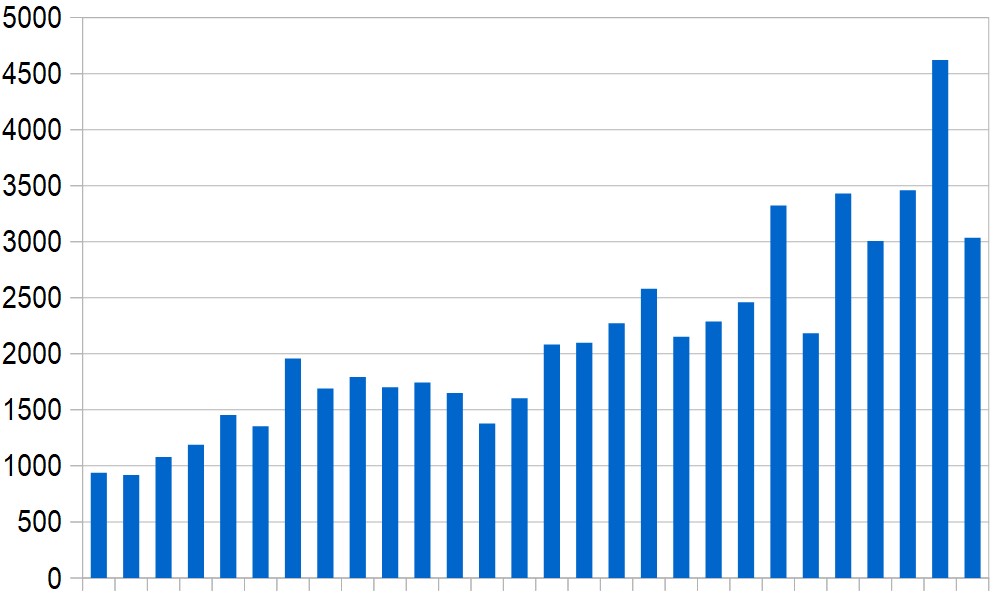 ---
Death toll
Iran reported 90 coronavirus-related deaths yesterday, bringing the official total to 5,481.
Elsewhere in the region a further 35 deaths were reported, making a total of 1,435. Eleven of the deaths were in Egypt.
The list below shows cumulative totals of reported deaths in the region outside Iran, with day-on-day increases in brackets.
Algeria 407 (+5)
Bahrain 8 (+1)
Egypt 287 (+11)
Iraq 83 (-)
Israel 192 (+2)
Jordan 7 (-)
Kuwait 14 (-)
Lebanon 22 (-)
Libya 2 (+1)
Morocco 155 (+4)
Oman 9 (+1)
Palestine 4 (-)
Qatar 10 (-)
Saudi Arabia 121 (+7)
Sudan 16 (+3)
Syria 3 (-)
Tunisia 38 (-)
UAE 56 (-)
Yemen 0 (-)
TOTAL: 1,435 (+35)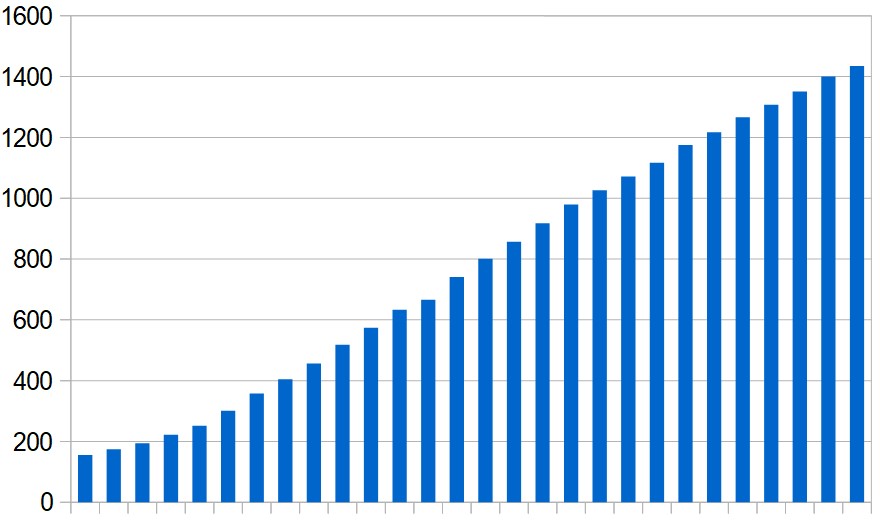 CLICK HERE for previous updates
For anyone interested: A spreadsheet documenting the new coronavirus cases and deaths reported in the region each day can be viewed here.
This work is licensed under a Creative Commons Attribution-NonCommercial 4.0 International Licence.