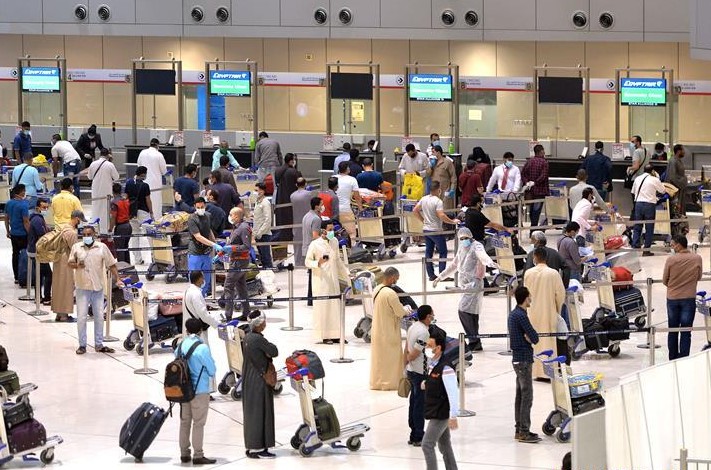 Faced with a shortage of places for quarantining Egyptians who return from abroad, the authorities have adopted an original – if dangerous – solution. To create more space, they have reduced the mandatory quarantine period from 14 days to seven.
Egyptian citizens who test negative for Covid-19 after returning from abroad are quarantined at designated hotels or university hostels. Thousands who became stranded in other countries are currently being repatriated and the health ministry says the shortened quarantine period, which came into effect this week, is intended to "reduce congestion" and "provide an opportunity" for all returnees to be compulsorily isolated (if only for a short time).
However, this increases the risk that some of them will develop the disease after being released – and thus infect others.
---
CLICK HERE to jump to Middle East updates
---
Medical evidence shows the incubation period for Covid-19 can vary widely from person to person. A recent research paper suggests the median incubation period is about five days. In other words, half of new cases will be detectable earlier and the other half will show up later. Research also suggests that after 11.5 days 97.5% of those who are going to develop symptoms will have done so, and a 14-day quarantine period is likely to cover 99% of all possible cases.
Egypt hasn't officially abandoned the 14-day principle recommended by the World Health Organisation but in practice that is likely to be the effect of its decision.
After a week in compulsory quarantine, those who still test negative will be told to spend a further week in self-isolation at home. Many are unlikely to comply, either because their living conditions are not conducive to isolation or because the negative test results lead them to assume they are in the clear.
Finally arriving home after a long period of absence, they are also likely to be greeted in the traditional Egyptian way – with hugs from extended family and celebration parties.
Non-compliance with home isolation has become a serious problem in other Arab countries.
In Lebanon, one returnee received visitors while supposedly isolated at home and infected ten of them, and one of the visitors then went on to infect at least 13 others.
In Jordan a truck driver returning from Saudi Arabia who had initially tested negative at the border, ignored the rules despite having signed a pledge to self-isolate. As a result, more than 90 people have since become infected.
That prompted a tightening-up of the system. Jordanian truck drivers arriving from Saudi Arabia now have to spend two weeks at a quarantine centre. Egypt, meanwhile, seems to be moving in the opposite direction.
---
New cases
A further 10,517 Covid-19 infections have been reported in the Middle East and North Africa since yesterday's update.
Once again, Saudi Arabia reported the largest number of new cases (2,691), followed by Iran (2,346) and Qatar (1,491).
Sudan reported its highest day-on-day increase so far – 410 new cases.
The list below shows cumulative totals (excluding Iran) since the outbreak began, with day-on-day increases in brackets.
Algeria 7,542 (+165)
Bahrain 7,888 (+356)
Egypt 14,229 (+745)
Iraq 3,724 (+113)
Israel 16,670 (+11)
Jordan 672 (+23)
Kuwait 17,568 (+804)
Lebanon 961 (-)
Libya 69 (+1)
Morocco 7,133 (+85)
Oman 6,370 (+327)
Palestine 577 (+7)
Qatar 37,097 (+1,491)
Saudi Arabia 62,545 (+2,691)
Sudan 3,138 (+410)
Syria 58 (-)
Tunisia 1,045 (+1)
UAE 26,004 (+941)
Yemen 188 (+17)
TOTAL: 213,290 (+8,171)
Note: Yemen's total includes four cases reported by the unrecognised Houthi government in the north of the country. Palestine's total includes East Jerusalem.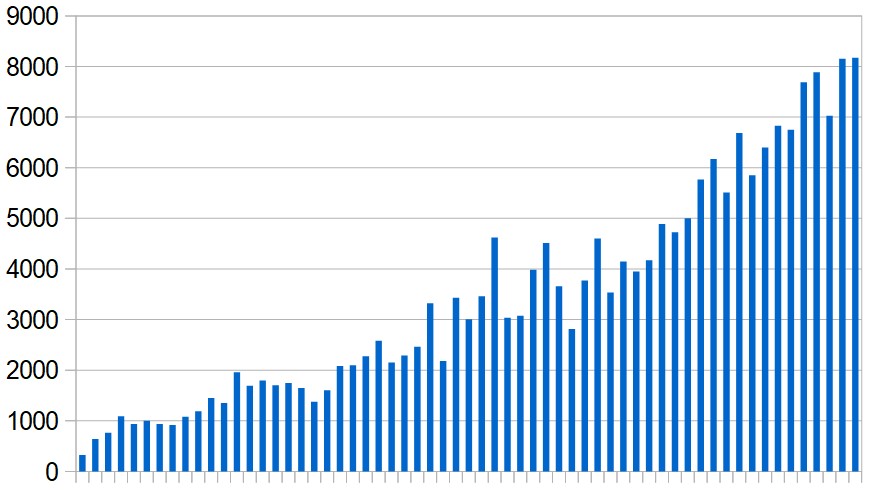 ---
Death toll
A further 131 coronavirus-related deaths were reported in the region yesterday – 64 of them in Iran and 21 in Egypt.
The list below shows cumulative totals of reported deaths in the region outside Iran, with day-on-day increases in brackets.
Algeria 568 (+7)
Bahrain 12 (-)
Egypt 680 (+21)
Iraq 134 (+3)
Israel 279 (+1)
Jordan 9 (-)
Kuwait 124 (+3)
Lebanon 26 (-)
Libya 3 (-)
Morocco 194 (-)
Oman 30 (+3)
Palestine 4 (-)
Qatar 16 (+1)
Saudi Arabia 339 (+10)
Sudan 121 (+10)
Syria 3 (-)
Tunisia 47 (-)
UAE 233 (+6)
Yemen 31 (+2)
TOTAL: 2,853 (+67)
Note: Yemen's total includes one death reported by the unrecognised Houthi government in the north of the country.
CLICK HERE for previous updates
For anyone interested: A spreadsheet documenting the coronavirus cases and deaths reported in the region each day can be viewed here.