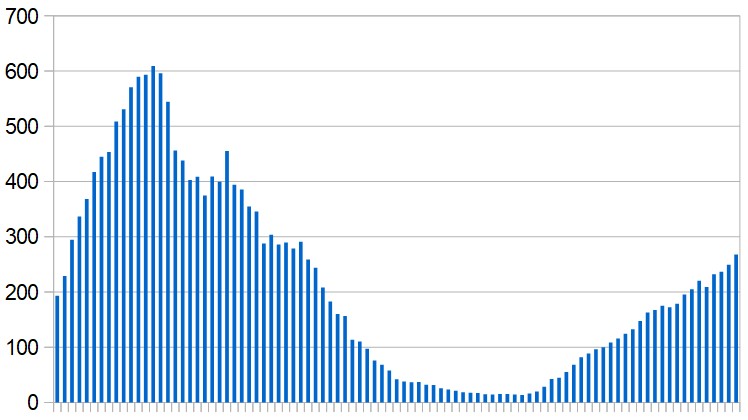 Until recently Israel and Palestine seemed to have brought their coronavirus epidemics under control but both are now seeing large numbers of new infections. Yesterday Israel reported 430 new cases – its biggest rise for two months. Palestine reported 179 – its highest number since the outbreak began.
The resurgence in Israel followed a phased lifting of restrictions. During May schools reopened and thousands of people returned to work. Cafes, bars and restaurants reopened too, though with rules for social distancing.
New infections are still well below the level reached during the peak of the initial wave in April and the rise is more gradual, but dealing with it could be more difficult.
Health minister Yuli Edelstein said on Tuesday that Israel will not return to a total lockdown but to what he called a "breathing lockdown". This involves identifying viral hotspots and declaring them "restricted zones".
The city of Elad and and several districts in Tiberias became restricted zones at 8am today, and the restrictions are set to last for one week. It's a method that has proved effective in some other countries (such as Jordan) where there is little or no transmission in the wider community but according to Dr Erez Barenboim, director of the Assuta Ashdod Medical Centre, the situation in Israel is different. Health ministry figures show there are Covid-19 cases in 75 Israeli towns and cities.
"The second wave of coronavirus is marked by a widespread, non-targeted outbreak of the virus," Barenboim told the Jerusalem Post. "The attempt to reduce the spread through closing one or other community is less effective in this round than before."
He added: "As long as there is no vaccine, the most effective tool is personal responsibility: wearing masks, social distancing and hygiene."
There are some in Tiberias who see the declaration of "restricted" areas as little more than a ploy "for media purposes" – to show that the government is doing something about the increase in cases. In theory the restricted areas are sealed off with checkpoints but there are a lot of exceptions. Residents can enter and leave to travel to work, for medical appointments, to take exams, to attend funerals of close relatives and in other "special circumstances".
The police are supposed to prevent "unnecessary traffic" but a resident quoted by Haaretz newspaper said buses and cars were still moving in and out without being thoroughly checked.
In Bat Yam, south of Tel Aviv, researchers say current infection rates are now similar to those seen during the first wave of the epidemic and the mayor has called on the government to reinstate its previous closure of the beaches.
"We're working around the clock to bring the city back to a low infection rate," he said, "but nothing will work if the public doesn't cooperate. I'm calling on everyone to follow the health ministry's rules, and not leave the house without a mask."
The penalty for not wearing a mask in public has just been raised from 200 shekels ($60) to 500 ($150) and police say they are setting up special units to enforce it.
Palestine's wave of new cases is its biggest yet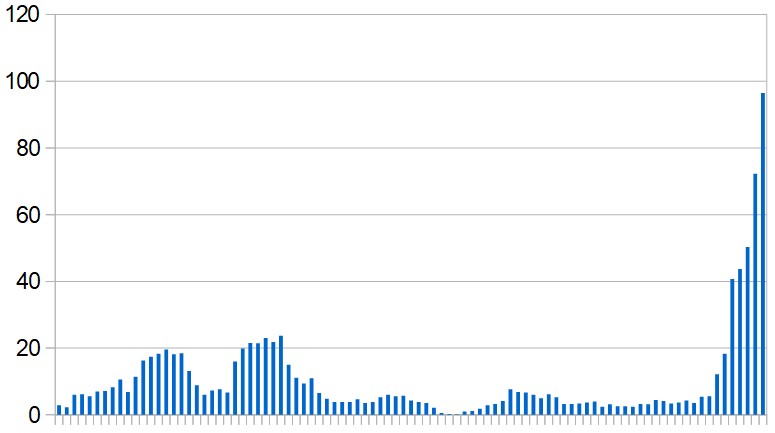 Meanwhile, the number of people currently infected in Palestine has shot up from 114 to 866 during the past week – mostly in the Hebron area of the West Bank. The new wave of infections is much larger than any seen previously and it raises questions about whether local health services will be able to cope.
On Saturday the Palestinian Authority announced a five-day lockdown in Hebron and a 48-hour curfew in Nablus.
According to the health ministry, more than 30% of the new cases are among Palestinians working in Israel and people they interacted with on returning to the West Bank. Prime minister Mohammad Shtayyeh has called on "all of our brothers within the Green Line [i.e. Israel] not to enter the West Bank at all for 14 days".
A further 20% of cases are attributed to Palestinians attending various kinds of social gatherings.
Reporting from Bethlehem for Mondoweiss, Yumna Patel writes:
"Despite the fact that things are clearly so much worse this time around, the difference in responses from the government between the first and second wave couldn't be more different.

"The first time around, Bethlehem, the epicentre of the outbreak, was shut down immediately, with other cities and governorates following suit quickly after. Movement between and within cities was being highly restricted, non-essential business were shut down, and overall the streets were much emptier.

"This time around, there's an understanding that the government is under an immense amount of pressure from the public to keep the economy open. They simply can't afford the economic and social impacts of what would happen if the economy were to be shut down."
Patel adds that the authorities are finding it difficult to enforce social distancing rules as they did in the earlier stages and there's a common belief that because most Palestinian cases have been mild "even if I get sick, it's not going to be that bad".
Further information:
Covid-19 in the Middle East: weekly situation report
This work is licensed under a Creative Commons Attribution-NonCommercial 4.0 International Licence.