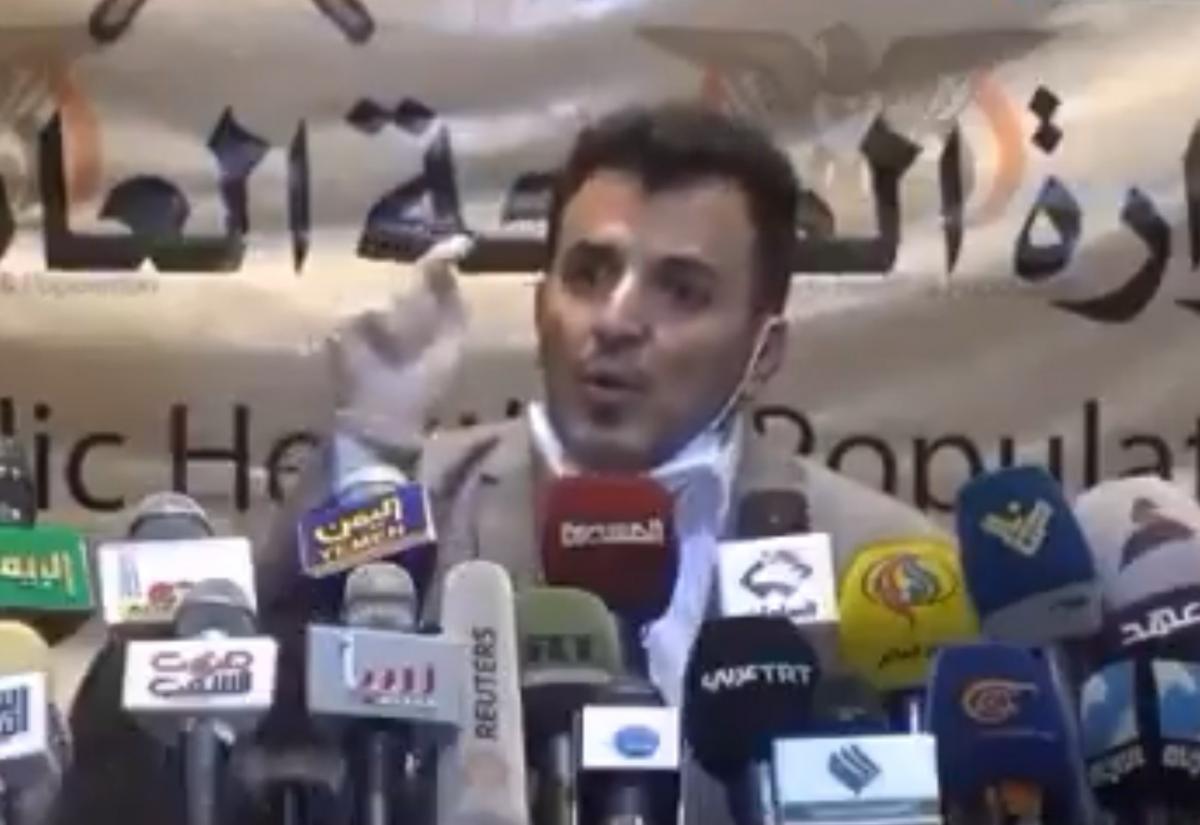 The health minister in one of Yemen's two rival governments has defended its policy of concealing information about the Covid-19 epidemic in the areas it controls.
The virus appears to be spreading rapidly throughout the country – many deaths have been reported in the south – but the Houthi rebels who hold power in the north are playing down the threat.
They fear Covid-19 could distract from their war with the Saudi-led coalition which supports Yemen's other government – the internationally-recognised one headed by President Hadi which was driven out of the capital, Sana'a, in 2014.
---
CLICK HERE to jump to Middle East updates
---
The Houthis initially acknowledged four Covid-19 cases on their territory but despite positive results from lab tests no more have been announced during the last two weeks.
In an extraordinary speech on Saturday the Houthi health minister, Taha al-Mutawakkil, made clear that suppressing this kind of information is a deliberate policy. Its purpose, allegedly, is to show respect for those afflicted by Covid-19 and avoid damaging morale.
According to the official Houthi news agency, the minister said the world deals with coronavirus cases as "numbers and statistics", and this negatively affects "the psychological and immune status of patients and societies".
Yemen will deal with the patients from a humanitarian standpoint, with dignity and the right to care and treatment, he was reported as saying. "We will deal with patients from the standpoint of their human right to care, not as stock market numbers which the media race to cover, spreading terror and intimidation among societies, and lowering morale among patients."
The minister blamed "media terrorism" for stigmatising Covid-19, adding that Yemen had dealt "calmly" with an epidemic of H1N1 last year which infected more than 100,000 people.
Adding that the Houthis seek to establish "a state of reassurance", he said: "We will work in a different path from global media terrorism, which bears responsibility for a large part of the number of deaths in the world."
In the course of his speech, the minister indirectly confirmed that transmission of Covid-19 is occurring within the community in Houthi areas.
Claiming that the recovery rate in Houthi areas is more than 80%, he said: "We are working on providing the necessary health care for the cases of infection, tracking the contacts and monitoring their cases."
He called on hospitals to provide beds for intensive care and strengthen their infection-control measures, warning that action would be taken against any that failed to do so within three days.
Criticising strict lockdowns in other countries as "a mistake", he said he agreed with closing markets and other gathering places "but not complete closure and stopping of life".
Whatever preventive measures are taken, the minister apparently believes they won't be needed for long. In a video clip recorded on Saturday he can be heard claiming that as a result of "extensive research" by the Houthis, Yemen will soon produce a medicine to cure Covid-19.
---
New cases
A further 9,992 Covid-19 infections have been reported in the Middle East and North Africa since yesterday's update.
Iran, which is now in the second wave of its epidemic, reported the largest day-on-day increase with 2,516 new cases. Among the Arab countries, Egypt, Qatar and Saudi Arabia each reported more than 1,000 new cases.
The list below shows cumulative totals (excluding Iran) since the outbreak began, with day-on-day increases in brackets.
Algeria 9,394 (+127)
Bahrain 11,398 (+110)
Egypt 24,985 (+1,536)
Iraq 6,439 (+260)
Israel 17,106 (+82)
Jordan 739 (+5)
Kuwait 27,762 (+719)
Lebanon 1,220 (+29)
Libya 156 (+26)
Morocco 7,819 (+36)
Oman 12,223 (+786)
Palestine 628 (+2)
Qatar 56,910 (+1,648)
Saudi Arabia 85,261 (+1,877)
Sudan 5,026 (+226)
Syria 122 (-)
Tunisia 1,084 (+7)
UAE 34,557 (-)
Yemen 327 (+13)
TOTAL: 302,829 (+7,476)
Note: Yemen's total includes four cases reported by the unrecognised Houthi government in the north of the country. Palestine's total includes East Jerusalem.
---
Death toll
A further 188 coronavirus-related deaths were reported in the region yesterday – 63 of them in Iran and 46 in Egypt.
The list below shows cumulative totals of reported deaths in the region outside Iran, with day-on-day increases in brackets.
Algeria 653(+7)
Bahrain 19 (+1)
Egypt 959 (+46)
Iraq 205 (+10)
Israel 285 (+1)
Jordan 9 (-)
Kuwait 212 (-)
Lebanon 27 (+1)
Libya 5 (-)
Morocco 205 (+1)
Oman 49 (+5)
Palestine 5 (-)
Qatar 38 (-)
Saudi Arabia 503 (+23)
Sudan 286 (+24)
Syria 5 (+1)
Tunisia 48 (-)
UAE 264 (+2)
Yemen 81 (+3)
TOTAL: 3,858 (+125)
Note: Yemen's total includes one death reported by the unrecognised Houthi government in the north of the country.
CLICK HERE for previous updates
For anyone interested: A spreadsheet documenting the coronavirus cases and deaths reported in the region each day can be viewed here.
This work is licensed under a Creative Commons Attribution-NonCommercial 4.0 International Licence.