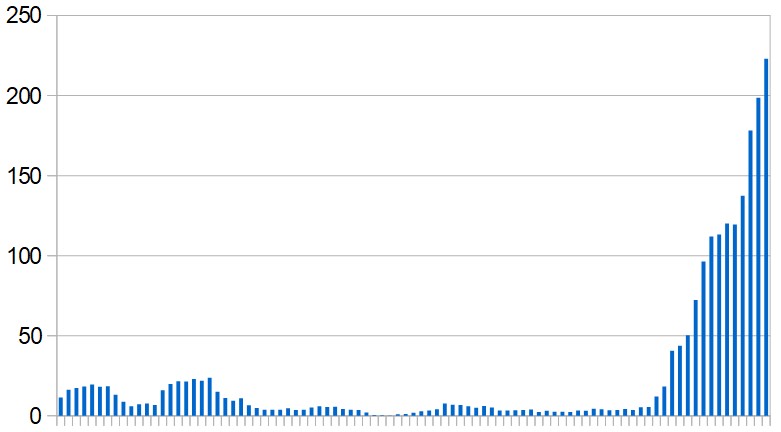 The Palestinian authorities have declared a total lockdown in the West Bank just five weeks after their previous one was lifted. The decision comes amid a dramatic rise in new Covid-19 infections which has more than doubled the number of known cases in the space of a week.
The new lockdown will begin on Friday and is due to last five days but could be extended. Palestinians are being told to stay at home and businesses will be closed except for the sale of food and medicines.
Although it's four months since the virus first arrived in the West Bank, 78% of all recorded cases have occurred during the last two weeks, according to the Palestinian website corona.ps.
In the early stages of the pandemic Palestine's outbreak was relatively small. At the peak, in April, new infections were averaging 24 a day. The daily average during the past week has been nine times as many.
In mid-June health minister Mai Alkaila noted that new cases were rising again but said there would be no repeat of the earlier lockdown. Instead, specific hotspots would be isolated. It appears now, though, that the authorities have decided that approach would be inadequate.
The Hebron area accounts for three-quarters of those currently infected but recent testing indicates that the epidemic is growing more generally – and at an alarming rate. Before June 15, tests were yielding only about seven positive results from every 1,000 samples but that has now increased to 60 positive results per thousand, the corona.ps website says.
The course of the epidemic in the West Bank has broadly paralleled that in Israel which is currently in the midst of a second wave, with record numbers of new cases being reported. Although Israel's second wave shows signs of becoming bigger than the first one there has so far been no return to a nationwide lockdown but there are moves to declare dozens of towns and cities as restricted "red zones".
According to the Palestinian health ministry, more than 30% of the new cases in the West Bank are among Palestinians working in Israel and people who have been in contact with them.
Active Covid-19 cases in the West Bank
Hebron
Bethlehem
Jerusalem (city)
Nablus
Ramallah & al-Bireh
Jerusalem (outskirts)
Gaza strip
Tulkarem
Jericho
Jenin
Salfit
Tubas
Qalqilya
TOTAL
1,853
173
160
142
39
32
14
11
10
6
5
3
2
22,450
Further information:
This work is licensed under a Creative Commons Attribution-NonCommercial 4.0 International Licence.