Country narrative: Iraq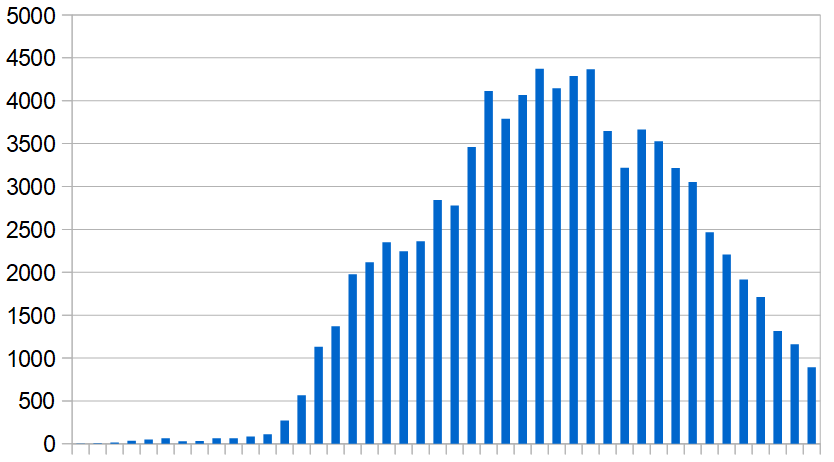 February 25, 2020
The Ministry of Health announced four new cases on Tuesday, bringing the total to five. The four – all in Kirkuk and all members of the same family – had recently returned from Iran. The first case, involving an Iranian student in Najaf, was reported on Monday. Border crossings with Iran have been closed and flights suspended.
February 27
A young Iraqi man who had travelled from Iran has been confirmed as Iraq's sixth case. This latest case occurred in Baghdad. The previously confirmed Iraqi cases have been in Kirkuk and Najaf. On Wednesday the authorities announced that more than 8,000 Iraqis who recently visited Iran are being tested for the virus.
February 26
Iraq has reported no new cases. In Najaf, where an Iranian student at a Shia seminary was diagnosed with the virus on Monday, the Imam Ali mausoleum – a major pilgrimage site – has been closed to visitors. Schools and universities in Najaf province have been closed for at least the next 10 days. A ban on travellers from China and Iran was extended on Tuesday to include Thailand, South Korean, Japan, Italy and Singapore.
February 28
One new case – involving a 51-year-old man who was recently in Iran – has been confirmed, bringing the total to seven.
February 29
Iraq reported one new case – a 35-year-old woman who recently returned from Iran.
March 1
The health ministry reported five new cases on Saturday – four in Baghdad and one in Babel province. All five are said to have been in quarantine after returning from visits to Iran. All 13 of Iraq's known cases – 12 of whom are Iraqis – have been linked to travel in Iran. The first case to be confirmed in Iraq was that of an Iranian student who has reportedly been "sent back" to Iran.
March 2
The Kurdistan Regional Government reported four cases of coronavirus in Sulaimani, the first in the Kurdish region. Three of the four are from the same family; the fourth person is unrelated. Two further cases were reported in Baghdad, bringing Iraq's total to 19.
March 3
The health ministry reported two new cases in Baghdad involving people who had returned from Iran. The Kurdistan Regional Government also reported that a relative of three people diagnosed earlier had tested positive.
March 4
Iraq reported nine new cases in various parts of the country, bringing the total to 31. Most are said to involve people who returned from Iran. The first death was reported on Wednesday morning – a 70-year-old cleric who had been quarantined in Sulaymaniyah.
March 5
Iraq has now reported three deaths attributed to coronavirus. So far, these are the only reported deaths in the Middle East outside Iran. The first death was reported on Wednesday morning – a 70-year-old cleric in Sulaymaniyah. Although the man had been quarantined, the health ministry said later that he had "several chronic diseases" and it could not confirm coronavirus as the cause of his death. The two deaths reported later on Wednesday were those of a man and a woman in Baghdad.
March 6
Iraq has so far reported three deaths linked to the virus. The official WHO figure is two deaths. One appears to have been discounted because although the man was in quarantine he may have died from other causes.
March 7
The health ministry is not providing figures on its website. In a Facebook post on Friday, the ministry reported eight new cases – five in Baghdad and two in Sulaymaniyah – but it gave no cumulative total and at least one of the "new" cases appears to have been reported before. Friday's situation report from the WHO gave the Iraqi total as 36 but a later update on Twitter from the WHO regional office gave it as 38.
March 8
Once again, there are conflicting figures. The most recent cumulative total from the World Health Organisation is 54 cases. China is reported to be sending medical supplies and a specialist team to train Iraqis.
March 9
The number of deaths has risen to six, according to the state news agency. The World Health Organisation's latest total for the number of coronavirus cases in Iraq is 61.
March 10
Iraq announced six new cases – in Najaf, Basra, Erbil and Sulaymaniyah. A total of seven deaths have been reported, the latest involving a 74-year-old man who had returned from heart surgery in Iran three days earlier. Government offices are closed in Basra and the Kurdish area. Najaf province, a magnet for Shia pilgrims, will be closed to non-residents from Wednesday.
March 14
In a post on Facebook, the Iraqi health ministry said the cumulative total of confirmed cases had reached 93. The virus appears to be widely distributed: the 10 most recent cases were in six different places. Details of restrictions on activities and movement in Iraq can be found in another of the health ministry's Facebook posts.
March 16
The health ministry reported 14 new cases, bringing the total to 124.
March 19
The health ministry reported six new cases. They were identified among 105 samples from "suspected cases in hospitals in the various governorates". Given the conditions in Iraq, large numbers of other cases are almost certainly going undetected.
March 21
Iraq: The health ministry has produced a map showing the distribution of cases around the country. The red numbers are confirmed cases, the green numbers show those who have recovered and the black numbers show deaths.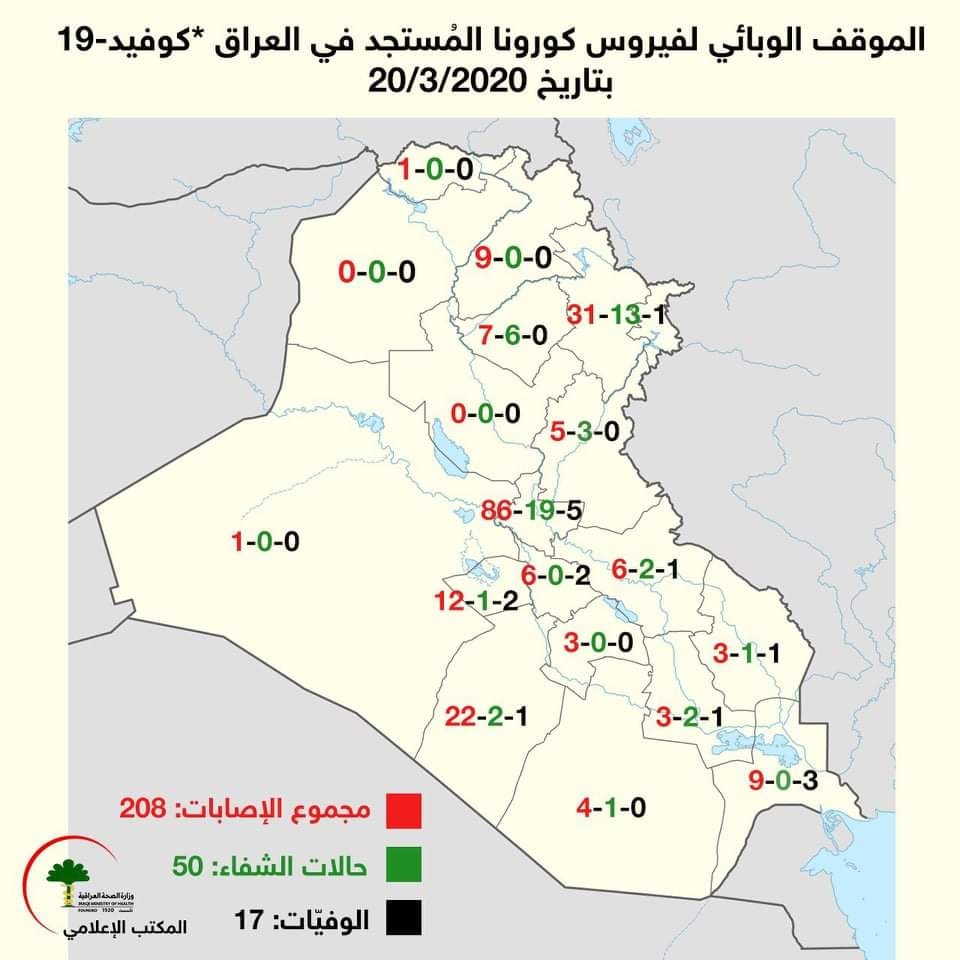 March 26
Some of the economic consequences of coronavirus in Iraq are discussed in an article for Al-Monitor by Iraqi writer Omar al-Jaffal.
A couple of weeks ago Reuters news agency reported that Iraq probably has several thousand more Covid-19 cases than the official figures show. Its report quoted three doctors closely involved in the testing process, a health ministry official and a senior political official – all speaking anonymously because they had been told not to talk to journalists.
Their collective view was that between 3,000 and 9,000 people have been infected in Iraq. The official total at the time of the report was 772 cases, with 54 deaths.
The Iraqi authorities acknowledge that there are unrecorded cases because testing facilities are limited, but the Reuters story went further. It said security officials had urged the health ministry not to reveal the high figures "because it could create public disorder with a rush on medical supplies, and make it harder to control the disease's spread".
As a result of this story, Iraq's Communications and Media Commission has now suspended Reuters' licence to operate in the country for three months and imposed a fine of 25 million dinars ($21,000). This is reminiscent the Sisi regime's action in March when it withdrew the accreditation of the Guardian's Cairo correspondent for citing research that questioned Egypt's official figures.
While it's entirely possible that Iraq's figures have been massaged at the behest of security officials, there is also social resistance to recording Covid-19 cases, as medical anthropologist Omar Dewachi explained earlier this month.
Stigmatisation is one reason why people don't want Covid-19 cases to be diagnosed, he said during a webinar hosted by the Royal Institute of International Affairs in London. Families are avoided and stigmatised by their neighbours if one of their members is known to have been infected.
This also applies to deaths. "People are dying in their home without it being reported to the officials that this is a Covid-related death, or [the family] will not allow government officials to come and test," he said. "There has been a lot of reaction from cemeteries rejecting to bury people who have Covid-19, with some kind of fears or belief that the epidemic will move through the earth and spread within the community."
A similar situation arose in Egypt last week when demonstrators tried to prevent the burial of a doctor who had died after being infected with Covid-19.
Dewachi, who is the author of a book on the Iraqi healthcare system, said the system is broken after being undermined for decades and people have lost trust in it. Officials who try to take someone into quarantine are likely to meet with resistance. "There is a lot of suspicion around this issue of 'Where are you going to take our family member?'," he said.
"The suspicion also has to do with the history of how healthcare quarantine cases have been dealt with over the past decades." he continued. "I worked in Iraq as a physician in the 1990s during the HIV/AIDS epidemic." At the time, people diagnosed with HIV/AIDS were sent to an isolation hospital that was guarded by the state, with armed men posted outside, he said.
June 6
Iraq reported 1,006 new Covid-19 cases on Friday – by far the highest number since the epidemic began.
Throughout March and April Iraq's official figures showed the virus spreading surprisingly slowly and it wasn't until mid-May that the daily count of new cases rose above 100.
Towards the end of May, though, the rise became more dramatic and over the past week newly-recorded cases have averaged 568 a day.
Iraq's health ministry blames this on non-compliance with preventive measures and on Friday it issued a fresh appeal for people to stop holding gatherings, maintain social distancing and wear face masks. It also called on security forces to step up enforcement of the restrictions.
The timing of the current surge also suggests that socialising during Ramadan (April 24-May 23) and the festival of Eid al-Fitr which followed had a significant role in spreading infections. The Gulf state of Oman has reported similar increases which it attributes to the Ramadan effect.
A UN report on Iraq issued earlier this week said:
"During the period of Ramadan and around the celebration of Eid Al-Fitr, the government of Iraq and the Kurdistan regional government relaxed enforcement of the stringent movement restrictions which had been in place for several weeks.

"Although curfews were nominally still applicable during certain hours, there were widespread anecdotal reports of crowded public spaces – including markets and shopping malls – which appeared to be confirmed on social media."
Restrictions have been tightened again since then.
Although the official figures show Iraq's epidemic is getting worse, they almost certainly give a misleading impression of its true scale. Many Covid-19 infections go undetected or unreported, for a variety of reasons.
Early in April, when the official tally of confirmed cases stood at 772, Reuters news agency reported that the real figure was likely to be between 3,000 and 9,000. It based this assessment on conversations with Iraqi doctors and government officials who asked remain anonymous because they had been told not to speak to the media.
The Iraqi authorities acknowledged at the time that there were unrecorded cases because of limited testing capacity, but the Reuters story went further. It said security officials had urged the health ministry not to reveal the high figures "because it could create public disorder with a rush on medical supplies, and make it harder to control the disease's spread".
Another reason for Iraq's under-reporting (as explained in a previous post) is non-cooperation from the public. Families are shunned and stigmatised by neighbours if one of their members is known to have the virus, and consequently people are reluctant to notify the authorities of suspected cases. They also tend to be fearful of Iraq's decrepit health services.As a result of Reuters' report, the Iraqi media regulator announced that the agency would be banned from the country for three months and fined $21,000 – though the decision was rescinded a few days later.
There's a similar picture with coronavirus-related deaths. Officially, only 285 people have died but the true figure is likely to be much higher. As in several other countries, there has been resistance from cemeteries – and people living nearby – to burying those who have been diagnosed with Covid-19.
In the holy city of Najaf there's a new cemetery exclusively for Covid-19 victims. It's operated by a Shia militia with the aim of ensuring that that the bodies are given a religious burial.
This appears to be almost a clandestine activity, however. Burials often take place at night, there's a shortage of people willing to help and one volunteer quoted by Reuters said he hadn't told his family what he is doing – for fear of being ostracised.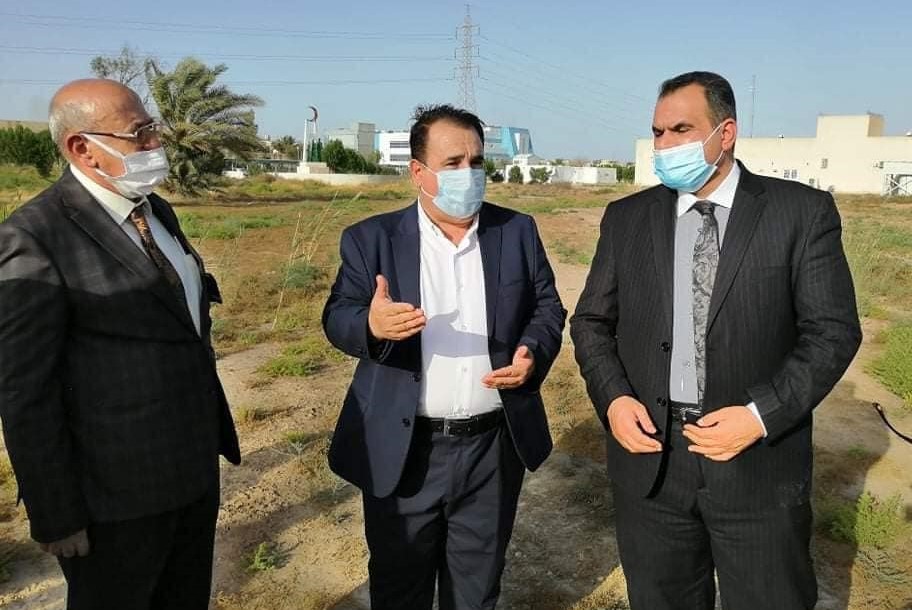 Iraq's run-down healthcare system is contributing to the spread of coronavirus rather than helping to contain it, according to a report issued last week:
● Medical staff are kept working when they should be in isolation;
● Hospitals are kept open when they should be closed to prevent further infection;
● Test results are arriving too late to be useful;
● False negative test results are giving unwarranted reassurance.
Under pressure to keep hospitals open, administrators are ignoring the need to isolate medical staff who have been exposed to Covid-19, the Education for Peace in Iraq Center (EPIC) says in its report. "Hospital managers are reluctant to test staff because if doctors and nurses test positive they would have to let them go home, increasing the workload for the remainder of an overworked staff."
Even before the virus arrived, Iraq had relatively few doctors – seven for every 10,000 people – and in comparison with the general public, Iraq's health workers are twice as likely to become infected, according to WHO figures.
Dr Ghassan Aziz, an Iraqi epidemiologist quoted by EPIC warns that many hospitals could fall apart within one to two months because of rising infections among staff.
The Iraqi Doctors' Association said on Sunday that 775 doctors have so far contracted the virus – of whom 13 have died.
A day earlier, Iraq's National Security Council announced a call-up of medical students to help fill the gap. Those in their fifth or sixth year of studies are being "directed to volunteer" at hospitals.
Iraq is now recording more than 2,000 new Covid-19 cases a day compared with only 200 a day this time last month. But while official figures show a rapidly worsening situation they don't reveal the full extent of it.
More than 47,000 cases have been confirmed in Iraq since the start of the outbreak and the latest increase is mainly blamed on people ignoring the rules for social distancing, either because they don't take the threat seriously or because living conditions and economic necessity prevent them from taking precautions. The timing of the rise suggests many of the new infections seen this month are the result of socialising during Ramadan and the Eid al-Fitr holiday.
Testing capacity has also increased from around 1,500 samples a day in early April to 20,000 now. That means cases are coming to light which would previously have gone undetected but EPIC notes a more worrying sign: the proportion of positive results is rising and by June 19 it had reached 14.5%.
"Patients, and even doctors, sometimes wait a full week before they receive test results." EPIC says. "Delays often mean infected people are left to move about freely, or that recovered people are held in isolation longer than necessary, occupying hospital beds that more acute cases desperately need."Although testing capacity has increased it still depends on four main labs – in Erbil, Baghdad, Basra and Najaf – and this leads to delays.
More alarmingly, the labs have given false reassurance by producing negative results in cases where doctors had little doubt that patients were suffering from Covid-19. In EPIC's report, Dr Aziz blames testing kits of dubious quality, incorrect use of swabs for sampling by untrained staff, and damage to samples by heat during transportation to the labs.
Dr Aziz also describes the health ministry's testing policies as a misuse of limited resources, particularly in connection with field testing.
"As currently practised, a field test is initiated after a person tests positive," EPIC's report says. "The local primary healthcare centre selects targets for testing from among the person's neighbours ... If staff suspect that one or more neighbours have contracted the virus, they run a rapid antibody test. If positive, the staff then run a PCR test.
"A problem with this plan is that a positive rapid antibody test indicates that a person is either recovering or fully recovered already; results therefore have little or no use in detecting new infections early enough for effective treatment or prevention from further spreading."
July 11
The authorities announced on Friday that Iraqi citizens can now travel abroad. They will be tested for Covid-19 on their return. Those who test negative must self-quarantine for 14 days while those who test positive will be hospitalised.
July 18
The health minister announced that a new makeshift hospital on the site of Baghdad International Fair is now ready to receive coronavirus patients.
There are reports that the blood plasma of people who have recovered from Covid-19 is being traded in Iraq at extortionate prices. The plasma is sometimes used to treat those with the disease. One man paid $1,500 for a litre of plasma on behalf of a relative who later died.
July 25
Baghdad airport reopened for international flights on Thursday after a four-month closure. The Kurdish authorities in the north say they will reopen Erbil and Sulaymaniyah airports on August 1.
August 22
Iraq is currently recording more new infections than any other country in the region. New cases this week averaged more than 4,000 a day and Wednesday's total of 4,576 cases was the highest since the outbreak began. Worse still, Iraq's official figures are widely believed to understate the scale of the epidemic. Many cases go unreported because of social stigma. Compliance with preventive measures appears to be low and health services are inadequate.
August 29
The health ministry announced this week that it has treated some 15,000 Covid-19 patients with plasma extracted from the blood of people who have recovered from Covid-19. This may be having some effect on the death toll which averaged 125 a day this week compared with a daily average of more than 200 earlier this month.
There are reports that the blood plasma of people who have recovered is being traded in Iraq at extortionate prices. One man paid $1,500 for a litre of plasma on behalf of a relative who later died.
September 5
Iraq is currently recording more new infections than any other country in the region. New cases this week averaged more than 4,000 a day with a record 5,036 reported on Friday.
Iraq's official figures are widely believed to understate the scale of the epidemic. Many cases go unreported because of social stigma. Compliance with preventive measures appears to be low and health services are inadequate.
In a report this week the UNHCR described the situation in Iraq as concerning. "While the government of Iraq has extended the current curfew measures across central and southern governorates until further notice, the latest reports indicate that only a small percentage of the population is actually respecting them," it said. "Despite warnings by the government to avoid mass gatherings, thousands of pilgrims started gathering in the city of Kerbala to mark the holy month of Muharram ... "
According to the UNHCR, more than 30% of the total cases have been detected in Baghdad, followed by Basrah, Kerbala and Sulaymaniyah.
September 12
Iraq's Director of Public Health has attributed rising numbers of confirmed cases to higher levels of testing. "The increase in the number of infection cases is due to the increase in the number of tests that reached more than 25 thousand per day," he said.
October 3
For the last four weeks new cases have been averaging more than 4,000 a day. This week's average was 4,366 a day – a small increase on the previous week's figure.
November 1
There has been a small improvement with new cases averaging 3,354 a day during the past week.
November 18
Update on vaccines: Iraq is purchasing its first batch of vaccines through the Covax facility. Payment was approved by Iraq's Higher Committee for Health and National Safety on November 7.
February 6, 2021
Update on vaccines: Iraq is expecting about three million doses of vaccine to have arrived by the end of this month.
The National Board for Selection of Drugs (NBSD) has approved Sinopharm, AstraZeneca and Pfizer/BioNTech vaccines for emergency use. Priority will be given to health workers, security personnel, people over 50 years of age and those with chronic diseases, according to the health minister.