Many people are dying in the Yemen's southern city of Aden and no one is quite sure why. Maybe it's coronavirus but it could be dengue fever, chikungunya, ebola, malaria, pneumonic plague or something else, according to the head of the National Emergency Committee.
More than 500 deaths have been reported in Aden in the last eight days – most dying at home without medical treatment. A local gravedigger told the Associated Press he had never known such a succession of bodies for burial, even at times when there were street battles.
---
CLICK HERE to jump to Middle East updates
---
There appear to be several epidemics of different diseases circulating in the city, partly as a result of unhealthy conditions caused by recent floods.
As far as Covid-19 is concerned, the internationally-recognised government says there have been 122 confirmed cases and 18 deaths in the southern parts of the country under its tenuous control – though it's widely believed that many others are going undetected.
The Houthis who control much of the north have reported only four Covid-19 cases, including one death. The two most recent cases, announced on Saturday, are said to involve a 48-year-old man and a 38-year-old woman in the capital, Sana'a – both of whom are said to have already recovered. Medical sources indicate that Houthis are deliberately concealing the scale of the outbreak on their territory. At least one batch of test results, which included four positive cases, has not been officially reported.
The Houthis are clearly trying not to let the coronavirus distract from their ongoing war effort but their denialism causes unnecessary difficulties in what looks set to become a catastrophic situation.
---
New cases
A further 8,443 Covid-19 infections have been reported in the Middle East and North Africa since yesterday's update – the biggest daily increase so far.
Saudi Arabia reported the largest number of new cases (2,840), followed by Iran (1,757) and Qatar (1,547).
The list below shows cumulative totals (excluding Iran) since the outbreak began, with day-on-day increases in brackets.
Algeria 6,821 (+192)
Bahrain 6,747 (+164)
Egypt 11,719 (+491)
Iraq 3,260 (+67)
Israel 16,607 (+1)
Jordan 607 (+11)
Kuwait 13,802 (+942)
Lebanon 902 (+11)
Libya 65 (+1)
Morocco 6,789 (+137)
Oman 5,186 (+157)
Palestine 555 (+1)
Qatar 30,972 (+1,547)
Saudi Arabia 52,016 (+2,840)
Sudan 2,289 (+325)
Syria 51 (+1)
Tunisia 1,037 (+2)
UAE 22,627 (+796)
Yemen 126 (+18)
TOTAL: 182,052 (+7,686)
Note: Yemen's total includes four cases reported by the unrecognised Houthi government in the north of the country.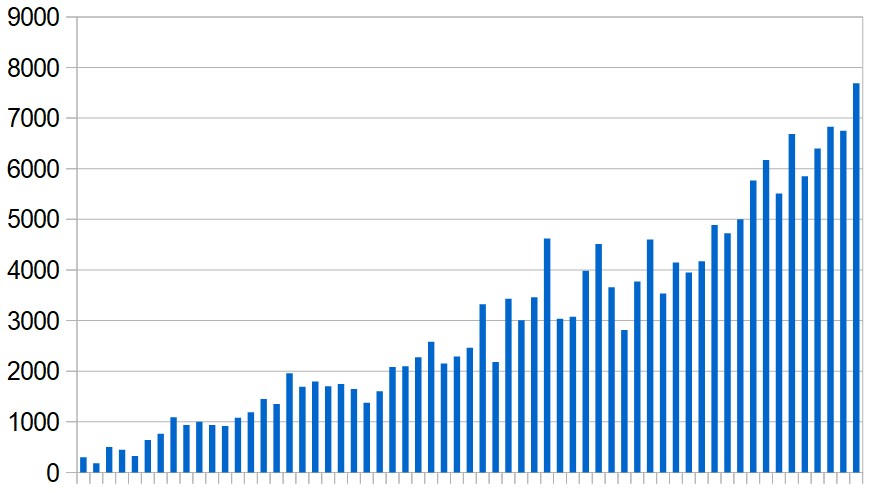 ---
Death toll
A further 108 coronavirus-related deaths were reported in the region yesterday – 35 of them in Iran and 20 in Egypt.
The list below shows cumulative totals of reported deaths in the region outside Iran, with day-on-day increases in brackets.
Algeria 542 (+6)
Bahrain 12 (-)
Egypt 612 (+20)
Iraq 121 (+4)
Israel 271 (+4)
Jordan 9 (-)
Kuwait 107 (+11)
Lebanon 26 (-)
Libya 3 (-)
Morocco 192 (+2)
Oman 22 (+2)
Palestine 4 (-)
Qatar 15 (+1)
Saudi Arabia 302 (+10)
Sudan 97 (+6)
Syria 3 (-)
Tunisia 45 (-)
UAE 214 (+4)
Yemen 19 (+3)
TOTAL: 2,616 (+73)
Note: Yemen's total includes one death reported by the unrecognised Houthi government in the north of the country.
CLICK HERE for previous updates
For anyone interested: A spreadsheet documenting the coronavirus cases and deaths reported in the region each day can be viewed here.