Country narrative: Saudi Arabia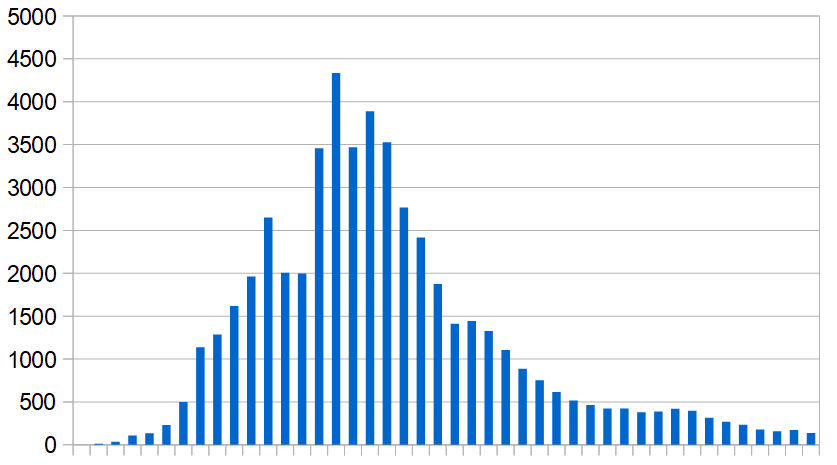 February 27, 2020
Saudi Arabia, which has so far not reported any coronavirus cases, announced that for the time being foreigners will not be allowed to enter the kingdom on religious visits. It also announced that tourists from countries where there is "a danger" of coronavirus will not be allowed to enter, and imposed restrictions on use of national identity cards for travel between the kingdom and other Gulf Cooperation Council states.
February 29
Saudi Arabia has so far not reported any cases inside the kingdom but a check through reports from other Arab countries shows that at least eight Saudis have been diagnosed with the virus this week – all of them outside the kingdom. Seven are in Bahrain and one is in Kuwait. All had recently been in Iran.
March 3
Saudi Arabia reported its first case – a Saudi citizen who had arrived from Iran via Bahrain. The health ministry said that when the man arrived in Saudi Arabia he did not disclose to the authorities that he had recently been in Iran. Although this is the first case in the kingdom, reports from other Arab countries indicate that at least nine Saudis have been diagnosed with the virus outside the kingdom. The Saudi health ministry said on Sunday it has prepared 8,000 hospital beds for possible future cases.
March 5
​Saudi Arabia reported its second case – a man who had arrived from Iran via Bahrain together with the first person to be diagnosed in Saudi Arabia.
Saudi Arabia reported three new cases, all of whom had visited Iran. The kingdom now faces a potentially serious problem because members of its Shia minority often visit Iran secretly via third countries – and without having their passports stamped by the Iranian authorities. According to the Saudi health ministry, all five cases detected in the kingdom so far involve people who arrived via Kuwait or Bahrain without disclosing they had been in Iran. The ministry has set up a toll-free phone line and says that if people disclose their secret trips to Iran within the next 48 hours they will not be punished. Saudi Arabia also complaining that Iran has failed to provide a list of recent visitors from the kingdom.
March 7
Saudi Arabia, which reported no new cases, is restricting land crossings with the UAE, Kuwait, and Bahrain to commercial vehicles only. Arrivals from those countries by air will also be limited to three airports: Jeddah, Riyadh and Dammam.
March 8
Six of the seven cases reported so far have been linked to Iran. The authorities have a problem tracing others who may have been infected there because members of the kingdom's Shia minority often visit Iran secretly via third countries – and without having their passports stamped by the Iranian authorities. On Thursday the health ministry set up a toll-free phone line and said that people who disclosed their secret trips to Iran within the next 48 hours would not be punished. On Saturday the ministry announced that 128 people had come forward. Of those, 26 are currently in Saudi Arabia, 95 are in Iran and seven are in other countries.
March 9
Saudi Arabia has imposed a lockdown on the city of Qatif, which has a large Shia population. The government says this is because all the recorded cases are from Qatif but the move may cause resentment among the kingdom's Shia minority.
March 10
Following the politically sensitive decision to impose a lockdown on the predominatly Shia city of Qatif, the authorities have given assurances that it has "an abundance of food supplies and other essential goods". They have also warned that people who fail to give correct health-related information when entering the kingdom could face fines of up to $133,000.
March 11
Saudi Arabia joined Qatar in announcing a ban on shisha pipes in cafes and restaurants. Reuters news agency has a report from Qatif, the predominantly Shia area that was placed under lockdown on Sunday. People there are said to be stocking up on food and hand sanitisers but otherwise taking it pretty calmly.
March 13
The 17 new cases include 11 Egyptians from the same group as another Egyptian who was diagnosed earlier while apparently on a visit to Mecca.
March 14
Saudi Arabia reported 24 new cases – seven of them Saudi citizens who had been quarantined because of contact with people found to be infected. The others newly diagnosed are 16 Egyptians and a Bangladeshi expatriate.
March 16
Shortly before midnight on Sunday, Saudi Arabia's interior ministry issued an eight-point decree, effective from today:
Attendance at the workplace is suspended for government employees except for the military, those working in security, and teachers working remotely.
Markets and malls are closed except for the sale of food and medicines. Shops outside malls can remain open, except for barbers and beauty salons. Shopping trolleys must be disinfected after use by each customer.
Takeway food services can operate 24 hours a day but customers must not sit inside while waiting for their order.
No "gatherings" are allowed in public recreational places such as parks and beaches.
Auctions are not allowed.
To reduce physical contact, electronic and telephone communication is to be used as much as possible.
Companies and non-government bodies should reduce the number of employees attending workplaces. Pregnant women, people with cancer, heart disease, lung disease, HIV, hereditary diseases and those taking immunosuppressive drugs should be allowed to work remotely.
Expatriate workers returning to the kingdom must spend 14 days in home quarantine.
March 17
Of the 15 new cases, only one is reported to be a Saudi citizen. The others are said to be from Spain, Morocco, Britain, France, Switzerland, Jordan, Afghanistan, Turkey and Egypt.
March 19
​Saudi Arabia reported 67 new cases – its biggest daily increase yet. However, the health ministry says 45 of these were travellers who had been quarantined immediately on arrival.
March 20
Saudi Arabia reported 36 new cases. Nineteen of these had been in contact with people previously infected. The other 17 were arrivals from various countries.
March 21
Saudi Arabia reported 70 new cases – 49 of them in the capital, Riyadh. The health ministry said 11 of the new cases involved people arriving from abroad who were immediately quarantined. More alarmingly, 58 of the new cases have been attributed to social activities inside the kingdom – such as attending weddings or family gatherings. On Friday the kingdom announced the suspension of all domestic flights, buses, taxis and trains for the next 14 days. There are exceptions for key workers.
March 22
There's alarm in a growing number of Middle Eastern countries about members of the public who are not complying with the rules on self-isolation and social distancing. As a result, the authorities are resorting to ever more draconian measures in their effort to combat coronavirus.
Non-compliance appears to be a particular problem in Israel, Lebanon, Jordan and Saudi Arabia – especially where social gatherings are concerned. Several examples are reported in the round-up below, and there have been others in al-bab's previous daily updates.
Today, the Saudi Gazette has a photo of families picnicking in Riyadh – contrary to government instructions. The paper reports that one-third of all infections in the kingdom "are due to people coming into contact with previously infected individuals and taking part in social gatherings such as weddings, funerals and family meetings".
Anecdotally, there are also reports that young people whose education has been suspended are continuing to meet socially. Some appear to take the view that since the worst effects of the virus are usually found among elderly people, youngsters don't need to worry about it so much.
March 22
​Saudi Arabia reported 48 new cases, including five health workers. This is another big increase which brings the cumulative total to 392. The health ministry warned that even small gatherings in people's homes are dangerous and that young men and women should not consider themselves immune to the virus. On Saturday the council of senior religious scholars issued a statement saying that anyone who violates the anti-cornavirus directives is committing a sin. "The gravity of the sin committed by violating these directives increases because the violator is not only harming himself, but others as well."
March 23
Four Arab countries have now declared nationwide curfews in an effort to check the spread of coronavirus.
In Kuwait, a night-time curfew – from 5pm to 4am – came into effect on Sunday. The deputy prime minister said the move was regrettable but had become necessary because people were "failing to comply with the Ministry of Health's instructions to stay indoors".
Violators face up to three years in jail and fines of 10,000 dinars ($32,000). People working in "vital sectors" are exempted and will be issued with special ID cards.
Saudi Arabia has announced a similar curfew – from 7pm to 6am – which will come into effect this evening. As in Kuwait, there are exceptions for "vital activities", which in the Saudi case include allowing muezzins to go to mosques and recite the call to prayer.
The Saudi move came amid growing evidence that large numbers of people have been ignoring the rules for self-isolation and social distancing.
In Jordan, where a round-the-clock curfew enforced by the military began on Saturday morning, more than a thousand violators have been arrested – 392 on Saturday and 693 on Sunday. They could face up to a year in jail.
The Jordan Times quotes media affairs minister Amjad Adaileh as saying the curfew may last for weeks and urging people to get used to "this new lifestyle".
The authorities haven't yet decided how to keep people supplied with food, medicines and other necessities but they are considering home delieveries because "allowing people to leave their homes for set periods of time may result in stampedes and crowding, which would counter the government's preventive measures".
Tunisia has also imposed a night-time curfew which started on Wednesday and runs from 6pm to 6am.
March 25
Amid rapidly-growing numbers of new infections and the first two coronavirus-related deaths, Saudi Arabia is sealing off the cities of Riyadh, Mecca and Medina. From tomorrow, no one will be allowed to leave or enter.
Movement between the kingdom's 13 administrative regions will also be forbidden.
A night-time curfew is already in force and from tomorrow it will begin at 3pm rather than 7pm.
March 26
A specialist laboratory in the kingdom's Eastern Province has tested more than 5,000 samples during the past week.
April 2
Saudi Arabia: There are growing expectations that this year's Hajj (the annual prilgrimage to Mecca) which is due to start on July 28 will be cancelled. On Wednesday, the kingdom said Muslims who are planning to take part should delay their bookings. According to a Saudi newspaper the Hajj has been cancelled 40 times throughout its history – most recently in 1798 because of Napoleon's activities. A more immediate problem – for Muslims in general – will be how to maintain social distancing during the holy month of Ramadan, which is just three weeks away.
April 6
Saudi Arabia: A police officer died on Sunday after being run over by a vehicle that failed to stop at a curfew enforcement checkpoint in Mecca.
April 8
The Saudi government warned yesterday that Covid-19 infections in the kingdom could rise to 200,000 over the next few weeks – more than 70 times the current official figure – and appealed for more cooperation from the public.
Restrictions on movement and social contact in Saudi Arabia are not having the desired effect because they are widely flouted. Road traffic, for example, is still at 46% of the normal level – which is considered far too high.
Health minister Tawfiq al-Rabiah accused "a section of society" of not taking the preventive measures seriously, and the ministry's spokesperson said:
"If people fail to hold fast to the instructions over the coming months, hundreds of thousands will be vulnerable to infection, and the health system will collapse as we have seen in major countries and this is not an imaginary scenario."
Expert studies predict a minimum of 10,000 cases and a maximum of 200,000 in the kingdom over the next few weeks. Whether it's the lower figure or the higher figure will depend on how fully the public complies with preventive measures, the minister indicated.
"We stand today at a decisive moment as a society in raising our sense of responsibility and contributing together with determination to stop the spread of this pandemic," the minister said.
On Monday, the authorities extended a 24-hour curfew to cover more parts of the kingdom, including the capital, Riyadh. In other areas they brought forward the start of the night-time curfew from 7pm to 3pm.
A slogan promoted by the Saudi government is "We are all responsible" and it signals what in much of the Middle East is a rather novel idea of partnership between states and their citizens. Autocratic rulers are beginning to realise that they can't make the virus go away by diktat and if disaster is to be avoided they need to engage with the public far more than they have been willing to do in the past.
April 9
Saudi Arabia: Under the slogan "Culture in isolation", the Saudi culture ministry is promoting various home-based activities that are intended to be mentally enriching. One of them is a "reading marathon".
April 10
Saudi Arabia: The New York Times reports that King Salman has socially-isolated himself in a palace on a Red Sea island near Jeddah. The paper also says several members of the royal family have been infected and staff at the King Faisal Specialist Hospital in Riyadh have been told to prepare for an influx of VIP patients.
April 14
Arab states in the Gulf are reporting large numbers of new Covid-19 infections among migrant workers.
● In Bahrain, foreign labourers account for almost half the confirmed cases – more than 600 have tested positive.
● In Kuwait, 679 of the 1,300 confirmed cases are reported to be Indian workers.
● In Saudi Arabia, according to the health minister, "most cases" have arisen in migrant worker communities and other densely populated areas. "We have noticed an increase in coronavirus infections in the accommodation of workers and we called upon them to apply the highest degree of precaution," the minister said.
Migrant workers are especially vulnerable to infection because they often live in compounds with shared sleeping quarters where it's impractical to follow the precautions urged by governments.
Journalist Ben Hubbard takes a detailed look at their problems in an article for the New York Times.
Hubbard quotes a Kenyan oil worker in Qatar (interviewed by phone) as saying he shares a room in a company compound with three others, in a ward with only six bathrooms for 450 men: "Crowding is the problem, and washing hands is almost unrealistic."
His company provides food, but in a communal dining hall. "It is not in any way social distancing," the worker says.
April 20
In countries where corruption is prevalent, Covid-19 has presented new opportunities for making money.
Saudi Arabia's Control and Anti-Corruption Authority says it has uncovered two scams by government officials.
One involves the sale of fake permits granting exemption from curfew restrictions. A group of officials are said to have sold 31 permits for 3,000 riyals ($800) each.
The other scam involves six people, including two health officials in Riyadh and the owner of a hotel. The officials allegedly took bribes from the hotel which then overcharged the health ministry for hosting Saudis who were being quarantined.
In Saudi Arabia the number of known Covid-19 infections has more than doubled during the past week. Earlier this month, when the tally was just over 2,000, the health minister warned that expert studies were predicting a minimum of 10,000 and a maximum of 200,000 confirmed cases "over the next few weeks".
The minimum figure was clearly wrong, because Saudi Arabia passed the 10,000 mark on Tuesday and the latest tally is 12,772 confirmed cases.
There are several reasons for this. One is that levels of testing have increased, revealing cases that otherwise would have gone undetected.
At the same time, though, the kingdom's preventive measures have been less effective than they might have been. The health minister has accused a "section of society" of not taking the precautions seriously. Corruption may also play a part: several officials have been charged with selling fake permits granting curfew exemptions.
But while some deliberately flout the rules there are thousands of others who have little choice – because of their living conditions. This is a sensitive issue for Saudi Arabia and the other wealthy states in the Gulf, but there are plenty of signs that the virus has taken root in their migrant communities. They have relied for years on cheap Asian labourers and are now reaping the effects of housing them in cramped and often squalid conditions.
The Saudis don't appear to have issued figures for infection rates among migrant workers compared with those among their own citizens, but in Bahrain migrants are said to account for 90% of the currently active Covid-19 cases and the authorities have relocated thousands of them to "safe shelters". Qatar's reports regularly state that "most" newly-diagnosed cases are "related to expatriate workers", and in Oman about two-thirds of new cases are not Omani citizens.
The Saudis are now targeting specific neighbourhoods which have "a high density of expatriate workers" and carrying out random sampling there. This will help to identify particular hotspots, though it doesn't address the underlying problem of living conditions that increase the risk of infections spreading.
April 26
Saudi Arabia has announced an easing of its coronavirus restrictions to allow for "the return of some economic activities in line with health instructions".
On the face of it, this could be a risky move because the Covid-19 virus is still spreading more rapidly in the kingdom than among any of its Arab Gulf neighbours. Over the past week the number of confirmed cases has almost doubled, from 8,274 to 16,299.
The relaxation is clearly intended as a step towards reviving the economy but from a medical point of view it may not be as foolhardy as it looks. A lot will depend on how effectively it is implemented.
Restrictions had been tightened three weeks ago when the authorities imposed a 24-hour curfew on the main cities. People were not allowed to leave their homes without a permit, except for essential needs such as food and medicines. In other parts of the kingdom there was a "night-time" curfew from three o'clock in the afternoon until six in the morning.
Under the new arrangements, people will be allowed to go out between 9am and 5pm but must still follow the rules on social distancing. The exceptions are Mecca (which has almost 4,000 known cases) and other viral hotspots where a full curfew will remain in place.
From Wednesday, wholesale and retail trade can resume and shopping malls can reopen. Again, this must be in "compliance with the precautionary and preventive measures" which will be monitored by the authorities. Hairdressers, gyms, cinemas, restaurants and cafes must remain closed.
The effects of daytime opening should be interesting, considering that Ramadan has just begun. During the holy month, Muslims fast between sunrise and sunset, and in a normal Ramadan they tend to conserve their energy for feasting and socialising during the night – so it remains to be seen whether there will be a daytime shopping binge.
The new procedures are scheduled to last until May 13 but the official statement says they will be subject to "continuous evaluation", so they could be changed at any time before then if they are seen to be having adverse effects.Another important change is that from Wednesday construction firms and factories will be allowed to "practise their activities without restrictions on time, according to the nature of their work".
One factor behind the relaxation is that Saudi citizens are generally at less risk of infection than the kingdom's migrant workers. Although there are no official figures, the health minister has said that "most" cases arise in migrant worker communities and other densely populated areas. According to the Economist magazine, migrants account for about 80% of recent cases.
Migrant workers are especially vulnerable because they often live in compounds with shared sleeping quarters where it's impractical to follow the precautions urged by governments.
The Saudi authorities are now targeting specific neighbourhoods which have "a high density of expatriate workers" and carrying out random sampling there. This will help to identify particular hotspots, though it doesn't address the underlying problem of living conditions that increase the risk of infections spreading.
May 5
Saudi firms that run into financial trouble because of the coronavirus epidemic will be allowed to cut workers' wages by 40% – and then sack them after six months – under a decision approved by the kingdom's ministry of human resources.
In legal terms, it means companies can break existing employment contracts on grounds of force majeure so long as they follow the ministry's rules and can demonstrate financial hardship.
Migrant workers are likely to be hardest hit by the move, since employees who have Saudi citizenship can claim compensation for loss of wages from the government.
Companies that cut wages will still be allowed to claim government benefits, including help with the portion of wages that they do pay, according to a report in the Saudi newspaper Ash-Sharq al-Awsat.
Another Saudi paper, Arab News, quotes the ministry as saying pay cuts will only be implemented with employees' consent – though it doesn't say what will happen if employees refuse and their employers can't pay.
Every day this month Saudi Arabia has reported more new Covid-19 infections than any other country in the Middle East. A further 1,905 cases were confirmed yesterday and the cumulative total since the virus first arrived in the kingdom is frighteningly large – just under 45,000. There are tentative signs, though, that the Saudi epidemic may have peaked.
On Tuesday, for the first time since the outbreak began, the number of people newly-recovered from the virus exceeded the number recorded as newly-infected.
This was a small but significant milestone and Wednesday's official statistics told a similar story.
As a result of the recoveries over the last couple of days (and a further 18 deaths), there are now 1,087 fewer people known to be currently infected in Saudi Arabia than there were on Monday.
Although a couple days' figures don't amount to a trend, the graph below shows recoveries growing more quickly than new infections over the last two weeks.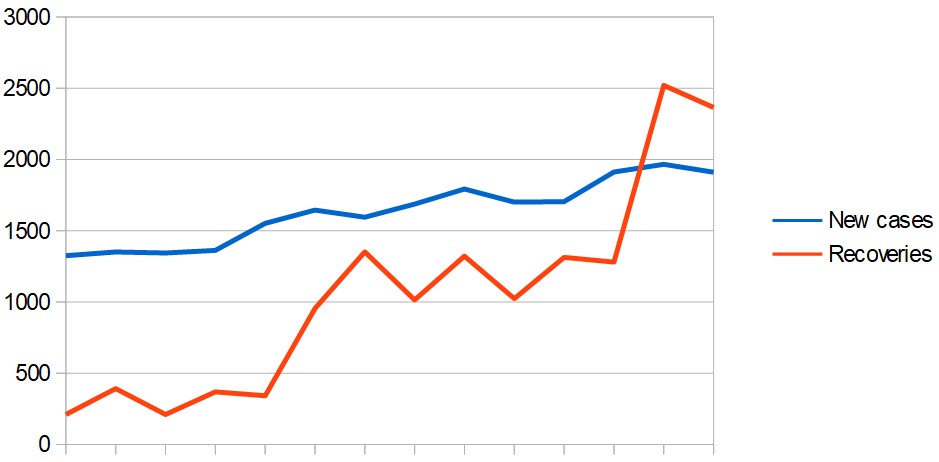 That is an encouraging sign, though the continuing large numbers of new cases suggest it will be a long time before the epidemic truly subsides.
As in the other Arab states of the Gulf, expatriate workers account for a large proportion of coronavirus cases, and yesterday the Saudi health ministry gave some figures. Saudi citizens account for 42% of cases and non-Saudis 58%.
According to UN figures, non-Saudis are about 38% of the population – so it's clear they are disproportionately affected by the virus. This is mainly due to the crowded living conditions of migrant workers which put them at greater risk of infection.
However, there have also been problems getting Saudi citizens to comply with preventive measures. Last month the health minister accused a "section of society" of not taking the precautions seriously.
Although there has been some official relaxation of restrictions, on Tuesday the interior ministry announced that there will be a "complete curfew throughout the day in all cities and regions of the kingdom" from May 23 until May 27. This covers the Eid al-Fitr festival which marks the end of Ramadan and is usually a time for family gatherings.
June 8
Saudi Arabia's Covid-19 epidemic passed two unwelcome milestones at the weekend when the daily number of new cases rose above 3,000 for the first time and the overall total of confirmed cases crossed the 100,000 mark.
During the last couple of months the kingdom has reported more new infections each day than any other Arab country, apart from a few days when it was briefly overtaken by Qatar.
In the first week of April, when there were merely 2,000 known cases, the Saudi health minister cited expert studies predicting the total could rise to between 10,000 and 200,000 "over the next few weeks" – and the kingdom is now in the upper half of that range.
New cases reached an initial peak in mid-May and dropped back in the second half of the month, only to rise again from the beginning of June. Even if that turns out to be just a blip, it's clear that the end of the Saudi epidemic is still a long way off.
There are a few positive points, however. The kingdom's death toll is mercifully low – 712 according to official figures (though it's unclear how they are compiled) and as a result of large numbers recovering the total of active cases has been kept below 29,000.
It's also important to note that Saudi Arabia has a much larger population than other Arab states in the Gulf. When population differences are taken into account it actually has the lowest number of confirmed cases per million inhabitants. Qatar (as previously discussed) has the most – by a long way.
Country
Population
(millions)
Confirmed
cases
Cases per
million pop'n
Qatar
Bahrain
Kuwait
UAE
Oman
Saudi
2.9
1.7
4.3
9.9
5.1
34.7
70,158
14,763
32,150
38,808
17,486
101,914
24,192
8,684
7,477
3,920
3,429
2,937
That might seem reassuring for the Saudis, if not for the Qataris. But when levels of testing by the Arab Gulf states are compared and adjusted for population, Saudi Arabia comes second from bottom – which raises the possibility that it has a high level of undetected cases.
Country
Population
(millions)
Tests
carried out
Tests per
million pop'n
UAE
Bahrain
Qatar
Kuwait
Saudi
Oman
9.9
1.7
2.9
4.3
34.7
5.1
2,500,000
367,000
256,000
315,000
958,000
109,000
252,525
215,882
88,276
73,256
27,608
21,373
Saudi Arabia reported 4,233 new Covid-19 infections yesterday – the kingdom's highest daily total so far. Around 40% of the new cases are in the capital, Riyadh, and according to the health ministry they were found mainly "among young people who may not have been following precautionary measures".
June 21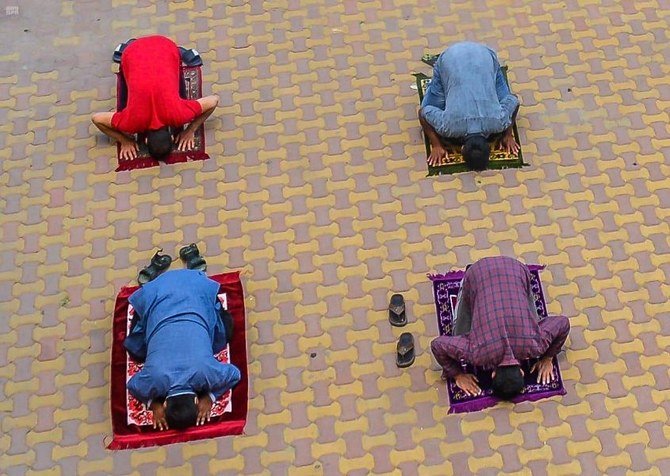 Saudi Arabia ended its coronavirus lockdown this morning despite record numbers of new infections during the past week.
Lifting the lockdown brings an end to the night curfews first imposed in March. It also means mosques can reopen and all economic activity can resume, subject to precautions.
This includes domestic tourism, though international flights are still suspended and the kingdom's land and sea border remain closed. That leaves questions about the fate of this year's Hajj – the annual pilgrimage to Mecca – which is due to start on July 28 and normally attracts millions of Muslims from around the world.
With the lockdown gone, the emphasis now is on social distancing under the slogan "We return with caution". Face masks must be worn in public at all times and gatherings of more than 50 people are prohibited. Government offices are limited to 75% capacity and working hours are to be staggered.
Taxi journeys must be paid for electronically rather than in cash and passengers are told to use only the back seats, avoid touching surfaces, leave no rubbish and carry hand sanitisers and spare face masks.
The kingdom had problems securing the public's compliance during the lockdown and it remains to be seen whether that will improve now.Mosques are using markers on the floor to space out worshippers and people are being told to bring their own prayer mats.
The daily count of new Covid-19 infections in Saudi Arabia rose above 4,000 for the first time last Monday, almost touching 5,000 on Thursday. It dropped back slightly on Saturday to 3,941 new cases.
The kingdom has recorded more than 150,000 cases since the epidemic began, though 99,000 have since recovered.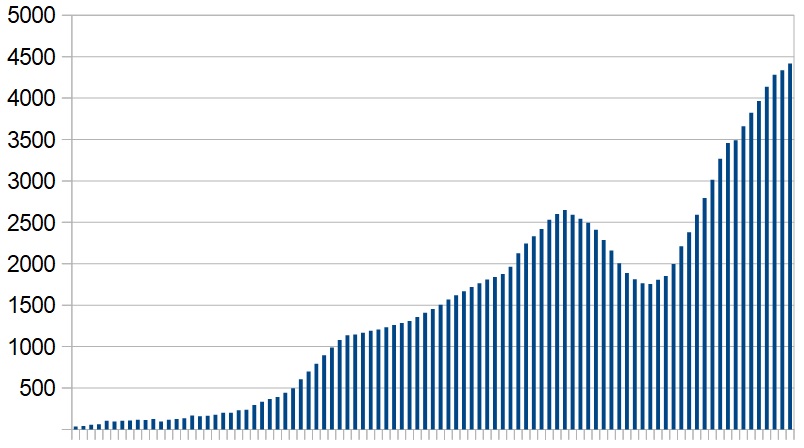 June 27
Saudi Arabia has the largest number of recorded cases among the Arab countries. New infections reached an initial peak in the fourth week of May, then dropped back slightly before rising to new heights. However, new cases have fallen slightly every day for the last six days – which suggests a turning point may have been reached.
Migrant workers have been disproportionately affected but the authorities have also complained about non-compliance with precautionary measures by Saudi citizens.
It has been announced that this year's Hajj (the annual pilgrimage to Mecca) which is due to start on July 28 and normally attracts millions of Muslims from around the world will be restricted to people living in the kingdom – and may also be limited to around 1,000 participants who will be quarantined both before and after the event.
July 11
The Saudi authorities have announced a series of precautions for the Hajj (the annual pilgrimage to Mecca) which is due to start on July 28 and normally attracts millions of Muslims from around the world. It will be restricted to about 1,000 participants who are already living in the kingdom and they will be quarantined both before and after the event.
Touching the Kaaba will be forbidden, and pilgrims must wear masks and stay at least 1.5 metres apart. It's also reported that holy water from the Zamzam well will be pre-bottled and sterilised pebbles will be provided for the ritual stoning of the devil.
A number of healthcare workers have been invited to take part in the Hajj in recognition for their efforts during the epidemic.
November 18
Update on vaccines: Saudi Arabia has "signed an agreement to receive early supplies of two or three different vaccines that have reached the final stages of their clinical trials," according to a health official quoted by Arab News.
So far, though, the kingdom does not appear to have struck deals with specific suppliers but is relying initially on ACT, the international Access to Covid-19 Tools (ACT) accelerator programme. It has contributed $150 million towards the programme and in return is expecting priority access to some vaccine supplies.
Two Saudi laboratories are also developing vaccines but those projects are still in their early stages.
February 6, 2021
Update on vaccines: Saudi Arabia began vaccinations on December 17, using the Pfizer/BioNTech vaccine.
Supply problems have caused some delays in administering a second dose. On Wednesday, however, the health minister announced that the kingdom would be rolling out "huge quantities of Covid-19 vaccines received from various suppliers" during the next few days. Details are unclear but it's likely these new supplies are AstraZeneca vaccine from India.