Country narrative: Jordan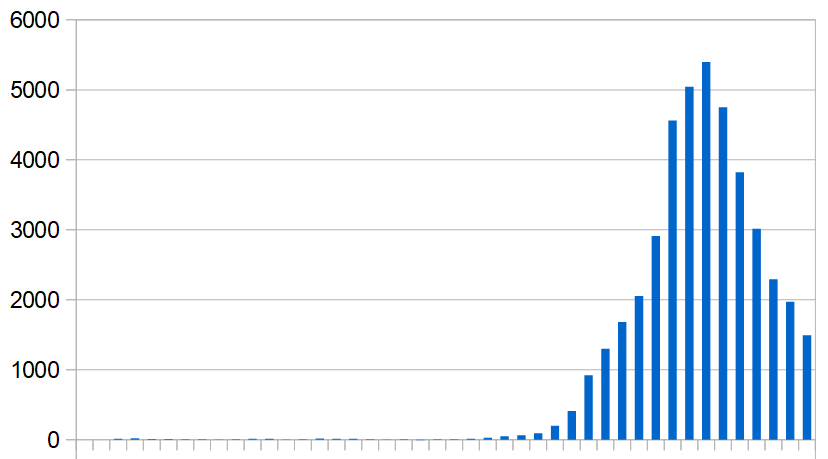 March 3, 2020
Jordan reported its first case on Monday – a Jordanian man who had arrived with a friend from Italy two weeks ago. The man's family and friend (who has so far tested negative) are in quarantine. The health ministry says that if the number of coronavirus cases in Jordan reaches 20, schools will be closed and public gatherings will be banned.
March 4
Jordan – which so far has only one confirmed case – says 54 people are currently quarantined after arriving from countries where there are outbreaks. A further 204 people have completed two weeks' quarantine without contracting the virus.
March 9
Jordan, with only one confirmed case so far, says 80 people are currently in quarantine. A further 221 have completed two weeks in quarantine and left after testing negative.
March 15
Jordan reported six new cases on Sunday morning – two Jordanians and four French tourists.
March 16
Jordan confirmed 12 new cases, bringing the total to 15. The central bank announced new measures which will inject $705m of extra liquidity to help businesses hit by the epidemic.
March 17
Cases recorded so far involve 26 Jordanians, six French tourists and an Iraqi woman living in Jordan. One of the Jordanians has been re-diagnosed after reportedly recovering. On Thursday, Mohammad al-Hyari – who had apparently caught the virus in Italy – was photographed leaving hospital, accompanied by the health minister. As a result of his discharge Jordan was declared virus-free, but that didn't last long.
March 18
Flights in and out of the country have been suspended. The last two planes arrived from the US on Tuesday, repatriating Jordanians who must now spend time in quarantine. Altogether, more than 5,000 people are quarantined in Jordan at hotels in Amman, Aqaba and the Dead Sea area.
From today Jordan's capital, Amman, is sealed off by the military and movement between the country's 12 governorates is prohibited. There are also restrictions on movement within the governorates. This follows a royal decree activating Jordan's National Defence Law, intended mainly for times of war, which gives the prime minister extraordinary powers. As specified in the law, these powers include:
● Placing restrictions on the freedom of people to gather, move, reside, and arresting or detaining suspects or those who pose a threat to the national security and public order.
● Assigning any person to perform any work or service within their ability.
● Checking persons, places and vehicles without being bound by the provisions of any other law, and ordering the use of appropriate force in the event of opposition.
● Evacuating or isolating some areas and imposing curfew on them.
● Ordering some or all of public stores to open and close at specific times.
● Monitoring messages, newspapers, publications, pamphlets, drawings, and all means of expression, publicity and advertisement before they are published and seizing, confiscating, suspending, and closing the places where they were prepared.
● Preventing the manufacture, sale, purchase or possession of telecommunications equipment and ordering their delivery and seizure.
This doesn't necessarily mean all the powers set out in the law will be used, but potentially they could be.
In a letter to the prime minister, King Abdullah said the aim is to "protect the wellbeing of citizens", and that orders issued under the National Defence Law should "be within the most limited scope possible" without infringing Jordanians' political and civil rights.
March 20
Jordan now has 69 confirmed cases. Among these, 50 are Jordanians. The others are six French nationals, four Iraqis, three British nationals, two Lebanese, two Argentinians and two from the Philippines.
Sirens sounded in Jordan at 7am this morning to mark the start of a strict round-the-clock curfew enforced by thousands of troops.
Shops are closed and anyone violating the curfew faces up to a year in jail. At least one person has already been arrested. The authorities say they will make an announcement on Tuesday about a partial lifting to allow people to do their shopping.
The curfew is a further extension of restrictions introduced earlier in the week which isolated various parts of the country by sealing off the capital, Amman, and each of the 12 regional governorates.
So far, Jordan has 84 confirmed coronavirus cases and the authorities are clearly taking very tough measures in an effort to stop infections spreading.
The latest moves come after King Abdullah activated the National Defence Law – intended mainly for times of war – which grants draconian powers to the prime minister (see previous report).
Tunisia has also imposed a curfew which started on Wednesday but lasts for only 12 hours – from 6pm to 6am.
March 22
Since 7am on Saturday Jordan has been under a round-the-clock curfew which is being enforced by the military. By Saturday afternoon 392 people had been arrested for breaking the curfew – which could result in jail sentences of up to a year. The authorities say a curfew became necessary because people were not observing the rules for social distancing. The 15 most recent cases include five people who attended a wedding in Irbid.
March 24
The authorities have given some details of how they plan to distribute food and other necessities during the round-the-clock curfew which has been in force since Saturday. The aim is to deliver to everyone's door so that people don't need to leave their homes. It sounds like a formidable task.
March 25
Having imposed a round-the-clock curfew on Saturday, the Jordanian authorities have decided to let some shops re-open. The curfew had been meeting some resistance – hundreds of violators were arrested, including four who reportedly attacked a water delivery truck.
The extremely ambitious initial plan was to deliver food and other essentials directly to people's homes but it ran into practical difficulties. Photos and videos posted on the internet showed people queueing in the streets to collect bread when they were supposed to be isolated indoors.
As a result of this, small shops are being allowed to re-open from 10am to 6pm but the prime minister has warned they will be shut down again if people don't observe the rules for social distancing.
The Guardian has a report by Michael Safi on life in Jordan under the curfew.
April 19
Today, shops, businesses and government offices are re-opening in Jordan's southern province of Aqaba. This is the first step in what the government hopes will be a gradual return to something resembling normality in an area which is officially free of Covid-19 infections.
There are still some restrictions, though. Public transport remains suspended; schools, mosques, churches, wedding halls and restaurants remain closed, and movement in and out of Aqaba requires permission from the governor. The authorities, who have establised 40 inspection teams, say they will also intensify their monitoring of the situation.
In the midst of the coronavirus pandemic Jordan – with a population of around 10 million – is beginning to look like a success story. Since the outbreak began, 413 people have been diagnosed. Seven have died but most have now recovered, leaving only 137 "active" cases.
More significantly, the cumulative total of confirmed cases in Jordan has risen by a mere 8% over the past week. In the same period, the overall total among the Arab countries and Israel rose by more than 50%.
The result is that Jordan is now in the position many other countries would like to be in. It has reduced the outbreak to manageable proportions. The virus is still spreading – but very slowly – and the number of new cases is small enough for the authorities to follow them up closely by tracing and quarantining contacts.
The most obvious lesson from Jordan's experience is that prompt action saves lives. When the first case was detected on March 2 – a Jordanian man who had been in Italy – the health ministry announced that if/when the number of cases reached 20, schools would be closed and public gatherings banned.
Meanwhile, people arriving from affected countries were placed in immediate quarantine, and the government commandeered several hotels for the purpose.
By March 15, seven cases had been diagnosed and two days later the total had risen to 34. Flights in and out of the country were suspended and the number of people quarantined in hotels reached more than 5,000.
King Abdullah responded by activating Jordan's National Defence Law, intended mainly for times of war, which granted extraordinary – and sweeping – powers to the prime minister.
At 7am on March 21, sirens sounded throughout the country to mark the start of an open-ended round-the-clock curfew enforced by both police and the military. Considering the total of confirmed cases was only 84 at the time, this struck many as an extreme course of action but the government spokesperson said it was necessary in order to "spare the country a widespread infection" because people been ignoring earlier directives (five of the new cases involved people who had attended a wedding in Irbid, contrary to the rules).
Over the ensuing three days ordinary citizens were forbidden to step outside their homes but this proved difficult to enforce and more than a thousand people were arrested.
On March 24 the curfew was relaxed. Grocery shops and pharmacies were allowed to open for eight hours a day and people were allowed to move around – though only on foot. Prime minister Omar Razzaz warned that the shops would be closed again if the rules on social distancing were not observed.
Although the total curfew was impossible to maintain, as a shock tactic it does seem to have had the useful effect of making the Jordanian public take Covid-19 more seriously.
New cases continue to be detected but a combination of contact-tracing and testing seems to be keeping the numbers down, and this is seen as the country's first line of defence against the virus.
Of the six cases reported on Saturday, four were truck drivers who tested positive at the Jordanian border and were immediately taken to hospital. One was a child whose parents were already infected. The sixth case was discovered through random testing and is now being investigated.
There have also been encouraging signs from 1,972 tests carried out on Thursday, including 106 tests on truck drivers arriving from Saudi Arabia. All the results came back negative – as did those from 200 random tests carried out in the Zarqa and Sukhna refugee camps.
April 21
Jordan is taking further steps to ease restrictions amid signs that the country's Covid-19 outbreak is subsiding.
On Sunday, businesses and government offices were allowed to reopen in the southern province of Aqaba which has so far remained virus-free.
From today, a specified range of businesses can reopen in other parts of the country. These include shops selling stationery, jewellery and electrical supplies, along with shops that repair phones and computers.
Before reopening, these businesses must apply online for a government permit and will be subject to regulations aimed at preventing the spread of infection – such as reduced staffing levels.
The government has said they will be closed again if the coronavirus situation worsens but more sectors will be allowed to open if it continues to improve.
Tomorrow, the relaxation measures already introduced in Aqaba are due to be extended to three more provinces – Karak, Tafilah and Ma'an – which together with Aqaba cover the whole southern half of the country. The authorities have been carrying out random sampling in these areas, with encouraging results. For example, 900 tests in Karak last week all proved negative.
Looking further ahead, the government is also working on plans for a step-by-step restarting of the construction industry.
Altogether 425 Covid-19 cases have been diagnosed in Jordan since the outbreak began. Seven people have died and 282 have recovered – which leaves 136 "active" cases.
Changes in the number of active cases are a good indication of whether the virus is spreading or retreating. In Jordan it's currently static, with only minor fluctuations from day to day.
The cumulative total of confirmed cases continues to rise, but far more slowly than in many of the region's other countries. During the past week it has increased by only 9% compared with 83% in the Arab Gulf states.
Jordan's figure is even better than it looks, because very few new infections are occurring inside the country. Almost all the recent cases were detected at its borders – mainly among truck drivers coming from Saudi Arabia.
Jordan is reported to have 24 field teams monitoring the situation in the Aqaba area. Eight teams are checking arrivals in the province by road, sea and air. Twelve teams are carrying out random testing and four are monitoring "citizens' commitment to preventive guidance".
Compliance by the public is still a problem. Yesterday the Public Security Directorate said 755 people had been arrested for violating curfews in various parts of the country during the previous 24 hours and 238 vehicles were impounded. The impounded vehicles will be held for a month and owners will have to pay a fee to get them back.
April 22
Jordan: For the second day in a row, no new infections have been reported inside Jordan, which has begun lifting restrictions. The three cases reported yesterday were all intercepted at border entry points. A further 15 people are said to have recovered, reducing the number of "active" cases in the country to 124.
Among the Arab countries, Jordan has been one of the most successful in combating the spread of Covid-19 coronavirus. By Wednesday, 10 days had elapsed without any new infections coming to light inside the kingdom but now there's a sudden spate of new cases. Twenty-nine have been reported during the last couple of days in the Mafraq and Irbid provinces.
The source of all these infections is thought to be one man, and the way it came about shows how easily Covid-19 can return despite weeks of effort to suppress it.
Before the latest outbreak, transmission of the virus within Jordan appeared to have come to a halt and restrictive measures began to be lifted.
However, there were still a few problems at border crossing points. Truck drivers are routinely tested as they enter Jordan and so far this month 19 have tested positive.
A little more than two weeks ago, a Jordanian driver arriving from Saudi Arabia was tested at the Omari border crossing. The initial result was negative and he returned home to Mafraq. But when he was tested again after the 14-day quarantine period had passed, this time the test came back positive.
In the meantime, though, the driver had entertained guests at what is described as an Iftar banquet.
The driver and at least 21 other people are now in hospital, the driver's home district has been isolated and more than 100 contacts have been tested (with some of the results still awaited).
Seven cases linked to the Mafraq driver have also been confirmed in Irbid province where two buildings have been sealed off.
One of the driver's relatives who tested positive is a nurse working at the Northern Badia Hospital – which has resulted in preventive measures at the hospital and the testing of 40 staff.
Jordan announced new measures yesterday to stem the spread of Covid-19 infections from neighbouring Saudi Arabia. The move is in response to a new outbreak of the disease which was brought into Jordan by a cross-border truck driver.
The driver had been tested at the Omari checkpoint when crossing from Saudi Arabia into Jordan – as all drivers are. The initial result was negative and he returned to his home in Mafraq province after signing a pledge to quarantine himself for two weeks. A second test, 14 days later, came back positive and the driver is now in hospital.
Far from isolating himself, though, the driver hosted an Iftar banquet and had direct contact with about 140 people – at least 47 of whom are now infected. The resulting outbreak abruptly ended a 10-day period when no new infections had been detected inside the country.
In contrast to Jordan's relative success in controlling the virus, Saudi Arabia is currently reporting more than 1,000 new cases every day, and infected truck drivers have been arriving at the Jordanian border in a steady trickle – there were five yesterday.
The problem is not so much those who test positive but those whose infection is too recent to show up in the test. In theory, the quarantine period should take care of that but quarantine at home is fraught with risks if drivers don't observe the rules.
Yesterday the Jordanian government announced four new measures aimed at dealing with the situation:
1. Jordanian drivers returning from Saudi Arabia will now be quarantined at military schools in the Azraq area. This is a temporary arrangement while a special quarantine site "consisting of caravans and camps" is prepared near the Omari crossing.
2. Non-Jordanian drivers will be allowed to make their deliveries but will be escorted by security patrols until they return to the Saudi border.
3. To avoid jeopardising cross-border trade the number of drivers plying the route will need to be increased to allow for quarantining. There are more than 1,000 drivers working between the two countries and around a quarter of those cross the border every day. According to the Jordanians, both countries have agreed to "facilitate the granting and renewal of visas for truck drivers" so that more can take part.
4. The fourth measure is intended to discover forbidden gatherings – such as the Mafraq driver's banquet. According to the media affairs minister, the National Center for Security and Crisis Management (NCSCM) has developed an electronic application called "Radar-C" with the ability to detect "all kinds of gatherings", identify their location and "enable the concerned agencies to take the necessary action".
This sounds rather similar to the Israeli system known as "The Tool" which monitors the locations of all mobile phones and all the numbers called.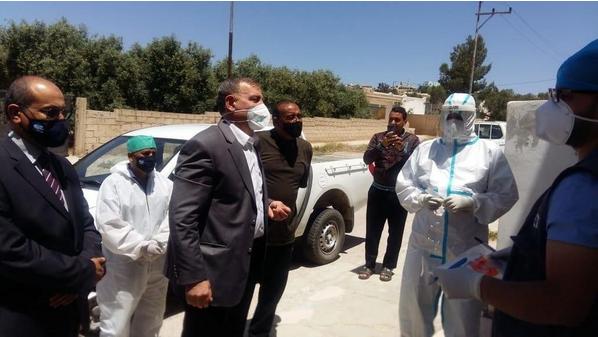 By May 6, Jordan had gone ten days without any Covid-19 infections coming to light inside the country. Since then, though, there have been 166 new cases – more half of them linked to a single truck driver in Mafraq province.
After returning from Saudi Arabia the driver was sent into home quarantine but ignored the rules and hosted a party. As a result, 91 other people have since become infected.
Among those was an ice cream distributor who passed the virus on to a shopkeeper in Jerash. Contact tracing then led to the closure of 38 other shops that dealt with the same ice cream supplier.
There have also been three cases in Zarqa and two in Irbid which are probably linked to other infected contacts of the truck driver.
Jordan's situation is an example of what might be expected in other countries during the later stages of the pandemic. So far, the spate of infections doesn't amount to a second wave – it's more a matter of hunting for new outbreaks and quashing them before they get too big. In the meantime, Jordan has relaxed a lot of its previous restrictions.
Earlier this week, Nathir Obeidat of the National Committee for Epidemics described Jordan's epiemiological situation as "comfortable" – though he said "No one can know for sure when life will return to normal as it was before the epidemic".
Obeidat went so far as to indicate that wedding parties could soon be allowed again, but they might have to be limited to 50 people with everyone taking a test before the event.
In Jordan, the main risk now comes from people entering the country and starting new outbreaks if they are not quarantined properly.
There are also three drivers – residents of Amman – who have tested positive during home quarantine after initially testing negative at the border. At present it's unclear if they followed to isolation rules and efforts are under way to trace any contacts.Since the affair of the Mafraq driver came to light a further 51 truck drivers have tested positive after arriving on the Jordanian side of the Saudi border, according to the health ministry's daily updates. Eighteen of them are Jordanians.
Hopefully, that won't happen again because drivers who test negative at the border are now being placed in supervised quarantine rather than being asked to isolate themselves.
Jordan has also been repatriating several thousand citizens – mainly students – who had become stranded abroad. Since the first week of May 15 of these have tested positive, either on arrival or while in supervised quarantine.
Cross-border travel means Jordan is likely to continue reporting new cases for some time, but if the tightened-up quarantine arrangements work they shouldn't lead to further infections inside the country.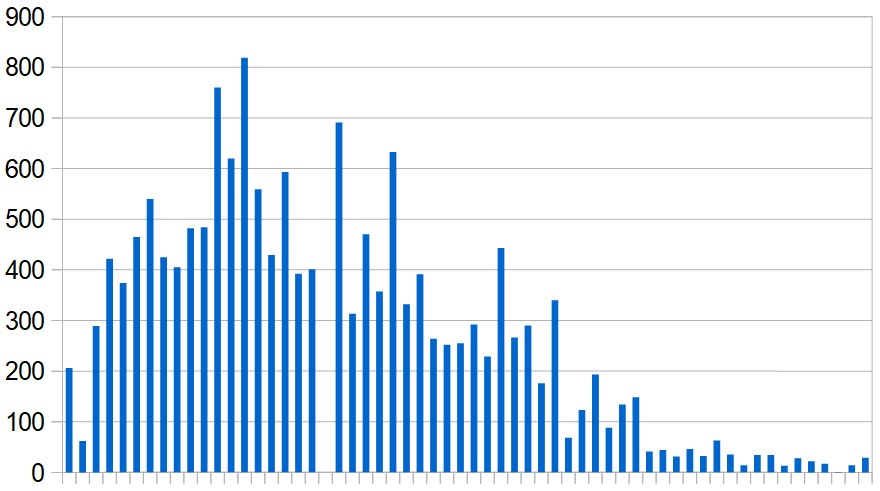 June 5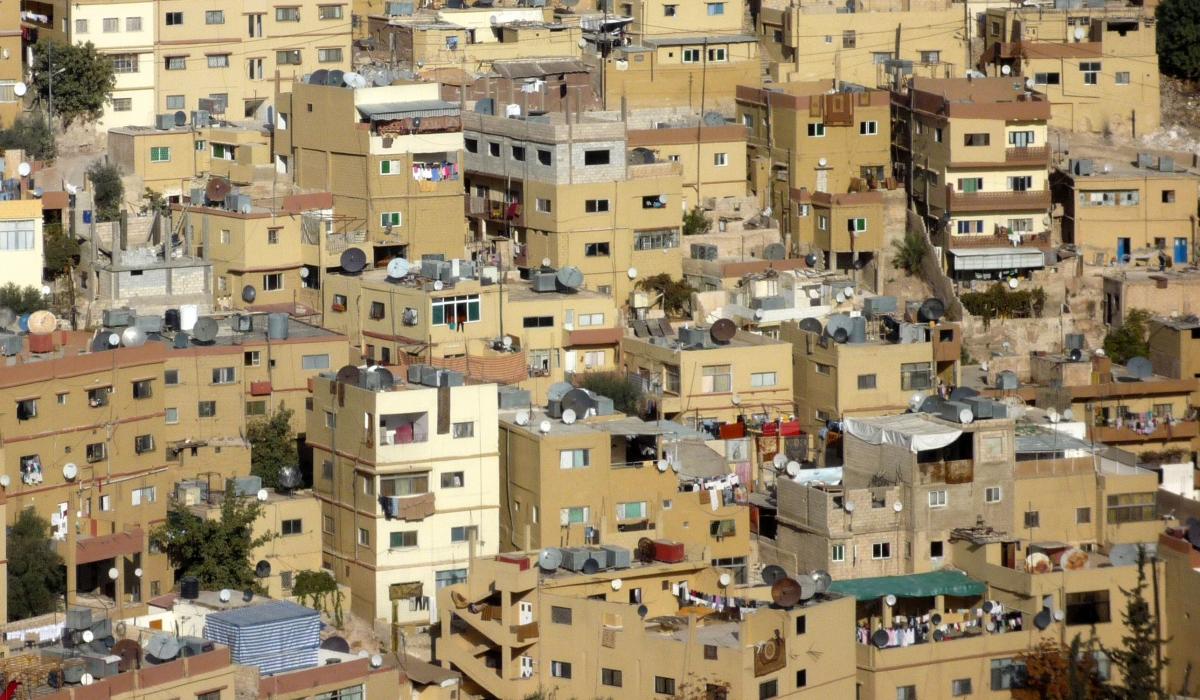 Life in Jordan will look much more normal from Saturday. Cafes, restaurants, hotels, mosques and churches previously closed to due coronavirus will be allowed to reopen along with sports clubs, nurseries and tourist sites.
Shops will be permitted to stay open until 11pm and the night curfew will shrink to just six hours, starting at midnight.
Public transport between cities will resume, though at 50% capacity, and private vehicles can use the roads every day, no longer alternating between odd and even licence numbers.
However, this still leaves restrictions on various kinds of social, cultural and educational activities. Schools and colleges remain closed, along with wedding halls, cinemas, parks and play areas. For the time being, people over 70 or with chronic health conditions must also stay put.
The justification for these latest moves is that Jordan has met the criteria for lowering the country's official Covid-19 risk level to "moderate" – defined by having fewer than 10 locally-generated new cases over a period of seven consecutive days.
That leaves eight locally-generated cases – two below the official threshhold. A further encouraging sign is that none of these local cases came as a total surprise: they were all contacts of people previously known to be infected.The key part here is "locally-generated". Jordan has actually recorded 37 new cases during the past week but 29 of those were among people arriving in the country and quarantine arrangements should ensure that they don't infect anyone else.
That doesn't guarantee there won't be further surprises but Jordan looks well placed to contain any new local outbreaks before they have a chance to spread widely.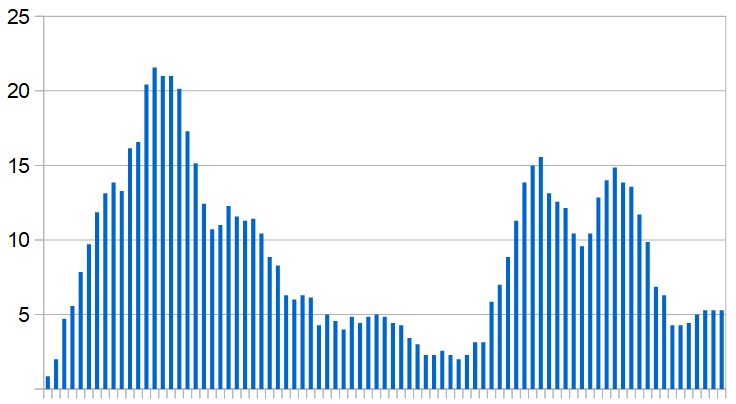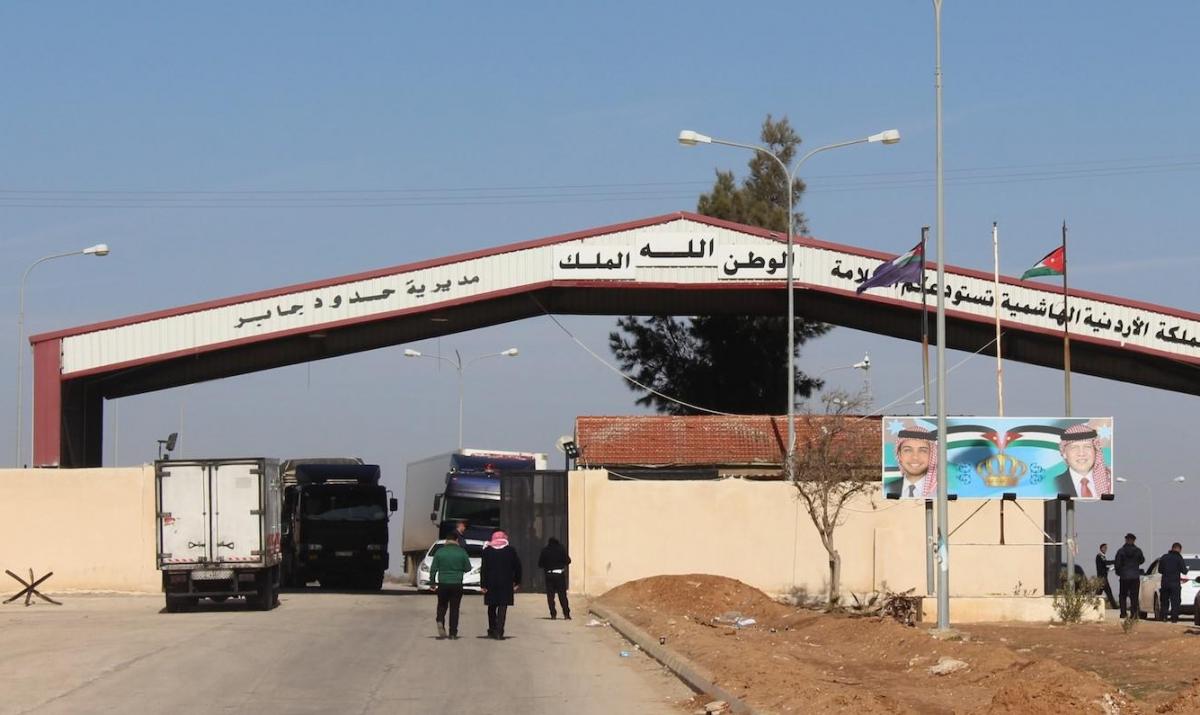 Syria has imposed a lockdown on the town of Ras al-Ma'ara following a cornavirus outbreak there which has so far resulted in 20 people becoming infected. This is the largest cluster of related cases reported by the Syrian authorities since the pandemic began.
According to government figures, Syria has had only 144 confirmed cases since the first one was detected on March 22, and until last Thursday the virus appeared to be in retreat. During the previous nine days only two new cases had been recorded.
On Thursday, however, a truck driver who apparently lives in Ras al-Ma'ara – some 60km north of Damascus and close to the Lebanese border – was diagnosed with Covid-19.
On Sunday, the health ministry announced that 16 people in the town who had been "in close contact" with the driver were also infected, and on Monday it announced three more.
This is reminiscent of last-month's case of a cross-border truck driver in Jordan who returned from Saudi Arabia while incubating the virus and ignored the self-isolation rules – with the result that at least 90 others became infected.
The Ras al-Ma'ara truck driver also works in cross-border transport, plying the route between Syria and Jordan. A second driver, working on the same route, was also diagnosed on Saturday according to the Syrian health ministry. The implication is that both drivers contracted the disease in Jordan, though the Syrian authorities haven't explicitly said so.
Meanwhile, on the other side of the border, Jordanian authorities have reported two cases among truck drivers of unspecified nationality arriving from Syria at the Jaber-Nasib crossing point – one on Friday and one on Sunday.
Infections among drivers coming from Saudi Arabia are not particularly surprising, since the kingdom has recorded more than 100,000 cases overall. Jordan and Syria, though, have much lower numbers. Syria's official total (which not everyone believes) is a mere 144 cases, while Jordan's (based on more transparent information) is 831.Jordan has had a lot of problems with infected truck drivers on its southern border with Saudi Arabia but until last week none had been reported on its northern border with Syria.
In the light of those low numbers it would be a huge coincidence if four people, all of them truck drivers on the same route, had picked up the virus from different sources in the space of four days. It's much more likely there's a single source – so far unidentified.
Tracing the source and preventing further occurrences is going to require cooperation between the Syrian and Jordanian governments which, given the nature of the Syrian regime, may not be straightforward.
June 27
Of the 96 new cases recorded during the past week only eight were infected inside Jordan. The other 88 had all been quarantined on arriving in the country. Sixty-two of those were citizens returning from abroad and 26 were truck drivers coming from Saudi Arabia.
July 18
Queen Alia International Airport is expected to reopen for commercial flights in the first or second week of August, and on Thursday the government announced that travellers from Austria, Switzerland, Germany, Italy, Greece, Cyprus, Hong Kong and Thailand will not need to be quarantined so long as they have had a Covid-19 test 72 hours before arrival. These countries currently fall into Jordan's "green" category for coronavirus.
July 25
The official number of confirmed cases in Jordan has been reduced by 110. This follows advice from the World Health Organisation that non-Jordanian truck drivers who were refused entry after testing positive at the border should not be included in Jordan's total.
Truck drivers quarantined at the Omari border crossing with Saudi Arabia have staged a protest over living conditions there. The demonstration came after one of those in quarantine was run over by a vehicle and died.
On Thursday NPR broadcast an interview with prime minister Omar Razzaz about Jordan's handling of its Covid-19 outbreak. Meanwhile, an article for Middle East Eye discusses the economic consequences.
Internal flights between Amman and Aqaba resumed this week. International flights to and from Queen Alia airport are expected to restart in the first or second week of August. Jordan says travellers from the 22 countries on its coronavirus "green list" will not need to be quarantined so long as they have had a Covid-19 test 72 hours before arrival.
August 1
Jordan's continuing night curfew has been temporarily shortened by one hour for the Eid al-Adha holiday and will run from 2am to 6am.
August 8
The government previously announced that airports would resume normal business on August 5 but that has now been postponed at least until August 18. In the meantime they are open for Jordanian citizens to leave or return. The delay is said to be due to difficulties in deciding which countries to include on the low-risk list.
August 11
Jordan – so far the most successful of the Arab countries in controlling the coronavirus – has reported a sudden spate of new cases which appear to have a connection with Syria.
On Monday health minister Saad Jaber said 24 locally-occurring infections had been detected during the previous four days.
Six of those are people living in Irbid – five of whom work at the Jaber-Nasib crossing point on the border with Syria. Four others who work at the border crossing have also tested positive.
A further four cases in the capital, Amman, are apparently connected. They are said to be grandsons of one of the infected people in Irbid.
Give the connection with the border checkpoint, and recent very low levels of transmission within Jordan, the most likely explanation is that this latest outbreak arrived from Syria.
Syria's own outbreak is currently growing rapidly. Although the Assad regime has reported only 1,255 cases so far, one-third of those occurred during the past week. The regime's official announcements rarely give any details and this lack of transparency fuels suspicions that many cases are being concealed.
Definite information is difficult to obtain but a report by the Syria in Context website, based largely on anecdotal evidence, suggests large numbers of cases have not been recorded. There are indications that people with Covid-19 symptoms in Syria are reluctant to come forward – which may be one reason for the low official figures. When cases come to light security officials tend to take charge – making health workers and others reluctant to report potential new infections.
During the last few days Syrian official media stepped up efforts to encourage people to use face masks. The SANA news agency published photos showing citizens in Lattakia (in the north) and Deraa (near the Jordanian border) are "committed" to wearing them – though others in the background can be seen without masks.
In June, Jordanian officials at the Jaber-Nasib crossing detected two Covid-19 cases among truck drivers of unspecified nationality who arrived from Syria. Around the same time, the health ministry in Damascus said two Syrian truck drivers plying the route between Syria and Jordan had been diagnosed with the virus.
Jordan has previously detected dozens of cases among drivers arriving from Saudi Arabia at the Omari border crossing.
August 15
Of the 94 new infections reported over the last seven days, 65 were local. Most of those are said to be linked to an outbreak at the Jaber-Nasib crossing point on the border with Syria where at least nine employees have been diagnosed with the virus (see news report). The crossing point has been closed since Thursday and all its workers are being quarantined.
Buildings in several cities have been sealed off but preventing further infections is likely to be a huge task. Health minister Saad Jaber said on Thursday that 49 of the people who tested positive during the past week had a combined total of more than 3,200 contacts.
The night curfew is being extended to six hours from today and the government has hinted that further preventive measures may be on the way. There is resistance from the public, however. Earlier this week the health minister said 73 people had been arrested for trying to escape from isolation areas and others had been caught trying to "manipulate" the results of PCR tests by rubbing alcohol up their noses.
August 22
Tracing contacts and ensuring compliance with quarantine is proving a formidable task. One of the people who tested positive for the virus this week is said to have come into contact with 170 people and visited 35 different places all over the country.
At a news conference on Friday health minister Saad Jaber said the main reason for the increase in infections is non-compliance with preventive measures at border crossings. Employees had broken the rules to meet for tea, coffee and tomato stir-fry, he added. Even people who had tested positive were shaking hands and hosting large gatherings.
New measures may be imposed in the light of developments over the next few days. These could include a one-day lockdown on Fridays, extending curfew hours and temporarily closing schools, mosques, churches, parks and gathering places.
August 29
The authorities are trying to persuade more people to use the contact-tracking Aman app which has so far been dowloaded by less than 10% of the population. The app alerts users if they have been in contact with someone who is known to carry the virus. The app stores location data for two weeks, which means it can also alert users retrospectively if one of their contacts is subsequently diagnosed.
Downloading the app is described as "a moral obligation" but there is some resistance from the public. The government has called on all employers to ensure that their workers use it.
September 5
Schools reopened on Tuesday after a five-month closure, though teaching had to be suspended in some areas because of infections.
September 12
Until yesterday the daily totals of new infections in Jordan had not risen above double figures but there was alarming news on Friday when the health ministry announced an unprecedented 206 new cases – of which 197 were locally generated. Most of these were contacts of previously-confirmed cases but there were also 76 in the capital, Amman, where the source of infection is still unknown.
September 19
New cases this week averaged 200 a day – the highest level so far. The prime minister said on Wednesday that Jordan will not return to a full-scale lockdown but a range of new restrictions has been announced (details here). Violators face penalties ranging up to a year in jail or a fine of 1,000 dinars ($1,400).
Schools have been switched to distance learning for the next two weeks following a series of infections among teachers and students.
September 26
New cases this week averaged 410 a day – the highest level so far. The government has again denied plans for another nationwide lockdown, though on Thursday a local lockdown was imposed in the Eil district of Maan province.
The reopening of universities has been postponed to October 11 and tuition will be a mixture of distance learning and classroom teaching.
October 3
Local transmission has returned on a large scale and on Wednesday a record 1,776 new infections were reported. Those included 600 infections among workers at a factory in Zarqa.
Amjad Adaileh, the media affairs minister, warned on Thursday that the coronavirus situation has reached a "very dangerous" level.
The government is seeking to avoid another nationwide lockdown but is imposing local lockdowns in heavily affected areas. Roya News reports that a further 28 schools suspended attendance and switched to distance learning this week as a result of new infections.
Customers of cafes and restaurants can be served indoors again, following a government decision this week. Indoor dining was suspended two weeks ago and the resumption is subject to strict precautions.
November 1
New cases averaged 3,122 a day during the past week – the highest level so far.
The government is seeking to avoid another nationwide lockdown but has decreed a "comprehensive curfew" every Friday for the rest of this year. There is also a general night-time curfew and local lockdowns are imposed in heavily affected areas. Education continues by remote learning.
On October 12 King Abdullah appointed a new prime minister and in the resulting cabinet reshuffle Nathir Obeidat replaced Saad Jaber as health minister. Dr Obeidat is a specialist in respiratory diseases and previously served as spokesperson for government's Covid-19 taskforce.
November 18
Update on vaccines: Jordan's health ministry says it has secured enough vaccines for 15% of the population and is seeking to secure a further 5%. The first vaccines are expected to become available in January or February and priority will be given to health workers in contact with infected patients, followed by the elderly and people with chronic diseases.
February 6, 2021
Update on vaccines: Jordan has approved Sinopharm and Pfizer/BioNTech vaccines for emergency use. Roll-out began on January 13, with the most vulnerable groups prioritised for the first jabs.
So far, 40,000 people are reported to have been vaccinated and the health ministry says it has enough supplies to give them a second dose. A further delivery of Pfizer/BioNTech vaccine is expected this month, along with 41,000 doses allocated under the Covax scheme. Jordan is also said to be negotiating with Sinopharm for "a large quantity" of vaccine. Mass vaccination centres are being prepared in Amman and Irbid.